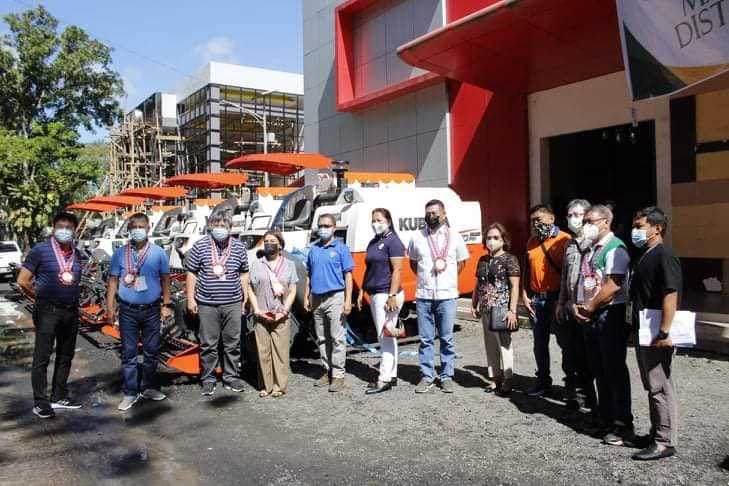 Twenty-four FCAs of Lanao Norte receive P92.61 M worth of agri-machinery and equipment from DA-PhilMech. Leading the turnover is DA Usec for Infra and Regulations Engr. Ampatuan with DA-PhilMech Director Dr. Jallorin, DA-10 RED Collado and other officials.
CAGAYAN DE ORO CITY – The Department of Agriculture – Philippine Center for Postharvest Development and Mechanization (DA-PhilMech) turned over agri-machinery and equipment worth P92.61 million to 24 farmers' cooperatives and associations (FCAs) in the province of Lanao del Norte on Monday, March 1.
Aimed to increase farmers' productivity, FCAs from the municipalities of Balo-i, Baroy, Tubod, Maigo, Munai, Sapad, Sultan Naga Dimaporo, Lala, Kapatagan and Salvador availed various agri machinery and equipment which include four-wheel drive tractor, hand tractor, float-assist tiller, walk-behind and riding-type transplanter, reaper, rice combine, thresher and mobile rice mill.
Of the total amount, P28.91 million is the 60 percent of its CY 2019 budget and its second batch distribution.
While the first batch of CY 2020 has a budget of P56.59 million and P7.61 million for its second batch.
DA Undersecretary for Infrastructure and Regulations, Engr. Zamzamin Ampatuan led the turnover and awarding of certificates to FCA beneficiaries with PhilMech Director Dr. Baldwin G. Jallorina, DA-PhilMech Head Facility Management and Field Operations Division Joel V. Dator, DA-10 Regional Executive Director Carlene C. Collado and Lanao del Norte Governor Imelda Q. Dimaporo with local officials.
Rice mechanization is one of the components of Republic Act No. 11203 or the Rice Tariffication Law, which stipulates the creation of the Rice Competitiveness Enhancement Fund (RCEF) that would be funded from rice tariffs collections, with P10 billion allocation annually from 2019 to 2024 or a period of six years.
Mechanization component of the RCEF aims to improve rice production in the country through mechanization that would reduce production and postharvest losses up to 20 percent and eventually increase production.
Usec. Ampatuan said, with RCEF there will be more harvest and better income for the farmers.
Meanwhile, Director Collado cited, if labor component will be lessened, the income of the farmers will be increased.
"One way of lowering the labor component is through the use of modern technology and agricultural equipment," he added.
For CY 2021, DA-PhilMech has allocated around P100 million budget for mechanization in Lanao del Norte.
Lanao del Norte being the second rice producing province of Region 10 contributes 24 percent to the regional rice production in 2020.
Romeo B. Roquero, President of the Butadon Solar Drier with Warehouse and Rice Mill Association, Inc. of Kapatagan shared, "Kini nga programa sa gobyerno dako ni ug ikatabang sa among pagpang-uma. Blessed na kaayo kami nga naka received aning makinarya. Ampingan namo kini aron daghan pa maka benepisyo niini."# (ATCabig)