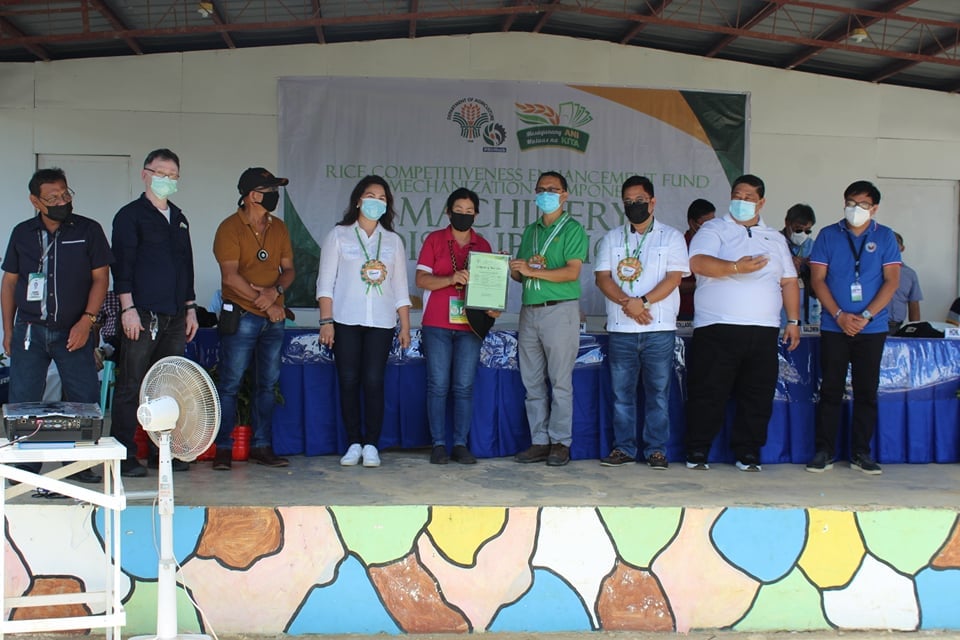 On March 1-2, at least 51 FCAs, 10 LGUs and an academic institution from the 25 towns of Lanao Norte and Mis Occ receive P51.6 agri interventions.
CAGAYAN DE ORO CITY – At least 51 farmers' cooperatives, associations (FCAs), 10 LGUs and an academic institution from 25 towns in the provinces of Lanao del Norte and Misamis Occidental received a total of P51.6 million agricultural aid from the Department of Agriculture Region 10 (DA-10).
The two-day DA-PhilMech joint turnover ceremony sequentially conducted on March 1 and 2, 2021 in the municipalities of Lala, Lanao del Norte and Aloran, Misamis Occidental.
Recipients received a full grant of agri-machineries and equipment, drying facility livestock fattening and multiplier projects, farm inputs such as corn and vegetable seeds and fertilizers.
Funded under the rice, corn, High Value Crops Development, livestock and the Special Area for Agricultural Development (SAAD) Programs of DA, said assistance is geared towards boosting the provinces' agricultural production, as part of the government's recovery effort in its continuing battle against the COVID-19 pandemic.
The Mindanao State University – Lanao del Norte Agricultural College (MSU-LNAC) Sultan Naga Dimaporo Campus is among the recipients of DA's assistance.
The institution was granted P5 million worth of Goat Multiplier Project through the DA's livestock program.
Said project entitled the MSU-LNAC to 40 heads doe, 3 heads buck, goat housing facility, equipment for forage processing, AI equipment and milking machine, drugs and biologics, forage planting materials and feeds, and supplement mixes.
"With this project we aim to share the goat farming technology to the community," said Dr. Indihra Dimaporo-Tawantawan, MSU-LNAC Superintendent.
"Goat is easy to rear and produces healthier meat. It is halal, so definitely there is large market for goat in Lanao del Norte," she furthered.
The school executive said goat farming is an added income and dependable fallback for farmers amid this crisis.
In line with the LGUs' call for sustainable agricultural development, Lanao del Norte Governor, Imelda Q. Dimaporo wishes that her province will continue to prosper through the continued cooperation of DA, LGUs, and the FCAs.
"The government is doing its best to deliver its duties, in helping the farmers. The assistance given to you is important enough for your livelihood. I hope you will put them into good use and care them well," Governor Dimaporo said.
She also urged farmers to partake in the province's agenda towards environmental protection as the province strives for sustainable development.
Aside from the P27.3 million assistance from DA-10, the Philippine Center for Postharvest Development and Mechanization (PhilMech) also grant farming sectors in Lanao del Norte with P93 million worth of agricultural machineries and equipment.
Meanwhile, Governor Philip T. Tan of Misamis Occidental bares his administration's plan for the establishment of Rice Processing Centers in Misamis Occidental this year in partnership with DA-10 and PhilMech.
He said the facility will be instrumental in addressing low palay buying price in the province, particularly during wet season.
"There were aspects and processes in agriculture that require support from the government. These assistance granted to you will definitely help in your farming. Now it is with you to be diligent," he said.
"I hope our cooperation and unity will continue. We in the Provincial Government of Misamis Occidental will continuously plan for the betterment of our farmers," Governor Tan furthered, thanking DA-10 as the agency will once again subsidize rice seeds for the rice farmers in the province this year.
The stakeholders in Misamis Occidental received P26.3 million agricultural assistance from DA-10 and another P122.2 million worth of farm machineries and equipment from PhilMech.
Towards Masaganang Ani at Mataas na Kita, DA-RFO 10 Regional Executive Director, Carlene C. Collado said that grants by DA and PhilMech are primarily aimed in the upscaling of farmers' livelihood by modernizing their farming methods.
"As you receive these machineries and equipment, and other interventions, we expect you to utilize them well. These assistance will help you improve not only your production, but your post-production performance, as well," Collado added.
"Our aim is to increase your income by lowering the production and labor costs. This is consistent with DA's battle cry – Masaganang Ani at Mataas na Kita for our farmers," he said.
He added that each of the 132 accredited FCAs in Lanao del Norte, and 38 accredited FCAs in Misamis Occidental are entitled to a maximum grant of P5.5 million worth of farm machineries and equipment package through the Rice Competitiveness Enhancement Program (RCEP) under the Rice Tariffication Law (RTL).
On his part, the DA Undersecretary for Regulations and Infrastructure, Engr. Zamzamin L. Ampatuan urges local leaders and farmers to step up their effort towards food sufficiency.
He said, "So that we can overcome our dependency on import, the overarching objective is for this republic to be food sufficient."
"Dapat kaya na natin ang ating mga pagkain. Magsisimula po yan sa ating mga barangay," he said.
He furthered, "Dapat planohin ng mga kapitan ano kaya ang dapat gawin. Pwede kayo magpalay, magmais, magbaboyan, kambingan or bakahan, so that the province will be food sufficient."
"Salamat sa inyo mga farmers, you are the ones sweating for us to have food. With the RCEP, we hope we can do more, have higher harvest and better income," he remarked.
Despite the COVID-19 adversities, DA aims to attain 2.5 percent growth rate this year, through its One DA framework.
Central to the framework is an inclusive approach in the implementation of the agency's key programs, projects and activities, anchored on sustained partnership with the LGUs and the agricultural sectors in the country.#(ATalib)