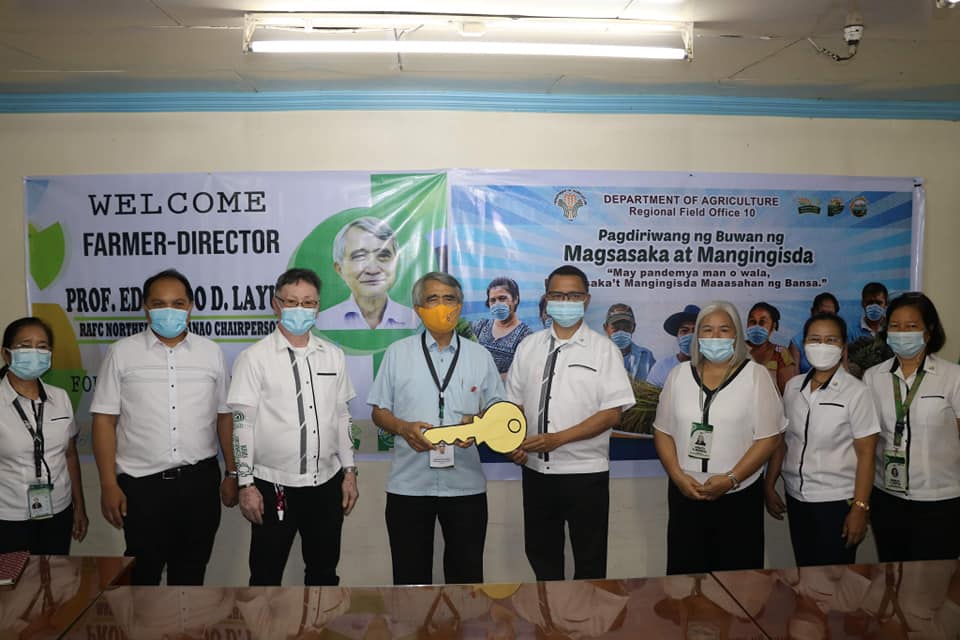 DA-NorMin installs Prof. Edgardo D. Layug, RAFC chair as the Farmer-Director for the month of May in line with the FFM celebration.
CAGAYAN DE ORO CITY – In line with the celebration of the Farmers' and Fisherfolk's Month (FFM), the Department of Agriculture – Northern Mindanao (DA-10) installed Prof. Edgardo D. Layug, regional agricultural and fishery council (RAFC) chairperson as the Farmer-Director (FD) for the month of May.
In a ceremony held at the agency compound, Prof. Layug assured of bearing in mind to allow farmers and fisherfolk maximize in reaping benefits out from every program, project and intervention being undertaken by the agency.
"A two-way effort will be observed in all phases of carrying out the initiatives of the agency between that of the local governments and targeted beneficiaries," added Prof. Layug.
He encouraged all farmers and fisherfolk to be registered in the Registry System for Basic Sectors in Agriculture (RSBSA) for the availment of agri-inputs and other forms of agri-fishery related assistance from the department.
DA-10 Regional Executive Director Carlene C. Collado said, that the department continues to have a bolstered partnership with the RAFC thru the FD program.
"The department will continue to serve farmers and fisherfolk regionwide with the help of the farmer-director, especially amid the COVID-19 crisis. This will further help the private-led AFC understand the internal and external processes within the government towards its delivery of services," RED Collado said.
The FD program was launched in 2017 by the Philippine Council for Agriculture and Fisheries Council (PCAF) which seeks to strengthen the partnership of the government and private sector towards the development of the agri-fishery industry. # (JCAnito)