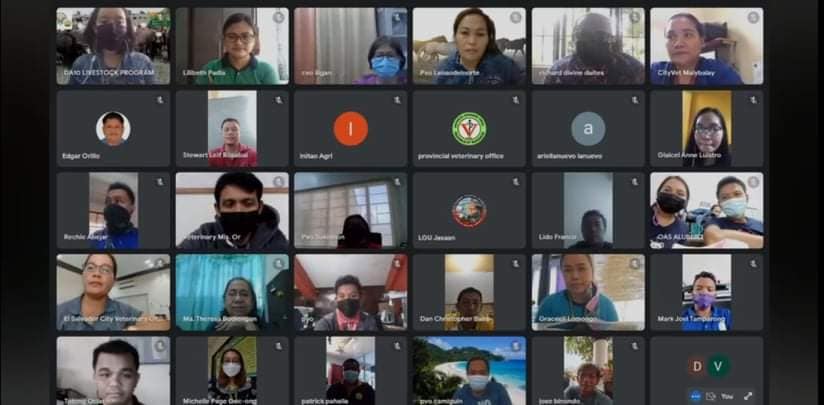 In a virtual forum on July 23, 2021, DA-NorMin along with BAI, insurance and financing institutions bare its windows for assistance to help revive the hog industry affected by ASF. 
CAGAYAN DE ORO CITY – The Department of Agriculture – Regional Field Office 10 through its Livestock Program is set to implement the Swine Repopulation and Recovery Program in reviving the hog industry after being affected by the African Swine Fever (ASF).
In a virtual forum on July 23, 2021, DA in partnership with the Bureau of Animal Industry and other insurance and financing institutions sought to increase awareness of DA's twin programs: BABay ASF and INSPIRE to strengthen coordination with local government units (LGUs) and other stakeholders.
Said key programs in combatting the viral hog disease include the Bantay ASF sa Barangay (BABay ASF) which aims to strengthen biosecurity and surveillance of ASF, while the Integrated National Swine Production Initiatives for Recovery and Expansion (INSPIRE) seeks to accelerate the repopulation and recovery of the hog industry.
DA Undersecretary for Livestock, Dr. William C. Medrano shared, "We aim to fast track the implementation of these programs to bounce back to the vibrant state of the hog industry since ASF has created a huge damage to pork supply and price in affected areas."
DA-10 Regional Executive Director Carlene C. Collado said, that DA thru Secretary William D. Dar is optimistic that the hog industry can recover from the effect of the African Swine Fever, especially in Northern Mindanao.
In an effort to help the hog raisers, DA through the Agricultural Credit and Policy Council (ACPC) is offering zero-interest loans payable in three to five years through its Agri Negosyo "ANYO" loan program.
Meanwhile, the Development Bank of the Philippines provides credit to support the national government's efforts and the DA's INSPIRE Program in the recovery and repopulation of the local swine industry through financing of bio-secured farm projects.
The LBP has allocated P15 billion program fund for the SWINE lending program in helping commercial hog raisers sustain their production and operations.
LBP's program aims to help secure the country's food security, particularly on the supply of pork.
Effective July 1, 2021, ASF indemnification request for depopulated hogs are accommodated under the Philippine Crop Insurance Corporation's (PCIC) Swine Industry Insurance Program which offers discounted premiums to commercial hog raisers, increased indemnity payment for hog losses and inclusion of culling due to ASF.
Director Collado noted, that the strengthened partnership with the LGUs and the private sector will help in reviving the industry.
"I would like to convey my heartfelt gratitude to the LGUs for the continued partnership and cooperation. May you continue and strengthen your border protection against ASF," Collado concluded. # (AMBManto)