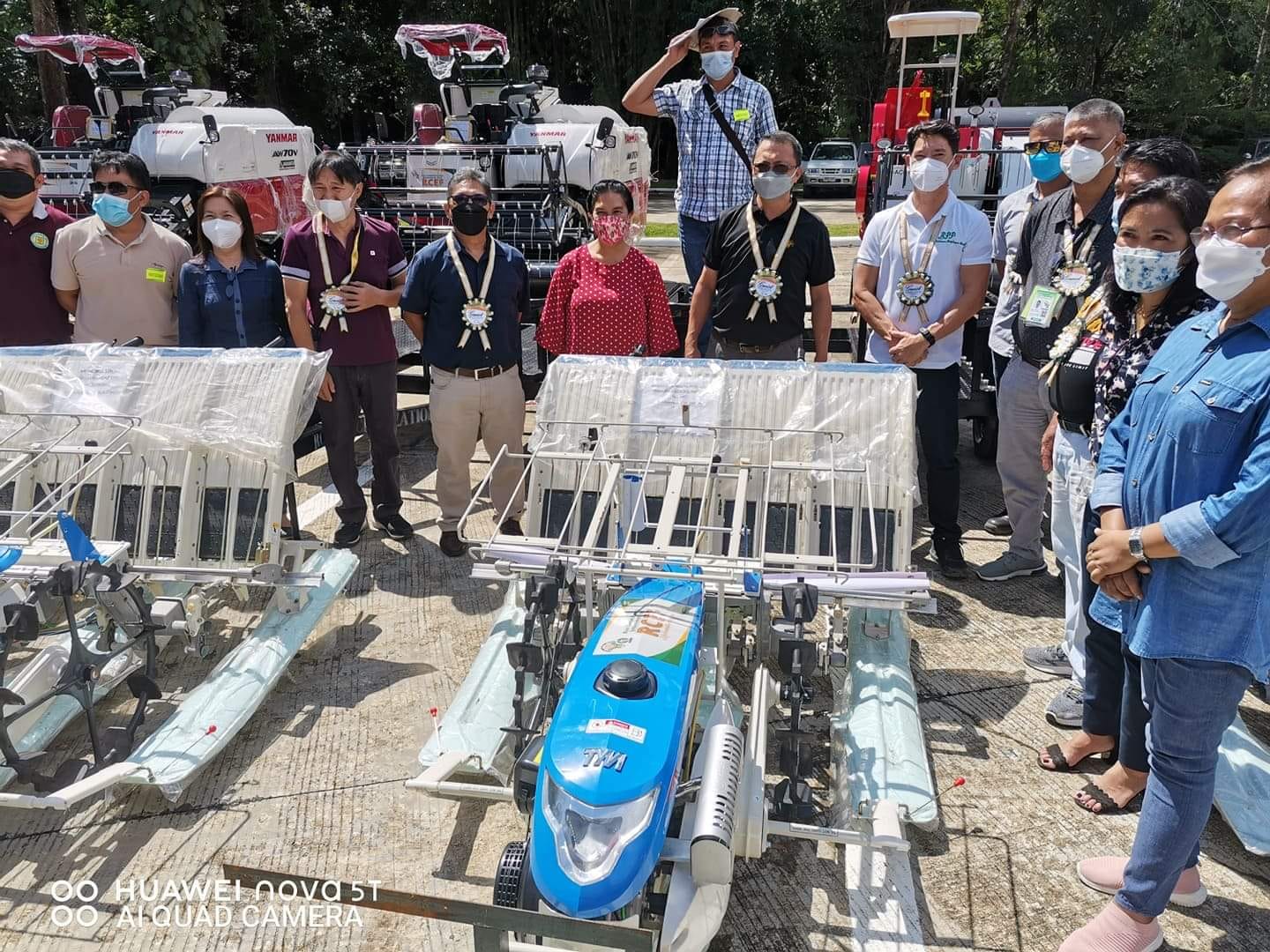 DA-PhilMech turns over P114-M worth of various rice machinery to Buk'non FCAs to drum up rice prod'n through mechanization.
CAGAYAN DE ORO CITY – The Department of Agriculture – Philippine Center for Postharvest Development and Mechanization (DA-PhilMech) turned over P114 million worth of various rice machinery to FCAs in Bukidnon.
Around 36 qualified farmers, cooperative and associations (FCAs) received on Thursday, November 18 various rice machinery in Malaybalay City, Bukidnon.
Under the Rice Competitiveness Enhancement Fund Mechanization Program (RCEF), 5,616 farmer-members are expected to benefit from the 100 units of rice machinery under the CY 2021 funds.
DA-RFO 10 Regional Executive Director Carlene C. Collado with DA-PhilMech Head Facility Management and Field Operations Division Joel V. Dator and Bukidnon 3rd district representative Manuel F. Zubiri led the turnover and awarding of certificates to FCAs.
Said FCAs coming from the cities of Malaybalay and Valencia and the municipalities of Impasug-ong, San Fernando, Cabanglasan, Maramag, Kitaotao, Manolo Fortich, Quezon, Pangantucan and Kalilangan availed the machinery which includes four-wheel drive tractor, hand tractor, floating tiller, PTO driven disc plow/harrow, walk-behind and riding type transplanter, rice reaper, combine harvester, thresher, recirculating dryer, impeller rice mill, single pass rice mill and de stoner.
The province of Bukidnon considered the food basket of Mindanao, contributes around 50-60 percent of rice sufficiency in Northern Mindanao with 90k hectares of the rice harvest area.
Rice mechanization is one of the components of Republic Act No. 11203 or the Rice Tariffication Law, which stipulates the creation of the RCEF that would be funded from rice tariffs collections, with P10 billion allocation annually from 2019 to 2024 or a period of six years.
It aims to improve rice production in the country through mechanization that would reduce production and postharvest losses up to 20 percent and eventually increase production.
Director Collado said farm machinery will boost farming activities and ensure high productivity and reduce postharvest losses of farmers.
"The need to increase the level of farm mechanization, to produce more food efficiency and quality will be beneficial both for farmers and consumers," he concluded.# (ATCabig)