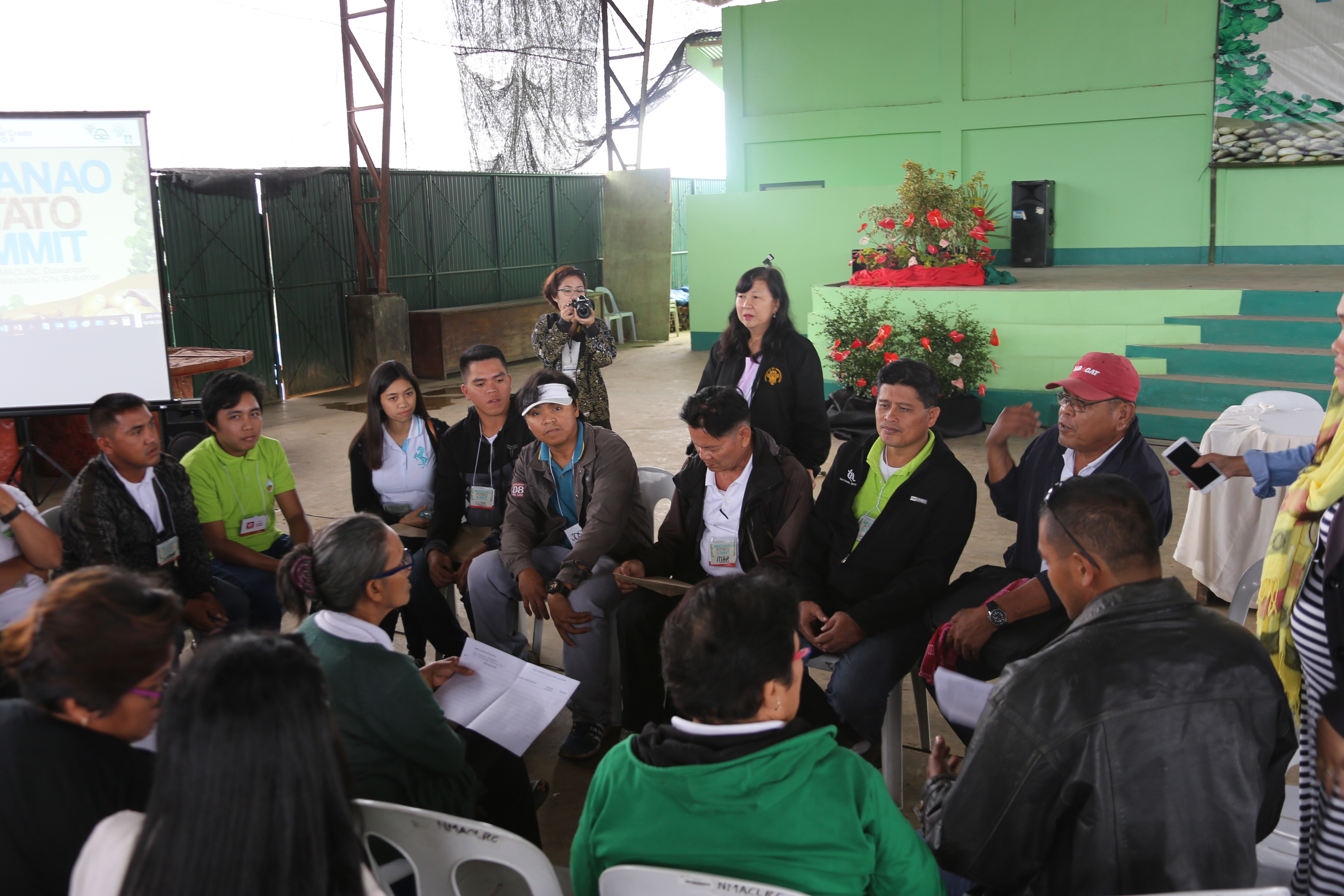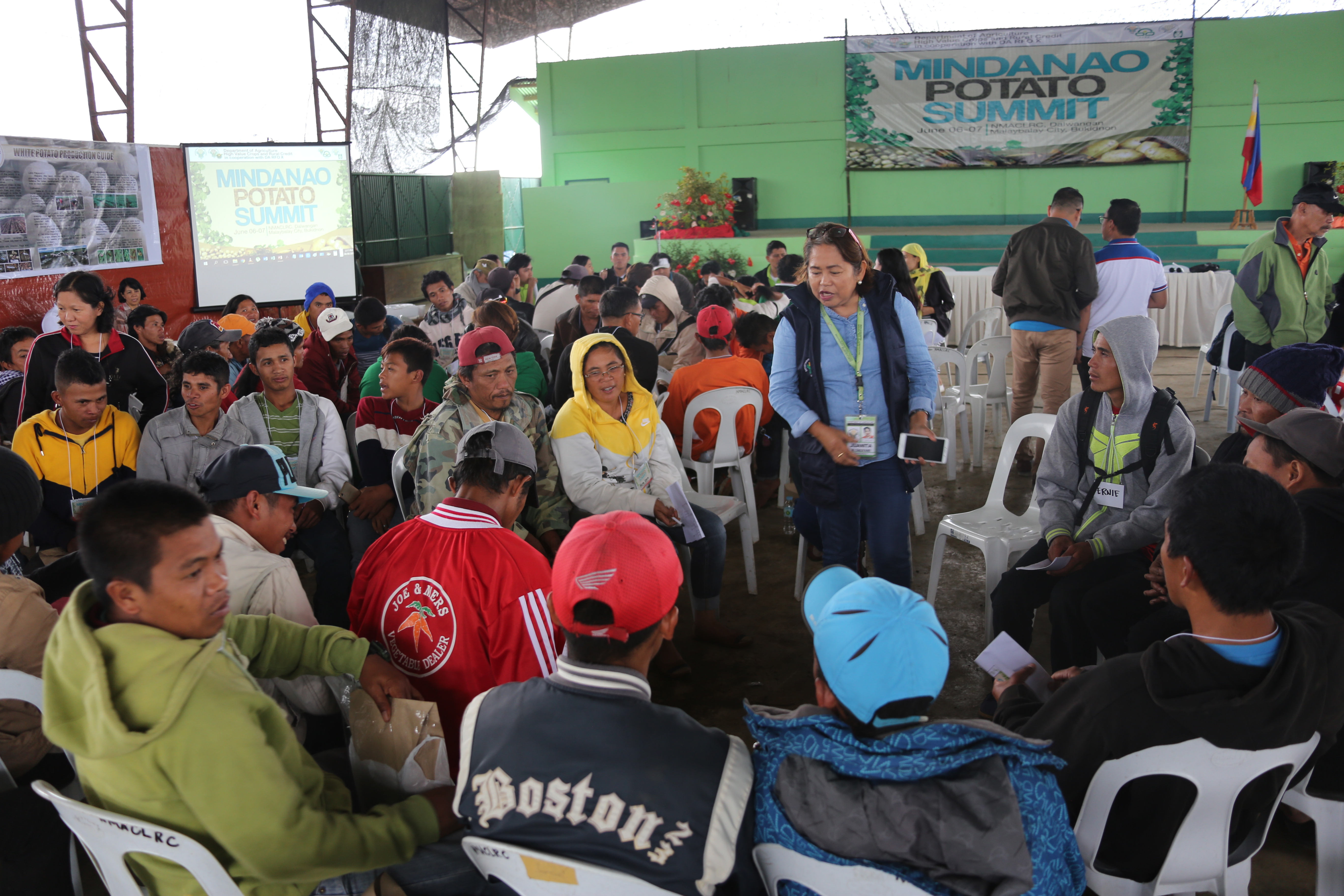 Delegates of the 1st Potato Summit breaks into groups to discuss their personal challenges and successes in growing potatoes. Making her rounds during the breakout sessions is DA Usec. Laviña (top photo) and Juanita B. Salvani (bottom), research division chief of DA-RFO 10.
---
SUMMIT URGES QUALITY PROD'N OF POTATOES, STRENGTHENING OF FARMER-GROUPS
Dalwangan, Malaybalay City – The government serves as an enabler in building profitable potato-based agri-enterprises.
This was the key message of the Department of Agriculture (DA) Undersecretary for High Value Crops and Rural Credit Evelyn G. Laviña during the conduct of the first ever Mindanao Potato Summit on June 6-7, 2018 at the Northern Mindanao Agricultural Crops and Livestock Research Complex, in this town.
Gathering nearly 300 participants, the activity was primarily undertaken to solicit inputs from actual potato growers that would form part of the crafting of a five-year road map for the country's potato industry. This was done through breakout sessions by the participating farmers and agri-extensionists coming from Bukidnon's potato producing city and towns such as Malaybalay, Lantapan, Talakag, Impasug-ong and Maramag.
"It is my moral obligation to provide affordable and available food for the Filipino people," the undersecretary quoted President Rodrigo R. Duterte, adding that the president has instructed in avoiding activities which are not anchored on the department's fundamental directive.
Accordingly, the road map will serve as a blueprint in furthering the potato industry, reflecting the challenges and proposed actions towards resolving these. Issues raised include the limited supply of disease-free potato seeds, low productivity, high incidence of bacterial wilt, among others.
"Gusto ko that each of your municipality magpa-bonggahay sa produksiyon sa inyong patatas nga naay kalidad," the undersecretary challenged.
She also urged in strengthening farmers' cooperatives, saying that aside from buying the harvest of its members, they can also venture into producing potato seeds and even extend transportation services; thereby enabling their group economically while greatly helping farmer-members, at the same time.
By doing so, USec. Laviña underscored that it will empower them to sustain their operations, especially in their production of quality potatoes, stating that despite the inevitable changes in the administration, they can still ably continue to exist.
As of 2014, reports have shown that Northern Mindanao contributed to national potato output, registering 537 hectares of potato production areas, producing 6,145 metric tons in volume and posting an average yield of 11.44 metric tons.
Setting up support systems for the potato farmer-delegates, the summit tackled on the overview of the potato industry at the national and regional levels, potato seed system as well as the 2018 interventions for potato, comprising of credit programs, crop insurance, and business opportunities.
Given the high demand for potatoes both for fresh/table and the processing types, including its recognition of being a substitute staple food, the undersecretary concluded that, it would not be far that farmers will soon be successful in their respective ventures, as long as they have the quantity and quality in the production of their potatoes, coupled with having the heart for farming. #