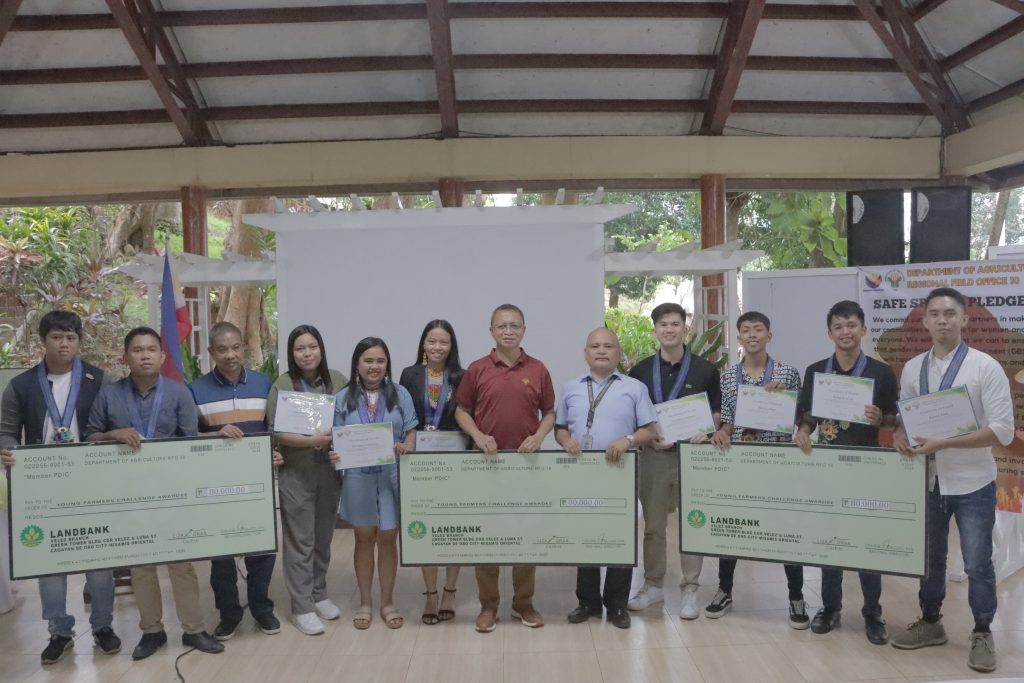 Agri-10 lauds the YFC regional and provincial winners in a simple ceremony.
CAGAYAN DE ORO CITY – With the recent conduct of the provincial level judging for the second batch of the 2023 Young Farmers Challenge (YFC), the Department of Agriculture – Regional Field Office 10 (DA-RFO 10) through Regional Executive Director Carlene C. Collado, officially awarded the ten outstanding provincial awardees and two regional awardees in Northern Mindanao, on November 30 here.
The event honored the youth in the region for their outstanding contributions to the development of the Philippine agri-fishery industry that is implemented through the agency's Agribusiness and Marketing Assistance Division (AMAD).
Said winners from the provincial level will receive P80K for their start-up capital, and the regional winners will also receive P150K in the form of competitive financial grant assistance from DA.
Below is the complete list of the provincial and regional YFC honorees with their corresponding agri-enterprises by province:
Provincial Awardees
Misamis Oriental
1. Allaine Mae G. Janolino – Aling's Native Chicken
Camiguin
2. Dianie N. Jadman – Stingless Bees Colony and Honey Production
3. Alpha G. Jalagat – Green Leafy Hydroponic Farm (Lettuce production)
Misamis Occidental
4. Jury Rey A. Catapang – OZ Fresh Greens Hydroponics
5. Jumar J. Pacas – Oyster Mushroom Production (Growing House Enhancement)
Cagayan de Oro City
6. Sandy Ver M. Obsioma – Dolyn's Integrated Farm Bukidnon
7. Jayhan M. Pedros & April Gay A. Abasula – Salsalan Goat Farming
8. Jayasree Harsha A. Bayag – Natural Sweetener: Stevia by-products
9. Loover B. Veloso – Veggie Krunch Crackers
10. Edrea Mae T. Onduran – Dream's Arabica Coffee
Regional Awardees
Misamis Oriental
1. Ariel Alber R. Arbuis – Isidro's Hito Farming
2. Michael Angelo L. Losito – Pak na Bet
Present during the activity is DA-10 Field Operations Division chief Eduardo N. Pit, PhD, AMAD Assistant Division Chief Ferdinand F. Caraballe, and other DA staff.# (RDME)