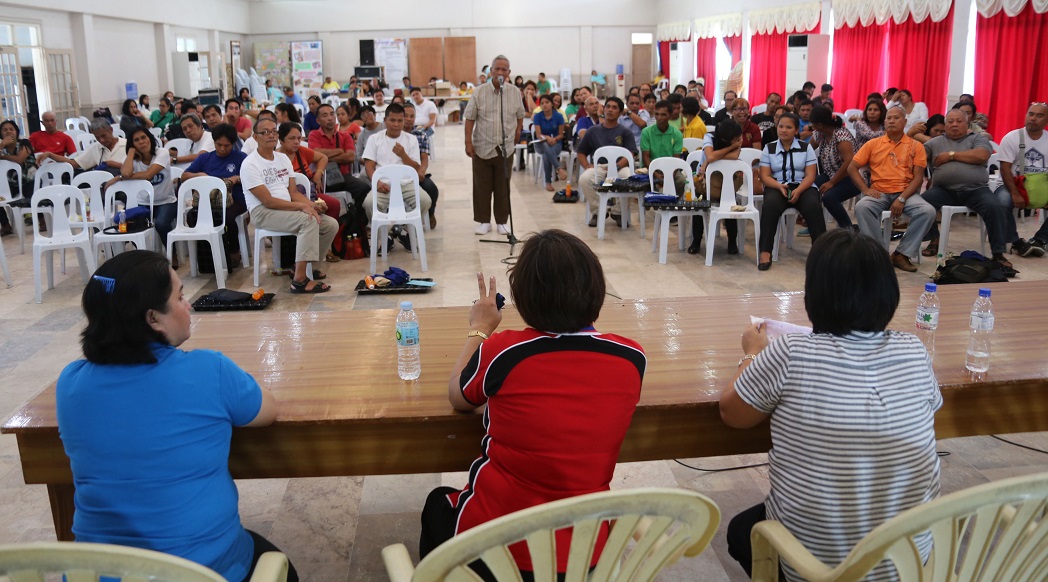 Farmers raise questions during the open forum session of the Camiguin leg of the Department of Agriculture Regional Field Office 10 (DA-RFO 10)'s Information Caravan 2018 last June 7, 2018.
---
DA-10 LAUNCHES 3RD LEG OF INFOCAR 2018 IN CAMIGUIN PROVINCE
Mambajao, Camiguin – With the aim of conveying the right information of the programs, projects and services of the Agriculture sector, the Department of Agriculture Regional Field Office 10 (DA-RFO 10) along with its attached bureaus and agencies as well as the provincial agriculture and veterinary offices conducted an Information Caravan on June 7, 2018 in the province.
Spearheaded by the Regional Agriculture and Fisheries Information Section (RAFIS), the said event follows the 1st and 2nd leg of information caravans in the provinces of Lanao del Norte and Misamis Occidental, on May 29, 2018 and May 31, 2018.
With this year's theme, "Pagpanguma ug Pagpangisda alang sa Kalambuan sa Panginabuhian," around 200 farmers gathered in the event which featured a lecture by the representatives of the different government agencies and an open forum for farmers to raise their issues and concerns.
One of the questions asked was regarding the extent of crop damage that the Philippine Crop Insurance Corporation (PCIC) covers. With this, Insurance Underwriter Ruth C. Capinpuyan explained that "the crop damage should be more than 10 %, below 10% is considered no loss, thus non-compensable."
The event was also graced by Mambajao Mayor Jurdin Jesus M. Rumualdo who encouraged the farmers to actively participate in the event. He further promoted organic agriculture as a way of farming, explaining that through this, we can prevent synthetic fertilizers and chemicals from flowing to the oceans and destroying the corals.
Meanwhile, the 4th and 5th leg of Information Caravan will continue in the provinces of Misamis Oriental on June 19-20, 2018 and Bukidnon on June 22, 2018. # (AMBManto, DA-RFO 10)