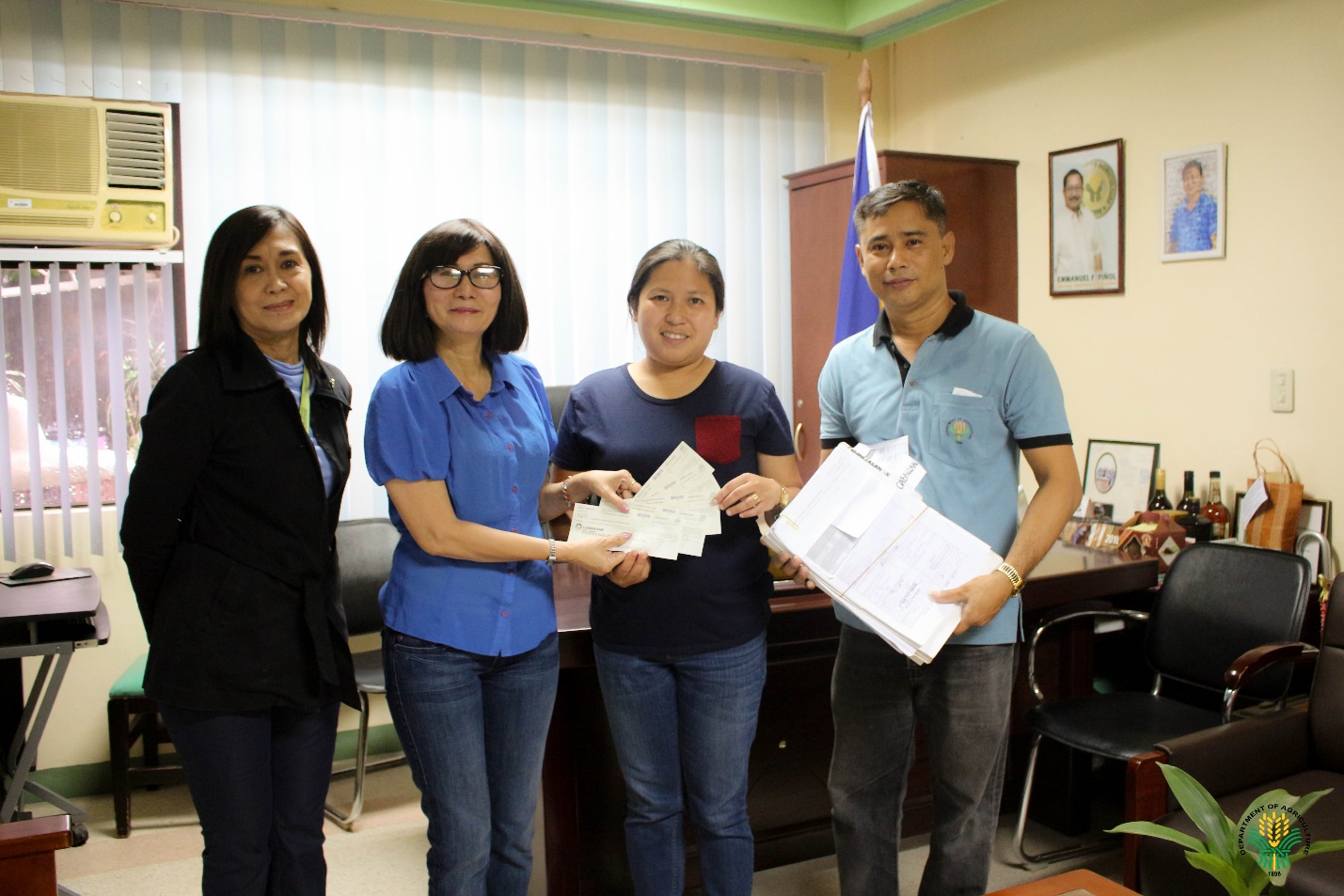 AGGIE DEPT RELEASES PHP5.7-M FOR CABANGLASAN TOWN
Spurring the agri-sector in Cabanglasan, Bukidnon is further given a boost, with the checks totalling to Php5,714,708.95, for the implementation of various Bottom-Up Budgeting (BUB) and Rice Program projects under the Department of Agriculture – Regional Field Office 10 (DA-RFO 10).
The turnover was held on June 5, 2018 at the DA-RFO 10 Compound, in the city of Cagayan de Oro. Representing DA-RFO 10 OIC-Regional Director Carlene C. Collado, CPA, Assistant Regional Director Carmelita T. Bajarla, MBA, handed in the checks to the authorized representative Ma. Adora Lovella V. Lagra, market inspector of the Local Government Unit of Cabanglasan.
Under the Rice Program, the amount of Php2,755,453.96 is the second tranche fund release for the implementation of the Small Water Impounding Project of the Cabanglasan Small Water Impounding Management Beneficiaries Association, covering 82 hectares of rice areas while the Php 1,169,254.99 is for the improvement of the Mandahican Diversion Dam and Php240,000 for the 2 units Small Farmer's Reservoir for the Barangay Mandahican Farmers and Laborers Association, Inc., cultivating 57 hectares of rice areas.
Implementation of BUB projects will also soon be underway with the Php325,000 for the distribution of 105 heads of goat for the senior citizens of the 15 barangays of the municipality, Php325,000 for the organic fertilizer production facilities and Php900,000 for the construction of bodega with solar dryer for the Iba Agrarian Reform Beneficiaries Association, Multi-Purpose Cooperative.
With the above interventions, DA eyes for the farmers and residents of Cabanglasan to augment their productivity and improve their postharvest operations while gaining access for source of employment and income. # (JLOlson)