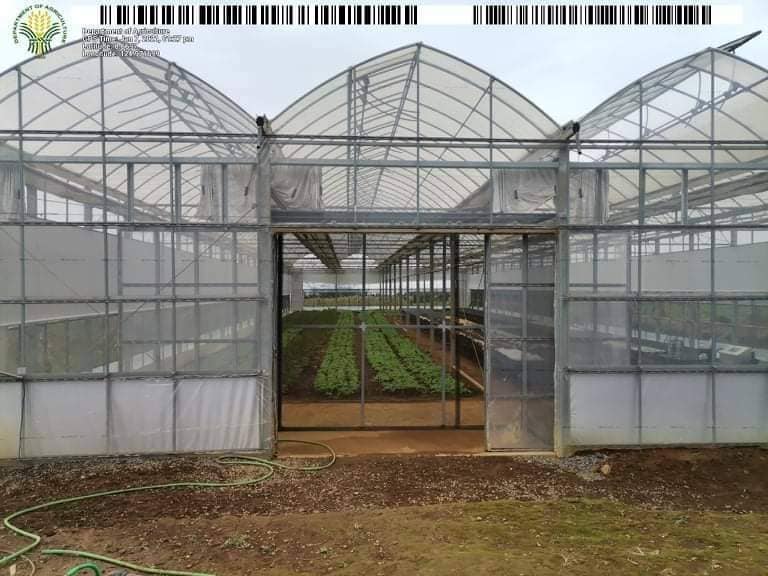 One of the Korean-funded agri-projects in Claveria, MisOr, the greenhouse project at Brgy. Aposkahoy is seen to intensify the department's Agri 4Ps, as it provides ideal environment for the efficient growing of vegetables such as lettuce, as taken December of last year.
CAGAYAN DE ORO CITY, January 14, 2021 – Some P11.3 million worth of agri-interventions were officially turned over and accepted by the Department of Agriculture in Northern Mindanao (DA-10) to foment the agricultural sector in Claveria, Misamis Oriental.
Said completed projects were funded by the Ministry of Agriculture, Food and Rural Affairs through the Korea Rural Community, Corp. under the Rural Development Project for Multi-Industry Cluster Zone in the Philippines.
Representing the Korean government, Dong IL Engineering Consultants Co., Ltd. Project Manager Son Sea Chul, handed over four completed projects, comprising of expansion of waterworks, warehouse building, road concreting and repair, and greenhouse in barangays Aposkahoy and Hinaplanan to DA-10 thru Regional Executive Director Carlene C. Collado.
The aforementioned agri-interventions are seen to intensify the implementation of the Agri 4Ps or otherwise known as the Plant, Plant, Plant program of the Philippine government thru DA, as it envisions a food secure country with prosperous farmers and fisherfolk.
Witnessing the turnover and acceptance were Regional Technical Director for Operations Carlota S. Madriaga, Regional Agricultural Engineering Division Chief Engr. Pedro U. Bergado, Jr., Provincial Operations Center Chief Nilda B. Salas and other DA-10 staff. # (JCAnito)