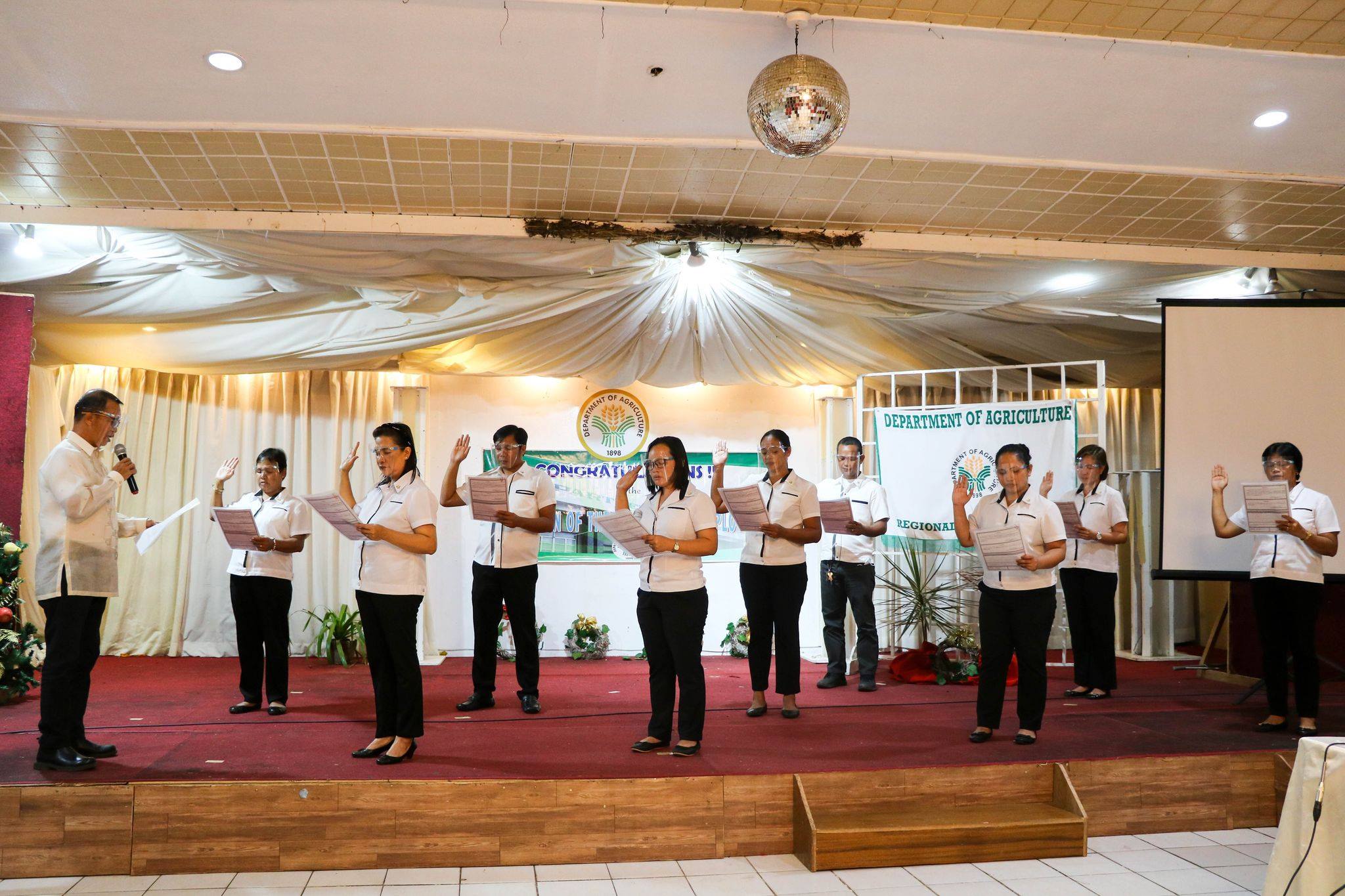 DA-10 RED Collado administers the oathtaking of the nine newly promoted employees of the agency.
CAGAYAN DE ORO CITY – Agriculture executive in Northern Mindanao (DA-10) Carlene C. Collado urged its newly promoted and appointed employees to be of better service thru elevating their delivery of agri-services.
"Now, you have levelled up, so does your hard work, the management is expecting a lot from you. The challenge is you must function and deliver what is expected from you and beyond," the director remarked.
He emphasized the responsibility that comes with the promotion, challenging them to provide exceptional service, not only to the agency, but more importantly, to the farmers and other agri-stakeholders.
A total of 15 employees, comprising of nine newly promoted and six newly appointed of the agency have sworn in with DA-10 RED Collado administering the oathtaking, in the presence of Regional Technical Director for Operations, Carlota S. Madriaga, Regional Technical Director for Research and Regulations, Carmelita T. Bajarla and the division and section chiefs of the different operating units.
The newly promoted and appointed personnel with salary grades, ranging from 4 to 20 are the following:
Janet D. Lopez – Agricultural Center Chief II, Field Operations Division (FOD)
Alden C. Tapio – Engineer III, Regional Agricultural Engineering Division (RAED)
Samuel C. Natindim, Jr. – Senior Science Research Specialist, Research Division
Heide S. Dela Cruz – Senior Science Research Specialist, Research Division
Arnilyn D. Pandong – Senior Science Research Specialist, Northern Mindanao Agricultural Crops and Livestock Research Complex (NMACLRC)
Marivic I. Paday – Science Research Specialist II, Regional Center for Upland Development (RCUD); Jocelyn A. Yagong – Science Research Specialist II, RCUD
April Hope E. Panis – Science Research Specialist II, Regional Crop Protection Center
Gladys A. Emperado – Planning Officer II, Planning, Monitoring and Evaluation Division
Cyrus R. Seraspe – Information Officer II, Regional Agriculture and Fisheries Information Section, Office of the Regional Director
Mark Angelo G. Montesino – Engineer I, RAED
Jinky C. Yap – Agriculturist I, Regulatory Division
Rechelle B. Lacorte, Agriculturist I, Agribusiness and Marketing Assistance Division
Iree Grace D. Bince, Laboratory Aide II, Regional Soils Laboratory, Integrated Laboratory Division (ILD)
Rhandy G. Fabre, Laboratory Aide II, ILD
Further, Dir. Collado extended his appreciation to the Personnel and Selection Board for their efforts in helping out with the selection of the newly promoted and appointed employees of the agency. # (IMJuntahan)