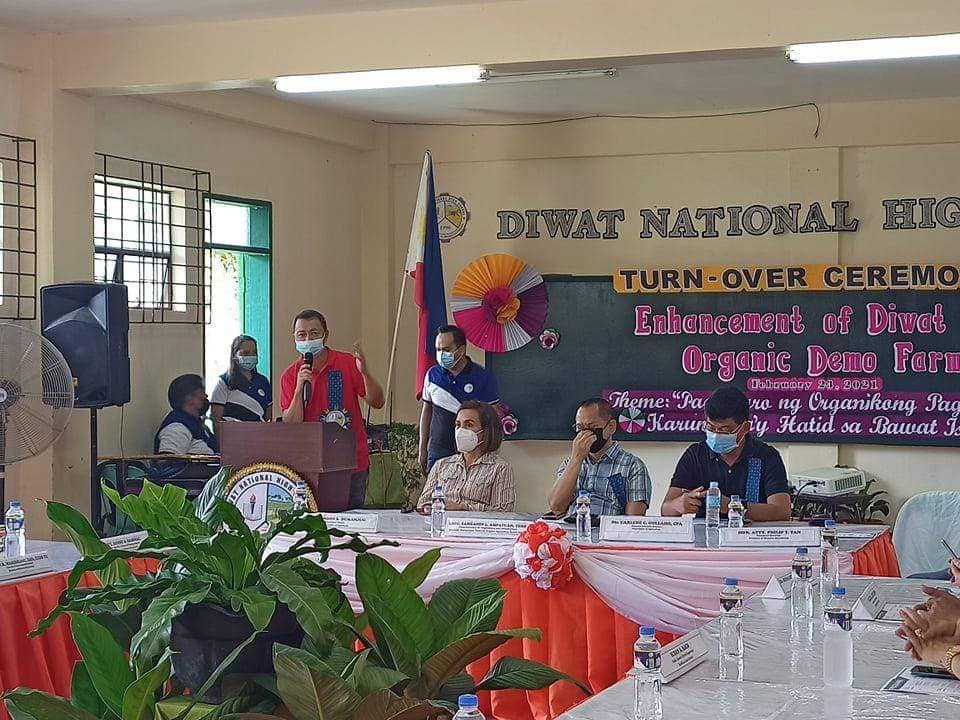 The aggie dept turns over P2-M worth of Organic demo farm enhancement project to Diwat NHS in Tusik, Bonifacio, MisOcc on February 23.
CAGAYAN DE ORO CITY – Intent on further promoting the adoption of organic agriculture, the DA-Regional Field Office 10 (DA-RFO 10) entrusted over P2 million worth of Organic demonstration farm enhancement project to Diwat National High School (NHS) in Tusik, Bonifacio, Misamis Occidental on February 23.
Of the total project cost, DA thru the National Organic Agriculture Program (NOAP) funded P1.5 million; while the Department of Education counterparted the remaining P534,714.00 for said infrastructure and poultry production project.
Leading the ceremonial turnover were DA Undersecretary for Infrastructure and Regulations Engr. Zamzamin L. Ampatuan, NOAP Program Coordinator Bernadette F. San Juan, DA-10 Regional Executive Director Carlene C. Collado with the Principal of Diwat NHS Ralph Castillon and Assistant Superintendent Eugene Macajes to receive said projects.
Comprising the infra project (P1,306,395.72) are the establishment of one unit each Elevated Water System, Vermi Shade, Poultry Breeder House, Perimeter Fence for Organic Chicken and Storage Facility.
While the poultry production project (P193,604.28) is for the procurement of chicken breeders, materials and other related supplies.
In his message, DA-RFO 10 RED Collado urged the youth, especially the agriculture graduates to avail of DA's Kapital Access for Young Agripreneurs (KAYA) loan assistance to further widen the province's agri industry.
Under the KAYA loan program, DA-Agricultural Credit Policy Council offers zero-interest, uncollateralized loans of up to P500,000, payable in five years.
"With our strong partnership with MisOcc mayors and the governor, DA will continue to support the project and I hope that you will invest the budget for a more visible and flourishing organic demo farm for other communities to learn from," Collado also imparted.
Gov. Tan also remarked, DA's Organic Agriculture is unique and challenging that requires patience and sacrifice.
"With the help of the academe in high school and state colleges, the success rate of said program is overwhelming. Sa makugi nga institusyon, kugi usab kami sa gobyerno sa pagtabang sa kalampusan sa maong proyekto. [For those hardworking institutions, we, in the government are much willing to help for the success of the project]," the governor added.
Diwat National High School is located approximately five kilometers from the National Highway, catering students from 10 remote barangays, including some from the town center.
Currently, it has 881 enrollees from all year levels and has already produced graduates of more or less 414 graduates since the implementation of the Senior High School Program in 2016, including those in Agriculture track.
Also present in the ceremony representing the 2nd district congressional office of Henry Oaminal is Margie Ruben.# (EMB)