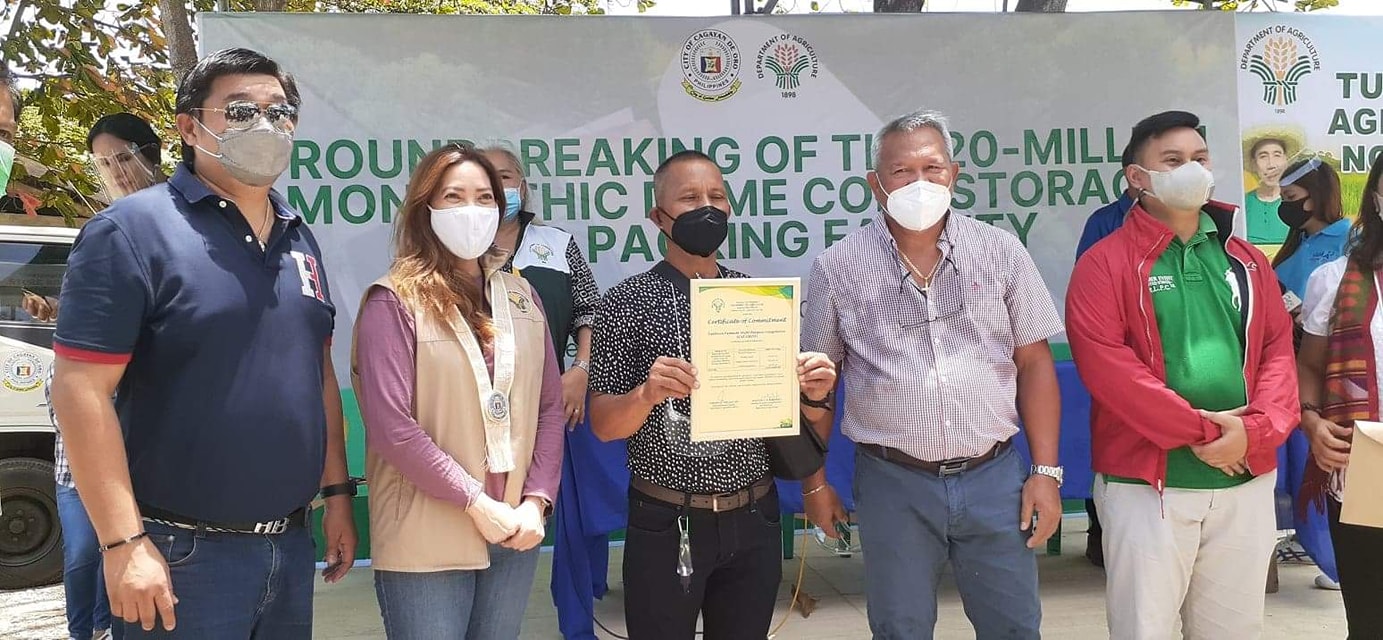 DA led by ASec for Agribiz and Mktg and other Oro officials hands over the certificate of commitment worth P1-M to CAFAMCO for the enhanced Kadiwa grant, which will provide financial support to scale up the Coop's Kadiwa operations.
CAGAYAN DE ORO CITY – Assistant Secretary for Agribusiness and Marketing Kristine Y. Evangelista of DA led the turnover of the certificate of commitment for the P1 million enhanced Kadiwa grant to the Canitoan Farmer's Multi-Purpose Cooperative (CAFAMCO).
On Thursday, ASec Evangelista together with DA-10 Regional Executive Director Carlene C. Collado and Regional Technical Director for Operations Carlota S. Madriaga of the Department of Agriculture – Regional Field Office 10 (DA-RFO 10) and CdeO City Mayor Oscar S. Moreno handed over said certificate to CAFAMCO thru its Chair Lucas W. Faborada.
Under the Enhanced Kadiwa Inclusive Food Supply Chain Program under the Agriculture Stimulus Package Bayanihan II, the Cooperative will be granted with financial support for their working capital (P240,000), hauling vehicle (P670,000) and ancillary equipment (P90,000).
"CAFAMCO will have access of the Type A financial grant package under the enhanced Kadiwa to finance their value-adding activities as assemblers of farmers and fishers' produce such as procurement, aggregation and pre-processing," RED Collado explained, where said intervention will be lodged.
At the height of the COVID-19 pandemic where mobility of goods and people were limited, the Kadiwa ni Ani at Kita program continues to provide a beefed-up marketing scheme where producers are directly linked with the consuming public, making available food commodities at reasonable prices to consumers.
Since April last year, CAFAMCO has served as one of DA-10's regular Kadiwa suppliers, participating in the different rolled out Kadiwa outlets by the agriculture department and the Agricultural Productivity Office of the city government of CdeO.
At the onset in the implementation of community quarantines, Faborada has conveyed relief, that despite the pandemic, they were still able to earn a living from farming thru the Kadiwa.
"The Program remains to aid farmers like us to survive during this health crisis. Primarily, our members were able to sell their products and earn decently," he relayed.
He further went on pinning his hopes in scaling up their Kadiwa operations with the financial grant package under the enhanced Kadiwa.
"On behalf of our members, we are thankful to DA for conferring us with this assistance for it will greatly help us in our operations, especially on the transportation aspect," Faborada added.
Aside from reaping their own harvests in barangay Canitoan, CAFAMCO also buys the produce of other farmers, among them from adjacent barangays, namely: Pagatpat, San Simon, Iponan and Baikingon.
"Through this intervention [financial grant], the Cooperative will be capacitated and become reliable food commodity suppliers to consumers to sustainably operate the Kadiwa stores," Dir. Collado concluded. # (JLO)