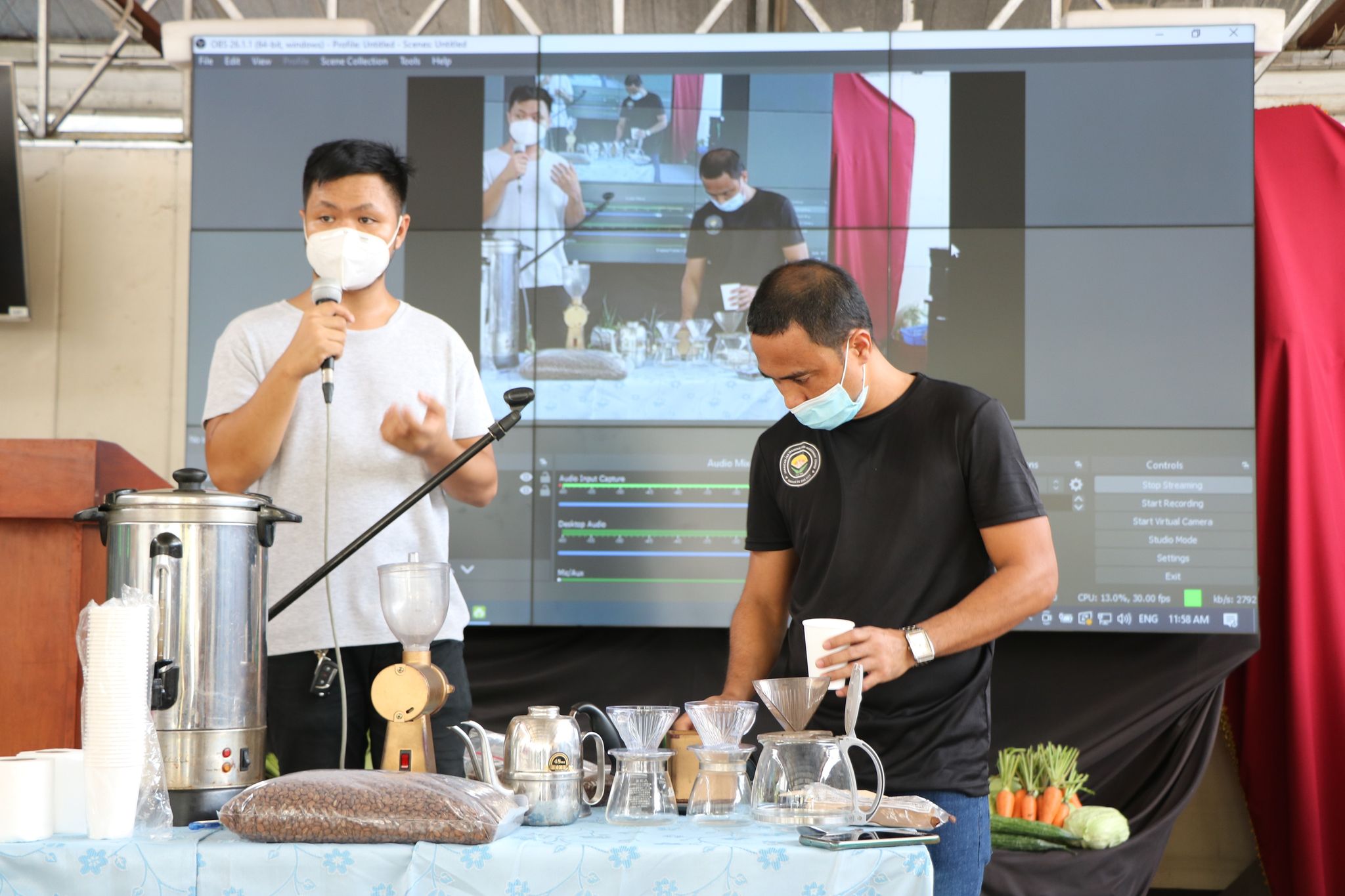 During the culmination of the High Value Crops week of DA-10, representatives from MILALITTRA present their coffee making preparations at the agency grounds on April 16.
CAGAYAN DE ORO CITY, April 16 – Aiming to boost the coffee industry in the region, the Department of Agriculture – Regional Field Office 10 (DA-RFO 10) has committed a Coffee Community-Based Development Enterprise worth P8 million to MILALITTRA, Inc.
MILALITTRA which stands for Miarayon-Lapok-Lirongan-Tinaytayan-Talaandig Tribal Association is composed of coffee farmers from around 2,500 households of said barangays of Talakag, Bukidnon.
They are also an awardee in the 2019 Philippine Coffee Quality Competition for Arabica category.
Said project is funded under the High Value Crops Development Program (HVCDP) of DA-RFO 10, that aims to provide production and postharvest support services for coffee and cacao farmers, said Kersten S. Pagalan, the program coordinator.
Included in the package of interventions are the provision of hauling truck, processing equipment/facility, trainings, planting materials, and nursery establishment.
Representing Datu Dungkuan 'Rio' D. Besto, MILALITTRA president, Joannah P. Dumaquita expressed, that DA's project support will greatly aid them with their more than 11 hectares of coffee plantation, at the same time in expanding their market with the slated trainings they will undergo.
She cited, that with DA's assistance they will be able to modernize their equipment and facilities to preserve and maintain the quality of their coffee beans, especially with the green coffee beans, which are still raw and have not yet been roasted while stored.
Handing over the certificate of commitment on behalf of DA-10 Regional Executive Director Carlene C. Collado was Regional Technical Director for Operations Carlota S. Madriaga.# (EMBentulan)