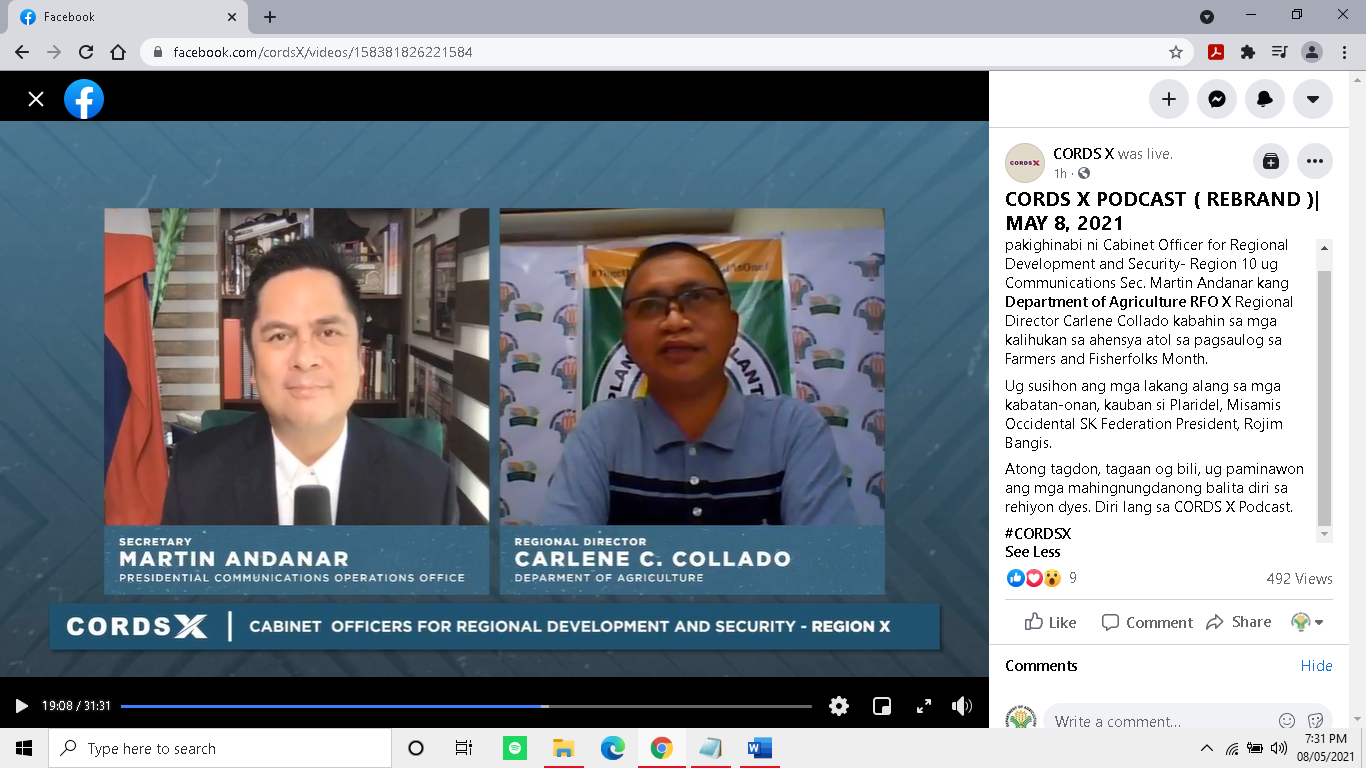 Honoring the food security frontliners, DA-NorMin eyes to drum up its delivery of agri-assistance, in time for the FFM celebration this month of May.
CAGAYAN DE ORO CITY, May 8 – Farmers and fisherfolk continues to be recognized as heroes for fueling agri-fishery development regionwide, as the Department of Agriculture of Northern Mindanao (DA-10) announced that the agency eyes to drum up its delivery of agricultural assistance, in time for the Farmers' and Fisherfolk's Month (FFM) celebration with the theme, 'May Pandemiya Man o Wala, Magsasaka't Mangingisda Maasahan ng Bansa.'
According to DA-10 Regional Executive Director Carlene C. Collado, the department with its attached agencies pursuing the 'One DA' approach continue to come up with different strategies, programs, projects, and interventions to primarily aid in food production, benefitting farmers and fishers.
"The focus of the present administration emphasizing on the whole-of-government approach aims to achieve the vision of a food-secure and resilient Philippines with prosperous farmers and fisherfolk," director Collado relayed, in an interview with Presidential Communications Operations Office Secretary Martin M. Andanar during the CORDS-X podcast.
He noted that farmer- and fisher-producers should have continuous productivity, unhampered movement of its agricultural commodities and price stability, while ensuring that every Filipino has access to available, quality, nutritious and affordable food.
Earlier this week, DA-10 held a series of groundbreaking ceremony for the establishment of poultry houses in the agency's research stations in Dangcagan town and Malaybalay City, Bukidnon; and a turnover of the P5.2-million Solar-Powered Irrigation System in Manolo Fortich, Bukidnon.
On May 9 and 17, the department will stage its Kadiwa ni Ani at Kita at Centrio Ayala Mall and at the agency compound, respectively, to enable farmers and fishers to directly sell their products to consumers.
In the following day (May 10), DA-10 along with its counterpart in the Central Office and other regional offices across the country, will simultaneously launch the national FFM celebration, and will roll out a community pantry to extend help to nearby residents belonging to the vulnerable sector.
On May 11, rice and fertilizers distribution under the agri department's Rice Resiliency Program will likewise be held in Bukidnon cities and towns.
Slated to equip more agripreneurs, DA-NorMin will conduct a Capability Enhancement Training for the Management of Livestock-Based Livelihood Project and Enterprise Development for Goat in Malaybalay City, Bukidnon from May 17-21; and the Young Agripreneur and Enterprise Development Training Seminar-Workshop in CdeO City on May 24.
Capping of the last week, on May 27 and 28, a market matching will be conducted to establish linkages between buyers and suppliers and to forge a marketing agreement among parties.
Further, the month of May will pave way to carry on DA-10's distribution of assorted vegetable seeds at the agency compound, and enlisting more farmers and fishers to the Registry System for Basic Sectors in Agriculture in coordination with the different agriculture offices regionwide.
Amid the ongoing pandemic, which are exacerbated by challenges such as the African Swine Fever threat, upsurge in pork prices, dipping buying price of agri-commodities, among others, RED Collado underscored, that the region is coping even posting food sufficiency milestones for the second quarter, of this year.
Rice at 67,391.83 metric tons will last for 15 days, yellow corn (170), white corn (638), pork (852), beef (2,093), poultry (691) and eggs will be good for 3,261 days, the agri exec further concluded.
FFM is annually observed in the month of May pursuant to Presidential Proclamation 33 issued on May 21, 1989. # (JLO)