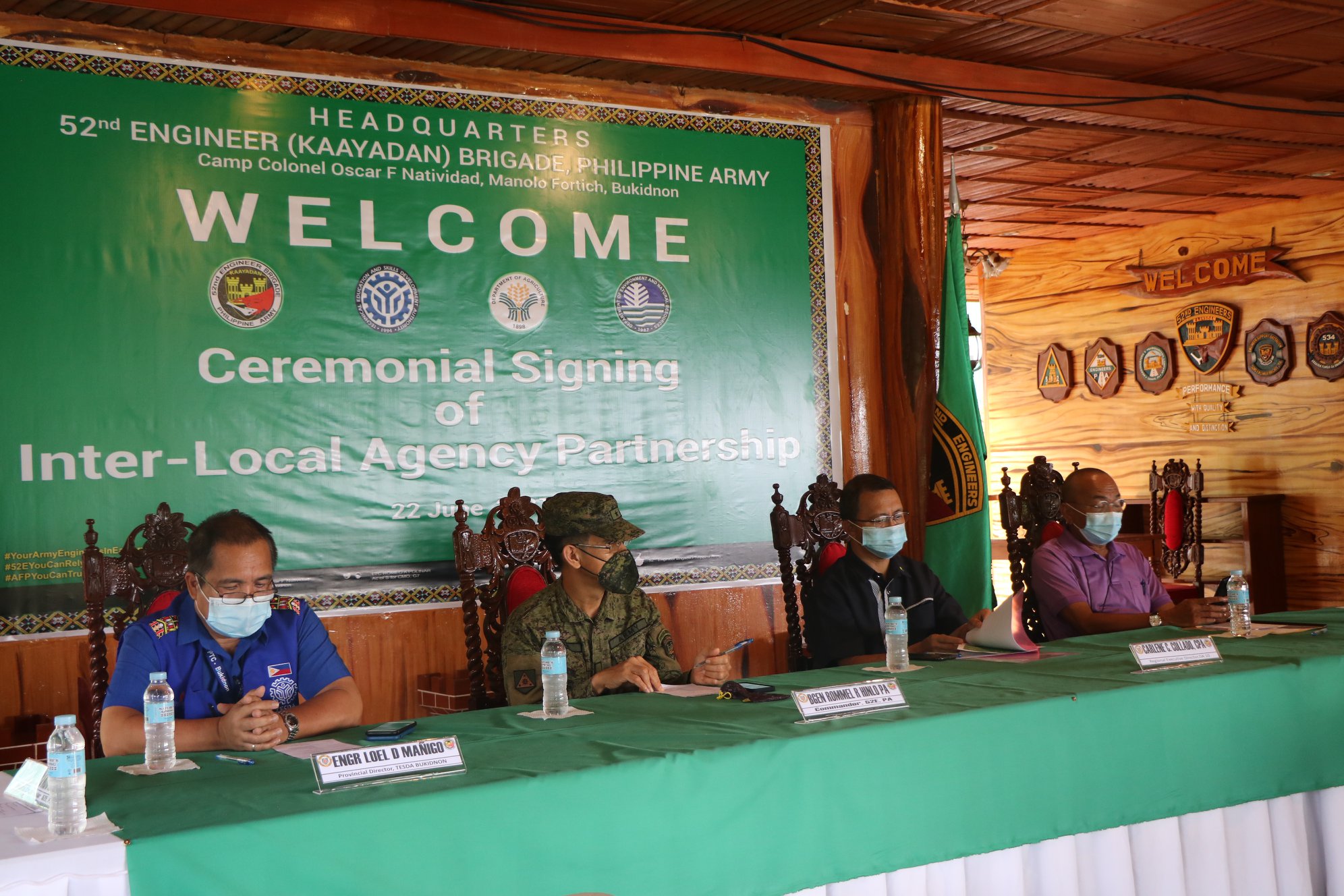 DA along with other nat'l. gov't agencies such as TESDA and DENR in NorMin forges ILAP with the 52nd Engineer Brigade, PA in support to EO 70.
MANOLO FORTICH, BUKIDNON – The 52nd Engineer Brigade, Philippine Army has forged an Inter-Local Agency Partnership (ILAP) with the DA, TESDA, DENR in Northern Mindanao in support of EO 70 or institutionalizing a whole-of-nation approach to end local communist armed conflicts.
On Tuesday, June 22, the signing of ILAP brings together the commitment for a strengthened regional effort to provide more efficient public services.
BGen Rommel R Hinlo, Commander, 52nd Engineer Brigade, PA signed the partnership with the Department of Agriculture -10 Regional Executive Director Carlene C. Collado, Department of Environment and Natural Resources (DENR-10) Regional Director Arleigh J. Adorable, and Technical Education and Skills Development Authority (TESDA) Bukidnon Provincial Director Engr. Loel B. Mañigo.
The ILAP reinforces the existing partnership among the agencies and fosters an era of progress and peace in the country.
BGen Hinlo shared, "We become partners in future undertakings especially on training, skills exposure, technologies, and knowledge that we can obtain."
He added, the collaboration between government agencies is more than cooperating with other teams which involve shared vision, mutual respect and in-depth understanding of each other's role with a goal of achieving excellent results and high-value effects for their organizations and communities.
Dir. Collado said, "DA continues to work with the Philippine Army in our efforts to contribute peace and security through a robust agricultural development."
Collado added, that DA-10 continues to converge with national government agencies and other partners to come up with a concrete and sustainable enterprise in the area.
"DA commits to continuously support the advocacy of the 52EBDE to attain a peaceful, conflict-resilient, and development-ready communities in its area of coverage, " he concluded.# (ATCabig)