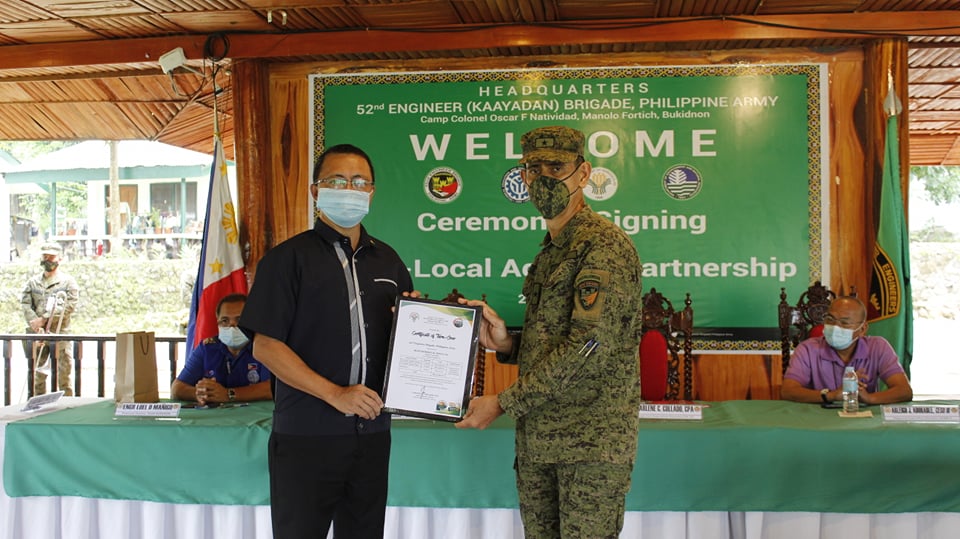 DA-SAAD turns over free range chicken as livelihood assistance to the 52nd Engr. Brigade, PA.
CAGAYAN DE ORO CITY – The 52nd Engineer Brigade, Philippine Army has received livelihood assistance from the Special Area for Agricultural Development (SAAD) of the Department of Agriculture in Northern Mindanao.
BGen Rommel R Hinlo, Commander, 52nd Engineer Brigade, PA received the certificate of turn over from DA-RFO 10 Regional Executive Director Carlene C. Collado amounting P30,650 for 50 heads chicken (40 female, 10 male) on Tuesday, June 22.
The assistance is seen to support the thrust of DA to increase productivity and reduce poverty among marginalized sectors in agriculture and fishery in pursuit of the country's peace agenda.
BGen Hinlo extended his gratitude to DA 10 for said intervention. He added, that the free range chicken is intended for production and eventually be distributed to their area of coverage.
DA-10 Regional Executive Director Carlene C. Collado said, "We commit and dedicate ourselves to continuously support the advocacy of the 52EBDE and EO 70 to attain a peaceful, conflict-resilient, and development-ready communities in its area of coverage."#(ATCabig)