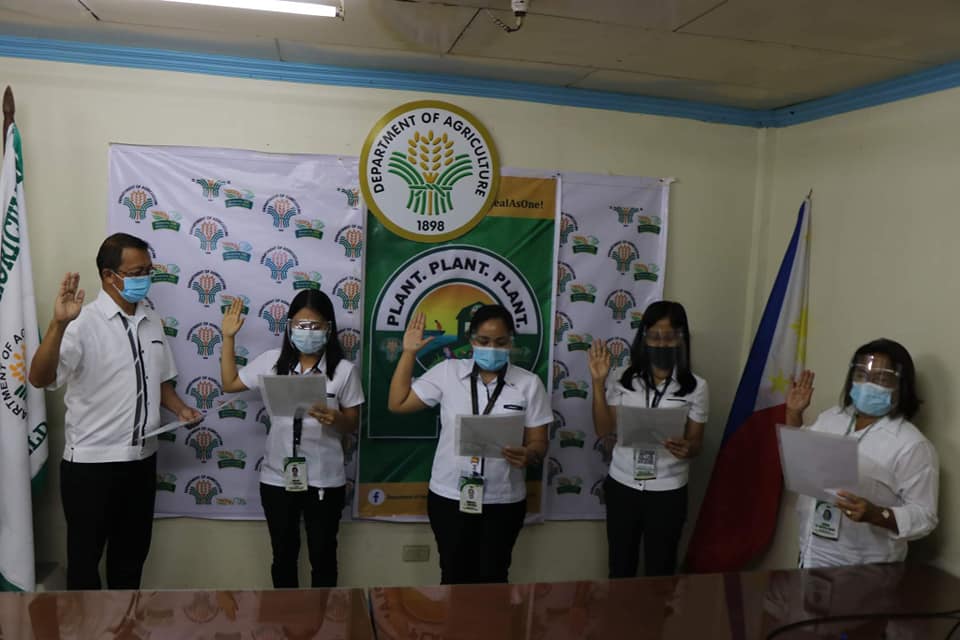 DA-10 RED Collado administers the oathtaking of some promoted employees of the agency.
CAGAYAN DE ORO CITY – This year's seventh batch of nine newly promoted and four appointed employees of the Department of Agriculture-Regional Field Office 10 took their oath of office before Regional Executive Director Carlene C. Collado on June 28.
The following are the employees and their designated posts:
PROMOTED
Agribusiness and Marketing Division (AMAD)
Larry E. Paraluman – Chief Agriculturist
Field Operations Division (FOD)
Chona H. Nacalaban – Agriculture Center Chief II
Jamaica L. Docdoc – Agriculturist II
Integrated Laboratory Division (ILD)
Oryza Kristy B. Baylo- Veterinarian III
Helen B. Galang – Agriculturist II
Regional Agricultural Engineering Division (RAED)
Grace T. Yagonia – Engineer II
Research Division
Paolo Miguel A. Diputado – Science Research Specialist II
Kenneth D. Polina – Farm Superintendent II
Administrative and Finance Division (AFD)
Karina Molawin E. Andres – Administrative Officer II
NEWLY APPOINTED
Regional Crop Pest Management Center (RCPMC)
Christopher A Andelao – Laboratory Aide II
Research Division
Arlyn T. Timario – Science Research Specialist I
Alyssa Marie Y. Cailing – Science Research Specialist I
Rica Amor A. Caterial – Science Research Specialist I
Dir. Collado stressed to the newly promoted and appointed employees on the agency's call for good governance and zero corruption in serving the Filipino people with utmost integrity and competence.
Witnessing also is DA-RFO 10 Regional Technical Director for Operations and Placement and Selection Board Chair, Carlota S. Madriaga who challenged them to adhere with the agency's vision for a food secure and resilient Philippines with prosperous farmers and fisherfolk.# (JCAnito)