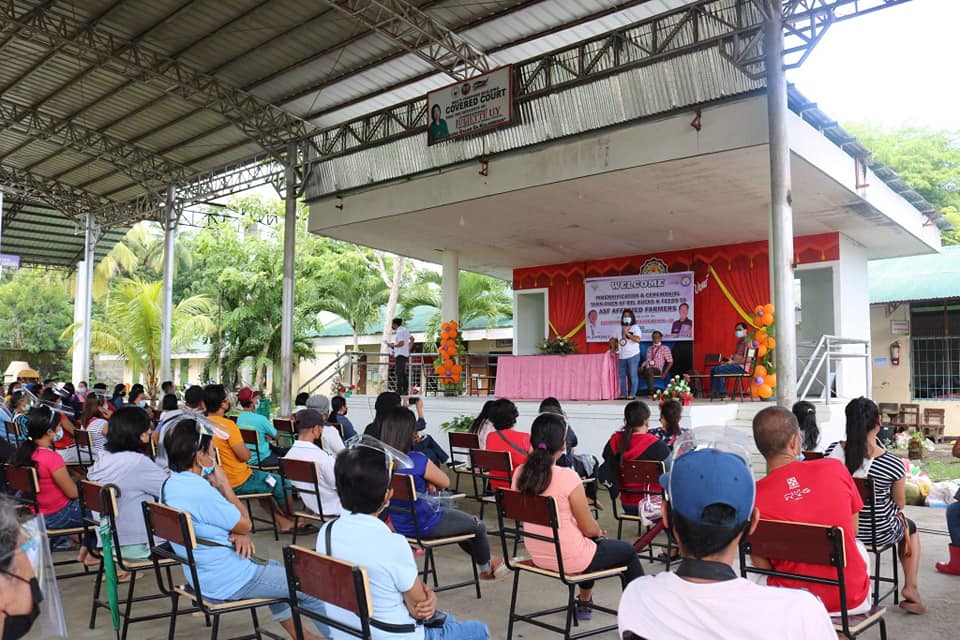 ASF-affected farmers from Initao, Manticao and Libertad of MisOr province claim their indemnity assistance on July 7. Months prior, hog raisers in said areas have subjected their animals for depopulation at P5,000 per culled hog to help the government curb the spread of the hog viral disease.
CAGAYAN DE ORO CITY – The agriculture department in Northern Mindanao (DA-10) recently released the African Swine Fever (ASF) indemnification payment worth P5.93 million to Misamis Oriental province.
On July 7, about 319 hog raisers from three towns of said province received such financial aid, covering Initao with with P2.805 million (168 farmers); Manticao with P3.070 million (149); and Libertad with P55,000 for 2 farmers.
Hog raisers whose animals were depopulated to prevent the spread of the viral disease got P5,000 for every culled hog.
"This [indemnification payment] is a big help for you [affected hog raisers] to start anew with your chosen alternative livelihood and as source of income for your daily needs," said Chona H. Nacalaban, DA-10 MisOr Provincial Operations Center Chief who represented DA-10 Regional Executive Director Carlene C. Collado.
Such was realized, the agri official added, with the assistance from the provincial and municipal governments.
She shared, that with the agency's continued partnership at the local levels, more agri-interventions are yet to come thru availment from DA's banner programs – rice, corn, high value crops and livestock, and other special projects.
On top of DA-NorMin's indemnification assistance, the provincial government of MisOr headed by Gov. Yevgeny Vincente B. Emano also provided ready-to-lay ducks and sacks of feed to the affected farmers as start-up for another livelihood option.
On resolving ASF, which is exacerbated by the COVID-19 pandemic, the provincial governor added: "The solution lies within all of us. We, in the government, requests for all of your full cooperation to early on recover from these threats."
In doing so, this would pave the way for MisOr to bounce back its economy, he concluded.
Meanwhile, one of the beneficiaries, Marly Patnulag of barangay Jampason, Initao expressed, that it was worth it in heeding to the call of the government.
"Initially, it was hard to give up my raised hog to be culled, as way to help curb the spread of the disease [ASF] in our barangay. However, they [national and local governments] have assured us [affected hog raisers] that they will provide indemnification for such. Truly, they have fulfilled their promise." she said.
Since early Tuesday, July 6, DA-10 has already paid out P6,290,000 worth of indemnification assistance to 343 affected hog raisers, with the first leg of its distribution in Laguindingan town. # (JLO)