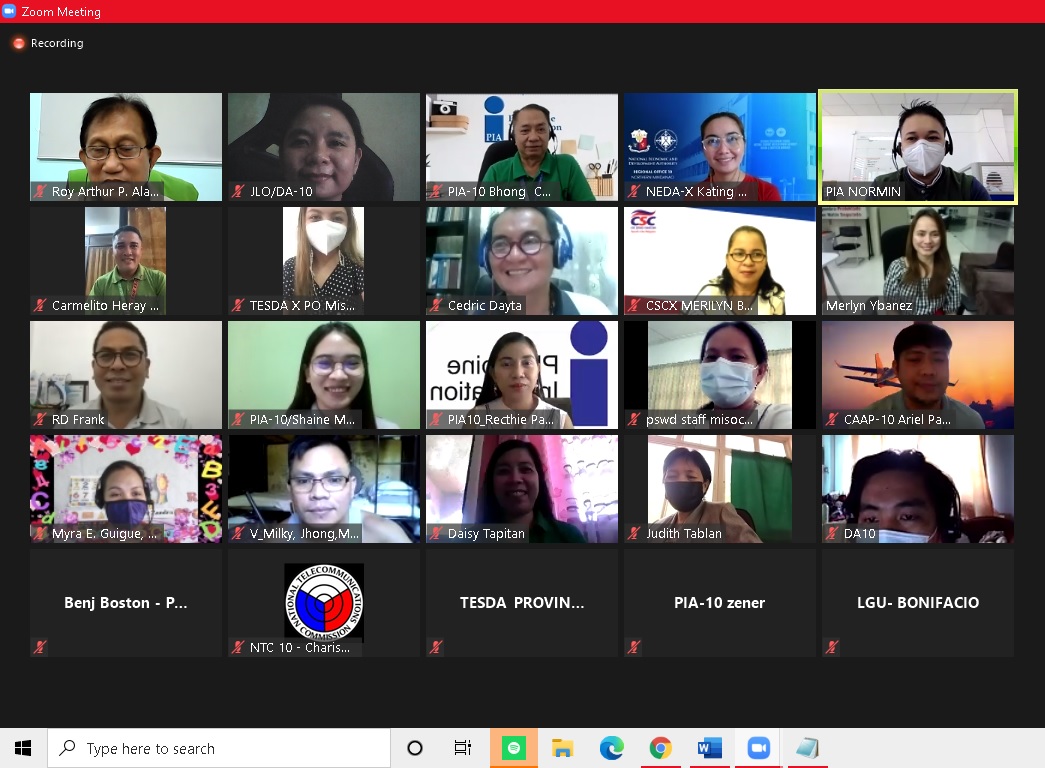 On August 12 via the virtual platform, DA-10 and PCIC bare updates on ASF in R-10 and its corresponding interventions to aid hog raisers easen risks to their investments amid the ASF threat during the RAGCOM Info Car.
CAGAYAN DE ORO CITY, August 12 – The agriculture department in Northern Mindanao (DA-10) pushes hog raisers to insure their animals with the DA-Philippine Crop Insurance, Corp. (PCIC) to avail indemnification and easen risks to their investments amid the African Swine Fever (ASF) contagion.
In a virtual Regional Association of Government Communicators (RAGCOM)-10 Information Caravan, Dr. Julesben Caesar C. Maquiling, DA-10 ASF Focal Person reported that starting July 1, this year, indemnification requests for depopulated hogs due to ASF will no longer be accommodated under the department's quick respond fund, but rather thru PCIC's insurance program.
To date, DA-10 has already released the indemnification for the 1,747 ASF-stricken hog farmers with 7,404 hogs, in the total amount of P37.020 million since November 2020, while other requests are still in progress for payment.
Unlike previous ASF indemnification claims pegged at P5,000 per culled hog, he detailed, that under PCIC's Swine Industry Insurance program, a minimum amount of P10,000 will be accorded to farmers whose animals are depopulated to prevent ASF infestation in an area.
"In support to DA's effort, PCIC, an attached agency of DA, has designed the Swine Mortality Insurance Program. It contains relaxed features of the agency's regular livestock insurance program such as discounted premiums for commercial hog raisers, increased indemnity for hog losses, and inclusion of culling or destruction of swine due to ASF as ordered by the government as compensable peril," Roy Arthur P. Alamban, PCIC sales and marketing chief bared.
He added that the corporation has already allotted P600 million from its current budget for said program.
Of which, the amount shall either be used as insurance premium subsidy or indemnity payment for assured RSBSA listed hog raisers, he added.
Intended beneficiaries of the insurance program range from backyard hog raisers listed in the Registry System for Basic Sectors in Agriculture (RSBSA); farmer's cooperatives and associations; commercial farm operators; local government units (LGUs); and state colleges and universities.
Additional requirements include LGUs' adoption of harmonized ordinances, implementation and regular updating in the prevention and control of ASF, and the organization of the Bantay ASF sa Barangay; registration of hog farms with LGUs; training on biosecurity measures among farmers, or in the case of commercial farms, owners and staff; and certification that hogs to be insured are in the green (free), light green or pink (buffer) zones.
As to the provision of government premium subsidy, Alamban clarified, that for backyard hog raisers (maximum of 20 heads), subsidy shall be 100% of the premium cost or full premium subsidy, while for the commercial hog raisers, the premium subsidy shall be the rate of the premium cost as may be agreed by DA and PCIC.
He noted, that affected hog raisers will receive a maximum of P10,000 per head for fattener; P14,500 per head for F1 breeder; and a maximum of P34,000 per head for parent/grandparent stock.
The agri official further emphasized, however, that said coverage rates will depend per type of swine, subject to usual prorating assessment according to the growth period when the loss occurred.
"These policies shall apply only to the current situation with regard to ASF infection and shall remain effective until such time that hog industry and the market will have stabilized or solutions or treatment to the disease will have been developed," Alamban stated.
Hog raisers can apply for insurance at PCIC's regional office at the 4th Floor, One Montecarlo Building, Corrales-Hayes Sts. (857-2983/0906-892-5746/0948-325-4032) or thru their provincial extension offices at the 2nd Floor, PENLAC Building, National Highway, Valencia City, Bukidnon (0905-744-4417/0948-860-6610/0930-884-0524) and at the Farmer's Training Center in Bagong Dawis, Baroy, Lanao del Norte (0906-461-7137).
The provincial, city or municipal agriculturist or agricultural technicians in any LGU may also be reached out for assistance, Alamban concluded.
Currently, there are a total of 19 ASF-affected areas in the provinces of Misamis Oriental and Lanao del Norte, respectively. # (JLO)