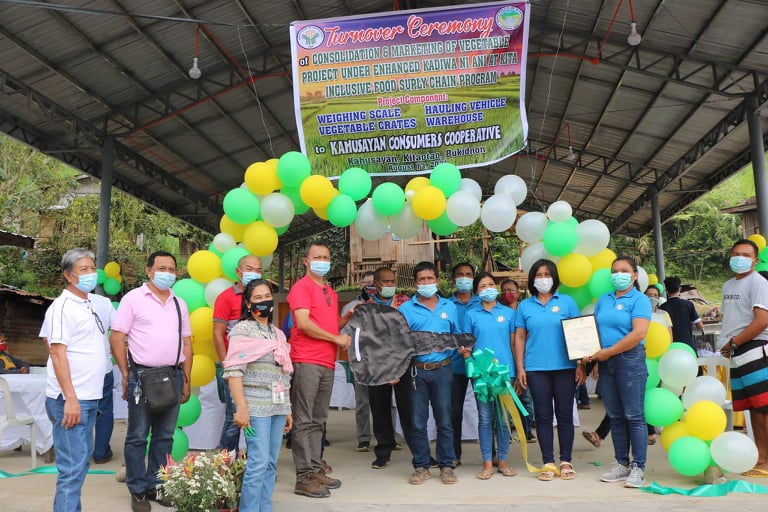 DA-10 turns over the P4.5-M worth project, comprising of trading post, hauling vehicle, weighing scale and plastic crates to KCC in Kitaotao, Buk'non realized thru the Enhanced Kadiwa ni Ani at Kita Inclusive Food Supply Chain program.
KITAOTAO, BUKIDNON, August 13 – The P4.5 million worth project of the Department of Agriculture – Regional Field Office 10 (DA-RFO 10) under the Enhanced Kadiwa ni Ani at Kita Inclusive Food Supply Chain program is now realized for the Kahusayan Consumers Cooperative (KCC) in barangay Kahusayan, Kitaotao, Bukidnon.
In April of this year, KCC Chair Nilo S. Lanzaderas received the check of said amount from DA-RFO 10 Regional Executive Director Carlene C. Collado for said project comprising the trading post/building (P2-M), hauling vehicle (P2.4-M), weighing scale and plastic crates (P100,000).
RED Collado cited, that Kitaotao town is one of the strategic boundaries of the region that has been granted with said projects.
He challenged the recipients to take advantage of the facilities granted, and strategize for the expansion of their market for them to acquire additional interventions from DA.
"I hope through this project the cooperative will become stronger and progressive, and will help realize the full potential of Kitaotao, Bukidnon as an agri-tourism municipality," the director remarked.
DA-10 has budgeted P11 million for the region's trading post projects under Bayanihan 2 funds thru the Enhanced Kadiwa ni Ani at Kita.
In response, Lanzaderas shared, "Daghang salamat sa DA kay naa na kami insaktong bagsakan sa mga gulay ug delivery van, mas nagkadaghan ang nilambigit sa among kooperatiba. Akong paningkamutan nga ma-sustenar ug mas molambo ang KCC alang sa mga miyembro niini hangtud sa sunod pang mga henerasyon."
[Thank you DA for granting us with these projects such as the trading post and delivery van for our vegetables, that encourage more farmers to join our coop. I will work harder to help sustain and flourish the operations of KCC for the benefit of the members, and even the next generation.]
The KCC is registered under the Cooperative Development Authority since 2017. Currently, it has 205 active members and earns a net income of roughly P30,000 per month from their farming, mostly from squash and ginger.
Aside from said project, the department thru the High Value Crops Development Program has previously given KCC a multi-cultivator machine that they can use for their crop production.
Also present in the ceremonial turnover is Agribusiness and Marketing Assistance Division (AMAD) Chief Larry E. Paraluman, with Bukidnon Provincial Agriculture Office headed by Engr. Alson G. Quimba, municipal staff of Kitaotao, Kahusayan barangay council and KCC board members.# (EMBentulan)