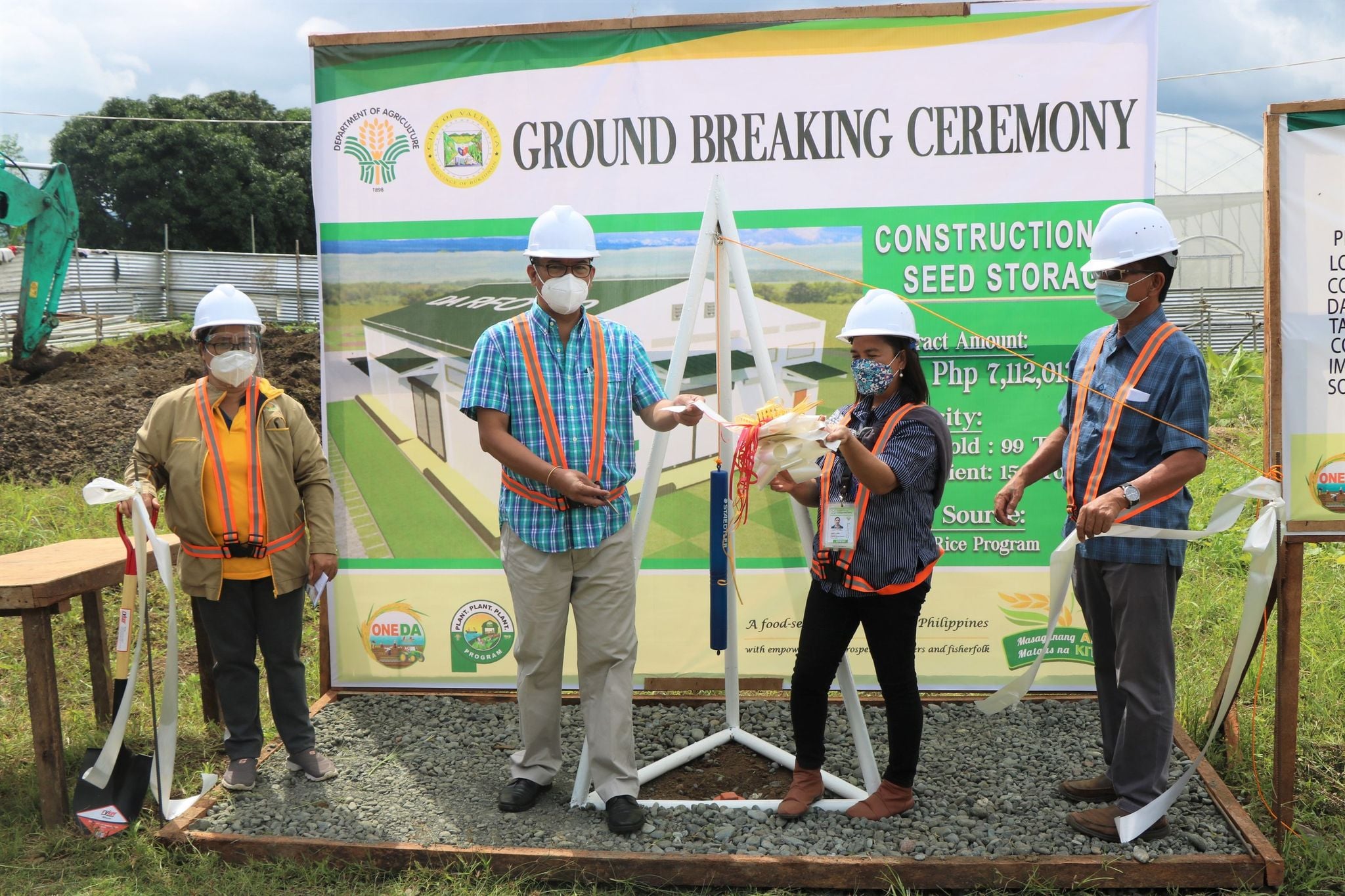 The groundbreaking ceremony led by DA-10 and LGU Valencia signal the start of the construction of the seed storage facility in barangay Pinatilan.
VALENCIA CITY, BUKIDNON, September 9 – The Department of Agriculture – Regional Field Office 10 (DA-RFO 10) led the groundbreaking ceremony, signaling the start of the construction of the seed storage facility at Nutriland Purok 1, in barangay Pinatilan, this city.
The soon-to-rise storage facility, which costs P7.11 million has a total area of 320 square meters, with cold storage of 160 square meters and ambient of 160 square meters.
Funded by DA's Rice Program, it has a 99 ton-capacity for the cold storage of rice seeds, while 156 tons for the ambient.
Particularly, cold storage is intended to prolong the shelf life and improve the quality of the seeds up to about two years.
Valencia City Vice Mayor Policarpo P. Murillo noted, that the city has 30,000 hectares of agricultural area, of which 11,000 hectares are devoted to rice production.
He also expressed his heartfelt gratitude to DA-10 Regional Executive Carlene C. Collado for considering Valencia City as the recipient of the said project among other towns in Bukidnon province.
In early April of this year, the department has also turned over one unit warehouse in Nutriland, which costs more than P4.3 million.
Meanwhile, DA-10 Bukidnon Provincial Operations Center Chief  Dr. Janet D. Lopez, who represented RED Collado, reiterated his recurring message, that the provision of projects to beneficiaries relies on the diligence and enthusiasm of an agriculture's office at the local level.
She emphasized, that DA welcomes any requests for agri-assistance to make farming communities become more productive.
The completion and inauguration of the project are set sometime in February 2022.
Attending the ceremony are Valencia City Councilor Glenn P. Peduche, City Agriculturist Connie L. Dalangan, DA-RFO 10 Regional Agricultural Engineering Division Agri-Infra Section Chief Engr. Junel W. Ablanque, Sta. Ana Raycon, Corp. Authorized Managing Officer Raymund Casiño, and other staff from the local government of Valencia City.# (EMBentulan)