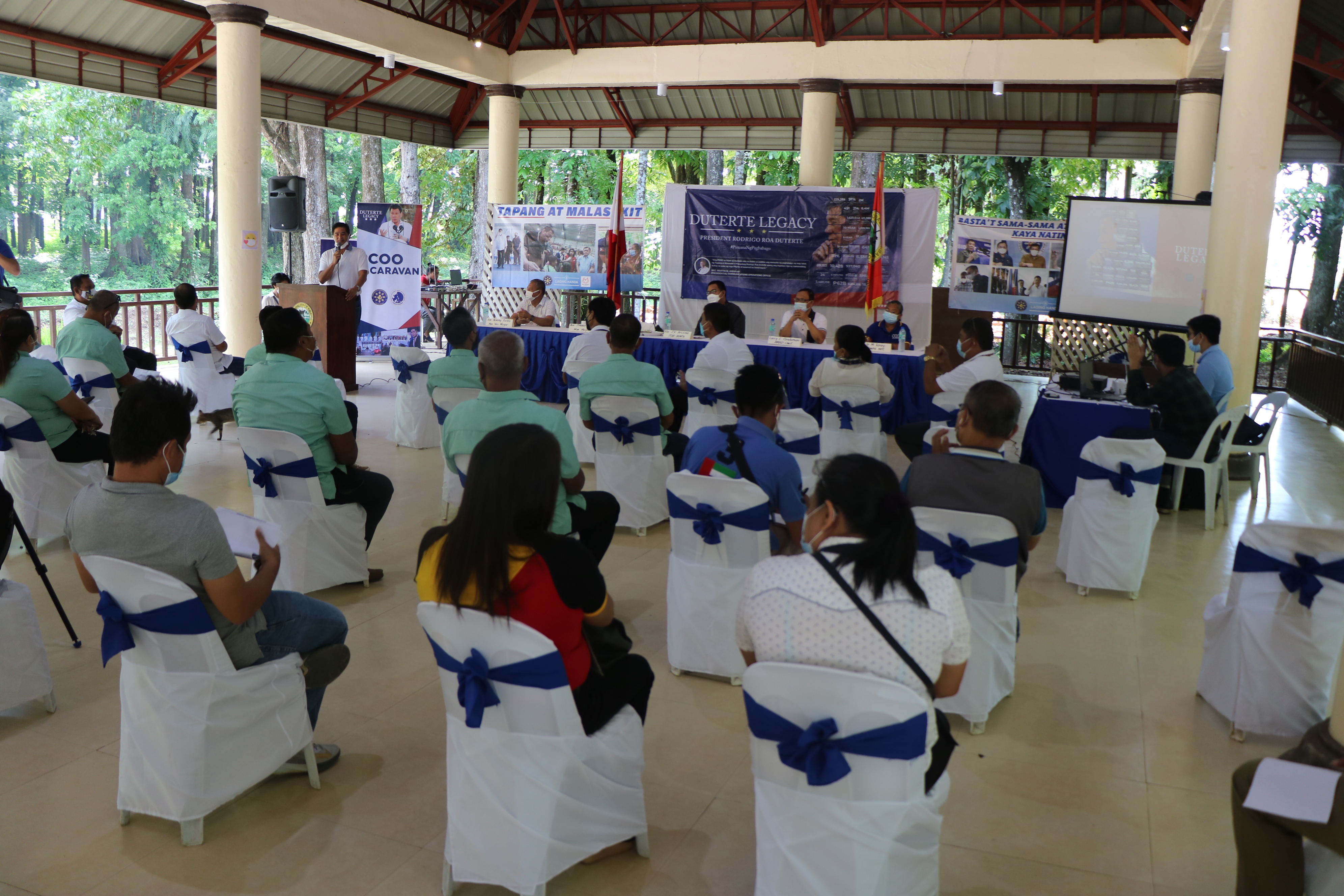 The Duterte legacy underscores DA's Enhanced Kadiwa program, which aids farmers and fishers to enhance their capacities, including LGUs and SUCs to efficiently operate their respective Kadiwa activities regionwide.
KIBAWE, BUKIDNON, September 11 – The Department of Agriculture – Northern Mindanao (DA-10) on Saturday highlighted the strides under its Enhanced Kadiwa Inclusive Food Supply Chain Program since the agency was helmed by Agriculture Secretary William D. Dar under President Duterte's administration.
The Presidential Communications Operations Office (PCOO) spearheaded the Duterte legacy caravan held in Kibawe, Bukidnon tourism center, underscores the changes brought about by the government thru featuring stories of beneficiaries to cement the legacies of the national and local governments for the Filipinos.
"Isinulong niya yung mga batas, polisiya at programa nga mapakikinabangan ng bawat Pilipino, hindi lang ang Pilipino ngayon, kon di ang susunod pang mga henerasyon," PCOO Assistant Secretary for Global Media and Public Affairs, Jusan Vincent L. Arcena remarked.
The info campaign focused on the three main pillars of the administration – poverty alleviation, infrastructure development, and peace and order.
Larry E. Paraluman, Agribusiness and Marketing Assistance Division chief, representing Regional Executive Director Carlene C. Collado of DA-10 bared, that the Kadiwa ni Ani at Kita has turned into one of the key programs of the department.
Paraluman noted, that it has provided a direct link between farmers and consumers in gaining access to fresh, quality, nutritious and affordable agricultural and other food products.
While the Kadiwa started even before the pandemic, he shared, that it has gained much ground with movement restrictions triggered by COVID-19.
In partnership with farmer's cooperatives and associations (FCAs), local government units (LGUs), national government agencies, non-governmental organizations, and the private sector, last year, he reported, that the region has generated almost P35 million in gross sales, and about P14 million from January to August of this year, benefiting around 7,000 consumers.
"In 2020, DA has created the Enhanced Kadiwa ni Ani at Kita Financial Grant Assistance program to enhance the capacities of farmers and fishers, [including LGUs and state universities and colleges (SUCs)] to sustainably operate their Kadiwa activities in the different parts of Region 10," the AMAD chief accounted.
For the town of Kibawe alone, the agri department has granted P150,000 each to the Laswimba, Labuagon, West Kibawe and Marapangi multi-purpose cooperatives (MPCs) intended for their additional capital, while Marapangi MPC has been accorded with an added P1.25 million for their hauling vehicle.
"MCDC of Kibawe is very grateful that four of our cooperatives are among the beneficiaries of the Enhanced Kadiwa financial grant assistance. Now, we have funds to buy the palay harvest of farmer-members from the different cooperatives, where we mill and sell them back to farmers and other consumers at reasonable prices," said Haidi M. Taray, the chairperson of the Municipal Cooperative Development Council of Kibawe.
She added that through said approach, they can also protect the farmers from going to traders and selling their harvest to them at dictated prices, especially during harvest season.
Overall, DA-10 has allocated the amount of P14.35 million, benefiting 9 FCAs, LGUs and SUCs under the regular program; while a total of P42.35 million worth of enhanced Kadiwa projects have been implemented, benefiting 8 FCAs, LGUs and SUCs under the Bayanihan 1 and 2.
Also in attendance is the officials and staff of LGU Kibawe headed by Mayor Reynaldo S. Ang Rabanes and Vice-Mayor Raymundo A. Batao, Jr., residents, and other government heads and staff. # (JLO)