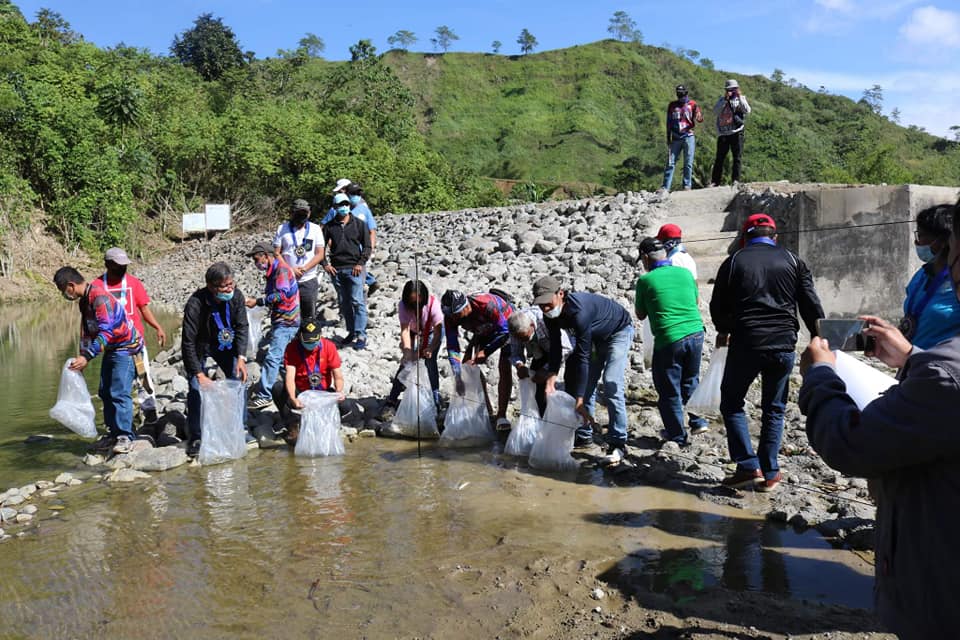 The P18-M SWIP in Malaybalay City, Bukidnon is also a source of additional food and income among farmers as they can diversify their farming activities.  
CAGAYAN DE ORO CITY – Department of Agriculture – 10 Regional Executive Director Carlene C. Collado led the ceremonial turnover of a Small Water Impounding Project (SWIP) or Rainwater Harvesting Structure (RWS) in Sitio Lunokan, Miglamin, Malaybalay City, Bukidnon on January 20, 2022.
The P18 million worth project funded by the DA-Bureau of Soils and Water Management (DA-BSWM) Region 10 under its Locally Funded Project – Rainwater Harvesting Structure (LFP-RWS) and implemented by DA-10 will benefit around 87 rice farmers who are members of the Lunokan Farmers Small Water Irrigation System Association (LUFASWISA).
Director Collado said, the provision of the said project will irrigate the existing 65 hectares rice area, and 55 hectares of the potential service area for other rainfed crop production such as sugarcane and corn, among others.
He added, with a total of 120 hectares, the cropping intensity will be enhanced to twice or thrice a year, including its crop yield which can increase farmers' income.
Guided by the OneDA approach, the DA-Bureau of Fisheries and Aquatic Resources 10 (DA-BFAR 10) also stocked the area with 25K pieces of tilapia (23K) and carp (2K) fingerlings to provide an additional source of food to the community.
With the existing SWIP, a farmer can establish a 500-square meter fishpond for every hectare of the rice field as additional food and income by diversifying farm activities and increasing yields of both rice and fish crops.
BFAR-10 Provincial Fisheries Officer for Bukidnon, Marlou Fernandez shared that tilapia culture using cage system is also possible in the area as a good source of livelihood.
Supporting the activity were DA-BSWM National Soil & Water Resources Research & Development Center for Highland Pedo-Ecological Zone Center Chief Henry A. Apolinares; Malaybalay City ABE Head Engr. Joel delos Reyes with DA-RFO 10 Regional Agricultural Engineering Division Chief Engr. Deliza T. Camaro and DA-BFAR-10 Bukidnon PFO Fernandez who represented Regional Director Teodoro A. Bacolod, Jr.# (EMBentulan)