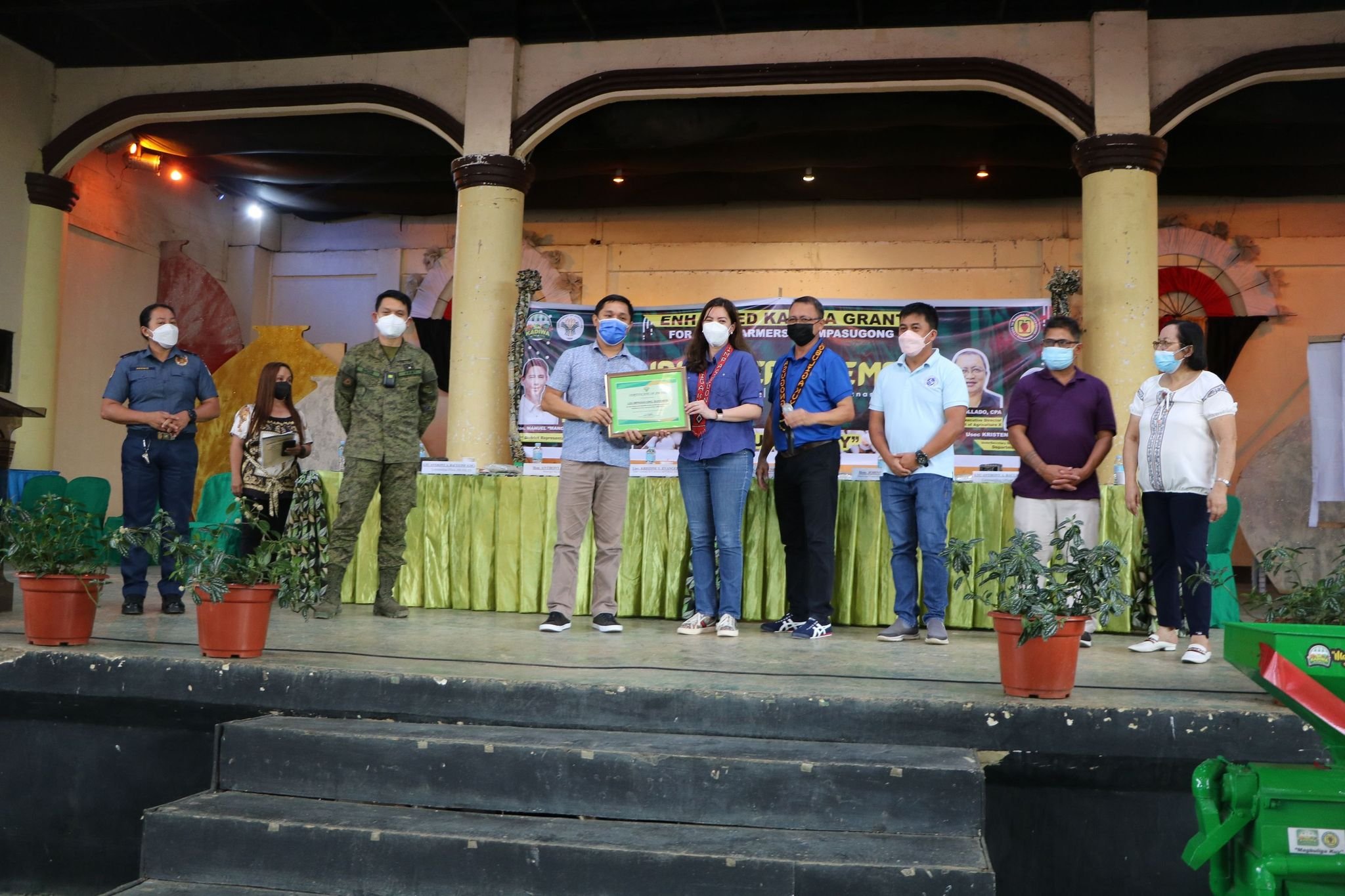 To augment the productivity and income of adlai farmers under MAAMA, DA provides production and marketing support thru its Enhanced Kadiwa financial grant.
IMPASUGONG, BUKIDNON – Adlai farmers are eyed to benefit from the Department of Agriculture (DA), as it handed over a certificate of award for the P2 million worth Enhanced Kadiwa ni Ani at Kita financial grant assistance to the local government unit of Impasugong, Bukidnon on January 28, 2022.
Said grant will aid the smallholder adlai farmers tilling an area of 0.5 hectares and below, covering about over 50 hectares of adlai production committed by the clustered farmers' organizations (FOs) from the town's 13 different barangays.
Of the total amount downloaded to LGU Impasugong, P900K was procured for the 12 units adlai milling machine, PSF-450 foot impulse sealer, foot-stamping plastic sealer, digital weighing scale, weighing scale, and packaging materials.
Meanwhile, the P1-M will be used as working capital, to include buying the adlai grits produced by the farmers, and P100K is intended for the conduct of training to equip farmers on the best practices of adlai production and value-adding.
At the height of the pandemic in 2020, DA Undersecretary for Consumer and Political Affairs, Kristine Y. Evangelista said, that the department sought additional funding thru its Enhanced Kadiwa, to assist farmers in increasing their income while helping the country in its bid towards food security and sufficiency.
Witnessing the committed agri interventions, the DA official extended her gratitude, as this will be helpful particularly for the 12 chapters/organization under the 2,649-membered Movement and Alliance that Advocate Men in Action (MAAMA), a federation of adlai farmers, who are also members of the Indigenous Peoples (IPs).
They are MAAMA Bontongan, Bulonay, Capitan Bayong, Cawayan, Dumalaguing, Guihean, Hagpa, Impalutao, Kibenton, La Fortuna and Sayawan chapters, and the Kalabugao MAAMA organization.
With the machinery at hand, Impasugong Mayor Anthony A. Uy said, that the farmers can maintain the quality of their adlai grits which will be directly bought by the local government through its Municipal Enterprise Development Unit at P100 per kilogram, who in turn, will help sell them to the consumers.
"Sometimes it is difficult for our farmers to sell their adlai grits due to its low-grade quality, but now with the milling machine they can produce better grits," the local chief executive remarked.
For his part, DA-10 Regional Executive Director Carlene C. Collado lauded the efforts of LGU Impasugong and the farmers in availing of the said grant.
More assistance is underway, as USec. Evangelista committed the provision of 2 units hauling vehicle and 1 unit 90-horsepower capacity tractor by DA-10 thru RED Collado.
Meanwhile, MAAMA Impasugong federation president Sunny S. Echavia is thankful for the government's interventions.
"The milling machine is a realization of our long-time dream of producing quality adlai. We will do our best to produce higher yields to meet the demand in the market," he said.
Also gracing the ceremony is the Commander of the 8th Infantry Battalion, Philippine Army, Lt. Col Anthony A. Bacus with the local officials and DA's Agribusiness and Marketing Assistance division and provincial operations center in Bukidnon.# (MGBS/EMB)