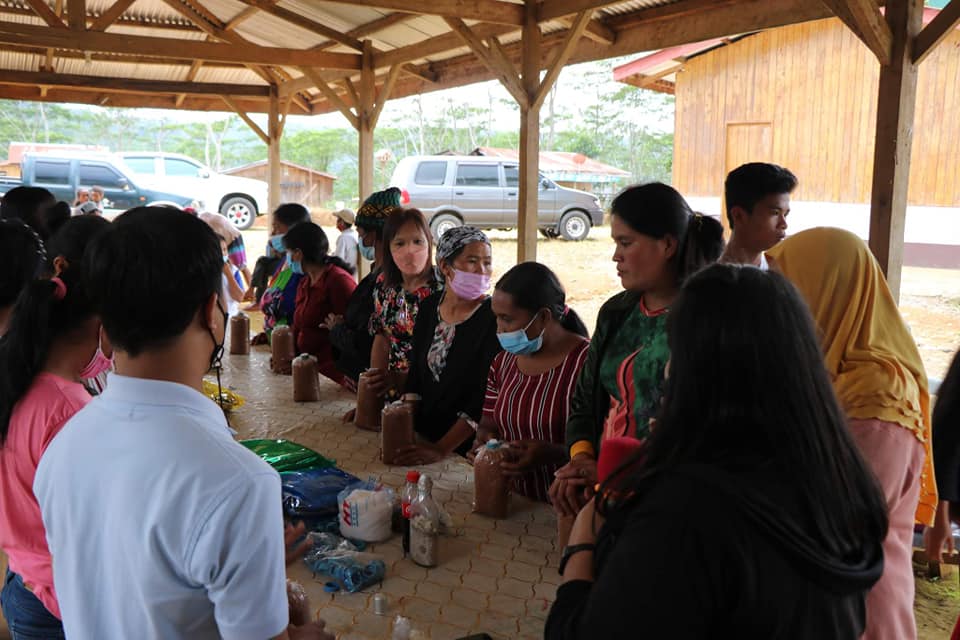 Members of a Higaonon-Maranao tribe in sitio Kibulag, Lantud, Talakag, Bukidnon attend a training on mushroom production and tilapia culture as part of the OneDA's approach initiative in support of EO 70.
CAGAYAN DE ORO CITY – Around 50 members of the Igpanutadug sa Abaga Ta Bayug Agriculture Cooperative, a Higaonon-Maranao tribe of sitio Kibulag, Lantud, Talakag, Bukidnon were trained on Mushroom Production and Tilapia Culture in Pond on Thursday, February 3.
DA-10 Regional Executive Director Carlene C. Collado said, the training is part of the commitment of the Department of Agriculture in Northern Mindanao to the Poverty Reduction, Livelihood and Employment Cluster (PRLEC) of the Regional Task Force to End Local Communist Armed Conflict (RTF-ELCAC) in fight against local insurgency.
Through DA-10's Research Division, the mushroom training was extended to provide opportunities at the farm and local community level to increase the income of the members, especially the women.
They were taught on how to prepare mushroom fruiting bags using sawdust, aside from the lecture on basic knowledge in mushroom production.
Importantly, it can help in providing livelihood with a fast-yielding and nutritious source of food and a reliable source of income.
Director Collado, added that the interventions are in response to the needs of the IP community based on the validation and assessment conducted by OneDA in providing assistance to boost their livelihood and improve their productivity.
Developing the OneDA approach, the DA-Bureau of Fisheries and Aquatic Resources-10 (DA-BFAR-10) capacitated the members on tilapia culture in the pond, covering from pond preparation, management, harvesting and marketing.
DA-BFAR 10 Provincial Fishery Officer of Bukidnon, Marlou Fernandez shared, the project is livelihood support to the IPs, where DA-BFAR 10 will provide tilapia fingerlings to the group.
Initially, the stocking of tilapia fingerlings is set for February 18, 2022, in a 300 square meter pond.
Tribal Leader Sultan Abdul Amoran expressed his gratitude to the government for all the assistance provided to their community especially with the implementation of EO 70.
The intervention was funded under the agency's Kabuhayan at Kaunlaran ng Kababayang Katutubo (4Ks).
As explained by 4Ks focal person, April Grace M. Racines, the 4Ks is a comprehensive program targeted for the improvement of tribal communities aiming to capacitate and empower IPs through community organizing, agricultural skills training, and workshops to intensify knowledge and productivity.
The 4Ks is a three-year special project of DA where it provides assistance to the Indigenous Cultural Communities (ICCs) and Indigenous Peoples (IPs) in the form of agricultural and fisheries-related livelihood opportunities.
The activity was supported by the National Intelligence Coordinating Agency Region 10 (NICA 10) and Technical Education and Skills Development Authority (TESDA) through TESDA Technical Specialist, Wilma Tomada Bathan.# (ATC)