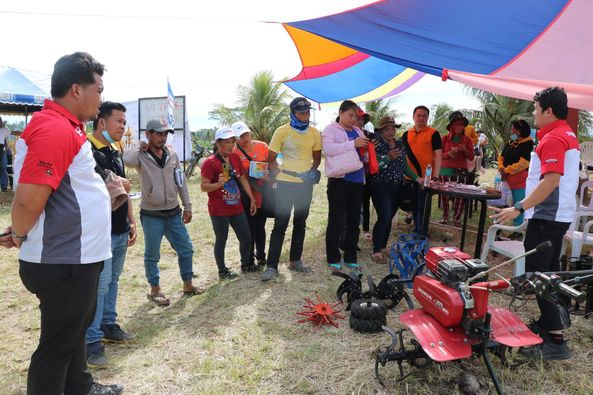 Agri dept through its Corn program caps the conduct of a corn derby in Southern Bukidnon for the wet cropping season.
Dangcagan, Bukidnon – The hybrid corn variety P3660YHR of the Corteva Agri Science was declared the most profitable variety with 3.2 Pesos Return on Investment (ROI) per 1 Peso production cost, as the DA-Region 10 (DA-10) capped its wet cropping Corn Derby in its Research Center for Upland Development (RCUD) in the town of Dangcagan, Bukidnon on September 16.
The hybrid varieties DK8899S of Bayer Crop Science and NK6410BGT of Syngentha Philippines were ranked second, with an identical 3 Pesos ROI per 1 Peso investment. Close in third is Bayer Crops Science's DK8131S with 2.9 Pesos ROI per 1 Peso investment.
The said hybrid corn varieties were highly recommended for planting by the corn farmers in Southern Bukidnon, taking into account the topography and the climate in the area.
The Corn Derby is an annual technology demonstration spearheaded by the DA-10's Corn program with the objective of helping corn farmers in the region in identifying the most-suited hybrid corn variety in their location, and equip them with cutting edge corn production technologies.
In his message, DA-10 OIC-Regional Executive Director, Milo D. delos Reyes underscored the many potentials of Bukidnon for corn production. He also urged the farmers to take full advantage of the promising farmgate price of corn in the province presently pinned at 22 Pesos per kilo.
"Let us continue to plant corn and take advantage of the high buying price. All you need now is to be diligent, persistent and a little investment," he said.
He also urged the corn farmers to diversify their crops and avoid monoculture for optimal earning. He further encouraged the farmers to instill in their children the appreciation for agriculture at a young age as a way of nurturing the farming tradition.
For his part, DA-10 OIC-Regional Technical Director for Research and Regulations, Audy G. Maagad emphasized the local government units' (LGUs)key roles in organizing and clustering the corn farmers.
"We are hoping that the LGUs will continuously back our effort to organize our corn farmers. With organized farmers, we can easily cascade farming information and technologies to the grassroots level," he averred.
The Corn Derby harvest ceremony was attended by farmers and personnel of the municipal agriculture offices from the towns of Quezon, Kitaotao, Kibawe, Damulog, Dangcagan, and Don Carlos in Southern Bukidnon.
The derby was participated by six hybrid corn seed developers namely, Asian Hybrid Seed Technology, Inc., Evogene Seed Philippines, Bayer Crop Science, Bioseed Research Philippines, Syngenta Philippines, and Corteva Agri Science, who featured 13 hybrid corn seed entries planted in a 1.3-hectare demonstration farm inside the RCUD.
Champion variety of the wet cropping Corn Derby will be announced after the harvest ceremony in two other DA-10 research stations – the Northern Mindanao Agricultural Crops and Livestock Research Complex (NMACLRC) in Malaybalay City, Bukidnon and Research Center for Hilly Land Development (RCHD) in Claveria, Misamis Oriental late this month and early October. # (ATalib)