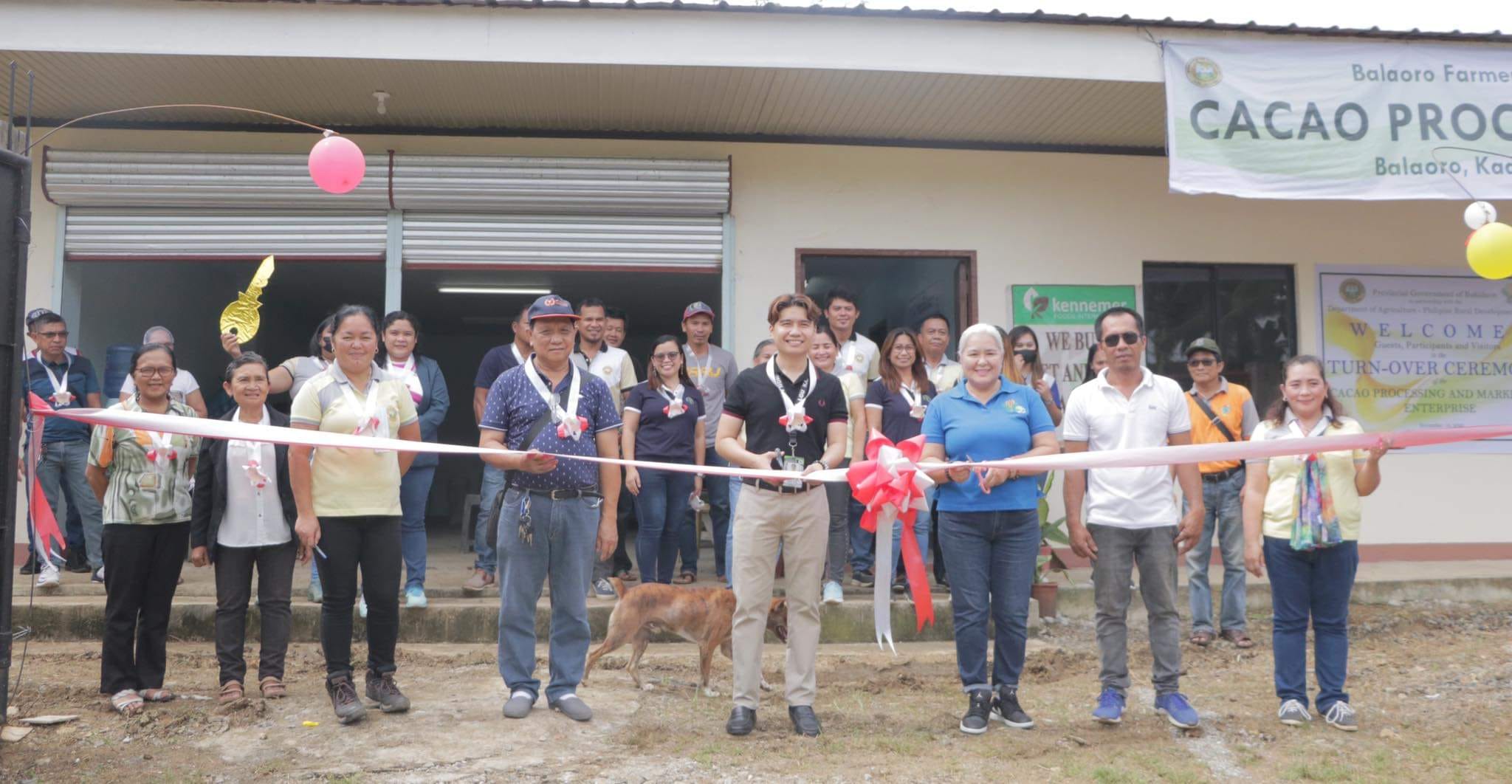 A P10-million facility is established in Kadingilan, Bukidnon to further develop the cacao industry in the locality.
KADINGILAN, BUKIDNON – A full-functioning cacao facility is ready to serve Bukidnon as the Department of Agriculture – Philippine Rural Development Project 10 (DA-PRDP 10) turns over the machinery to the Balaoro Farmers Association (BAFA) on Friday, November 18, 2022.
The project is in support of the Cacao Processing and Marketing subproject with a total project cost of Php 10,905,947.82 comprising 1 roasting machine, 1 crusher machine, and 1 storing machine.
DA 10 OIC – Regional Executive Director and RPCO Project Director, Carlene C. Collado congratulated the stakeholders for achieving the said feat.
He said that the facility will encourage farmers to plant more cacao, produce more quality cacao beans, and boost the tablea and chocolate production in the province.
Carlota S. Madriaga, DA 10 Regional Technical Director for Operations and RPCO 10 Project Director expressed her joy to see the achievement of the association.
"I am proud to have witnessed the progress of this project, from the groundbreaking until its completion. We are now reaping the fruit of our hard work, from the association, province, and the PRDP team," Madriaga added.
As one with the movement in empowering women, Dir. Madriaga also commended the association for opening employment opportunities, especially for women.
"It is heartwarming to see women producing tablea from their labor and earning a living for their families".
She also challenged the farmers to further expand their market not only within Bukidnon but to be globally competitive.
Jerry Agustin Canoy Jr., Kadingilan Municipal Mayor expressed, "We have reached this far through our hard work. Kadingilan is already known for our tablea, and we hope with this project, BAFA can make a mark in the Philippines."
Starting with only 5 members back in 1993, BAFA has increased it to 56 farmer-members and has already linked to eligible buyers and markets around the country.
In his acceptance message, BAFA chairman Clemente M. Bañados thanked the stakeholders and promised to prioritize the expansion of their association.
"I am grateful to the government for recognizing our potential and for including us in the priority list to receive government interventions.
Addressing his fellow members, he reminded them to be selfless and to think of the future generation.
"Let us continue to work harder to reach that goal," Bañados concluded.
It can be recalled that the association has already received a processing center and a hauling truck from PRDP which were turned over in 2021.
This SP was also implemented under the supervision of the Provincial Local Government (PLGU) of Bukidnon.#