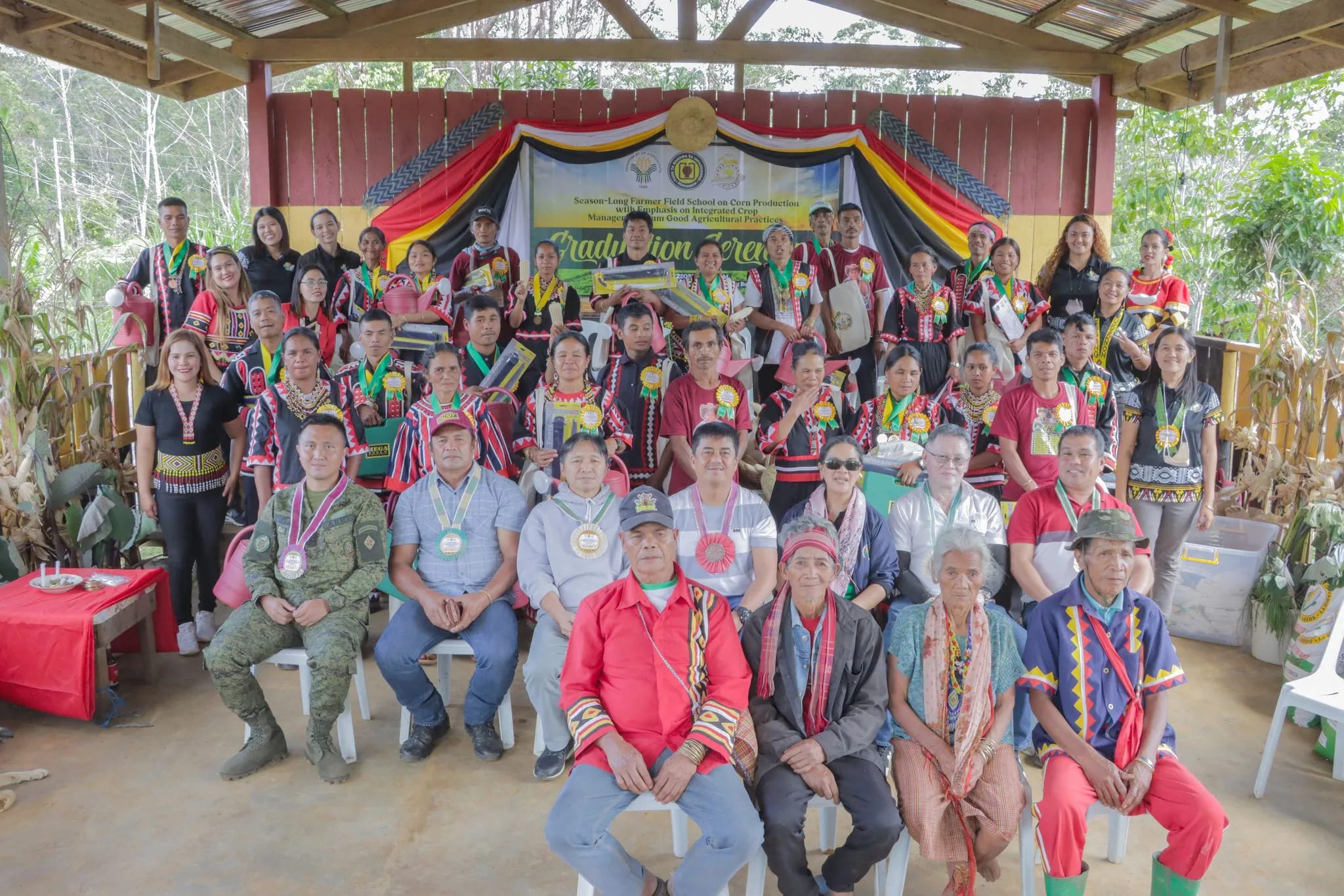 4Ks program produces 27 IP graduates for its FFS on corn production.
IMPASUG-ONG, BUKIDNON – The Department of Agriculture – Regional Field Office 10 (DA-10), together with the local government of Impasug-ong, conducts a graduation ceremony for the 27 enrollees of the Farmers Field School (FFS) on November 22, 2022, in sitio Mintapod, Hagpa of this town.
The four months-long FFS, which was initiated under the Kabuhayan at Kaunlaran ng Kababayang Katutubo (4Ks) Program, focused on teaching the Higaonon tribe about corn production technologies with emphasis on integrated crop management and good agricultural practices.
DA-10 OIC Regional Executive Director Carlene C. Collado lauded the participants for enduring the 4-months season-long training where they learned the most practical and applicable farming technologies to sustain food production in their area.
He further emphasized that the best way of having enough food on their table is to produce their own, following the knowledge they learned from the training.
DA's efforts in coordination with the 16th Infantry Battalion, Philippine Army support the whole-of-nation approach of Executive Order No. 70 which formed the National Task Force to End Local Communist Armed Conflict (NTF-ELCAC).
Dir. Collado added that DA is providing livelihood opportunities to the IPs to enhance their agricultural productivity and eventually increase their income.
On the other hand, DA-10 Regulatory Division Chief Audy G. Maagad, stressed, "Having this [FFS] is a great help for the people in Mintapod. Growing corn can be your source of food and income, especially if you add value to your produce. After your graduation, I hope that you will continue to apply your learnings from the FFS and yield better results in the future," Maagad added.
Impasug-ong Vice Mayor Johnny A. Chavez encouraged the application of their learnings for a better harvest that will eventually lead to a prosperous community.
HE assured that the LGU will continue to provide support and interventions to the sitio that will inspire them to engage more in farming ventures.
Meanwhile, Mark Arthur Altohan, Mintapod sitio leader and also an FFS graduate, is thankful for the opportunity given to them by DA considering that most of their farmers lack the knowledge on appropriate farming technologies and wanted to learn more about it.
"I ask my fellow graduates that we will not waste what we have learned. Let us teach others who were not able to join the FFS so we can thrive as a stronger indigenous community in Impasug-ong and no one will be left behind. This is just the beginning of a better Mintapod," Altohan expressed.
4Ks is a three-year special project of DA which aims to capacitate the IPs through training and workshops and provide assistance in the form of agri-fisheries related livelihood opportunities.
Also present in the said ceremony are Impasug-ong Municipal Administrator Gabriel Uy, Impasug-ong Municipal Agriculturist Engr. Roan R. Fernandez, 2nd LT Alpert Diputado of 16th IB, PA, DA-10 Provincial Operations Center chief of Bukidnon Janet D. Lopez, DVM, DA-10 4Ks Focal Person April Grace M. Racines, FFS Coordinator Marnelly Ann P. Flores, tribal leaders, barangay officials, and residents of Mintapod. # (CRSeraspe)