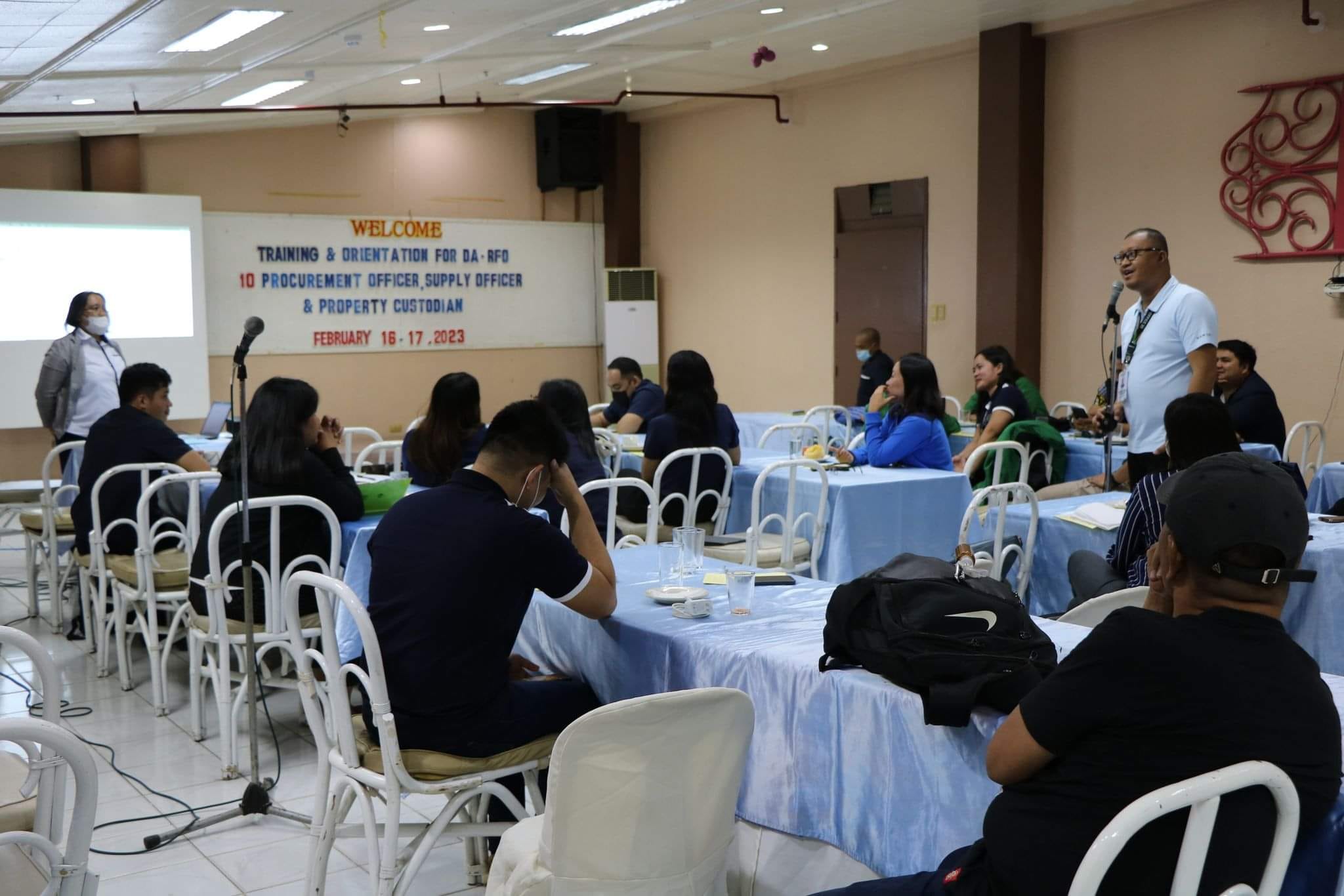 DA-10 spearheads a training-orientation for procurement, supply and property custodian officers.
CAGAYAN DE ORO CITY – To continuously improve the agency's administrative support system, about 54 procurement, supply, and property custodian officers of the Department of Agriculture – Northern Mindanao (DA-10) underwent a training orientation on February 16-17, 2023, in this city.
Spearheaded by the General Services Section of the department, said activity apprised the participants from the different divisions, banner programs, research stations, and other operating units of DA-10.
The discussion focused on the salient provisions of the procurement law and its process flow, their duties and responsibilities with emphasis on their inherent accountabilities for their designation as such officers, and observations during the conduct of inventories.
In his message, Administrative and Finance Division chief Patrick Ian F. Pedarse remarked that the capabuild is very timely with its early conduct for the year, as the agency streamlines its procurement activities with a target of obligating transactions by the end of the first quarter or midyear.
Aligned to the aim of DA-10 under the helm of OIC-Regional Executive Director Carlene C. Collado's battlecry '10 for 1′ referring to NorMin soaring to the top spot across DA regional field offices, the chief also pinned his hopes of achieving a 90% obligation at the end of the semester.
At the same time, Pedarse underscored the director's directive that should there be any savings, these funds should be utilized as this would translate into extending the delivery of more services to the department's agri-clienteles.
Moreso, he emphasized the paramount importance of supply and property custodian officers in the receiving and dispatching of goods, managing and recording levels and movement of stocks, and the upkeep of such, which usually range from agricultural supplies, office supplies, and other consumables.
Following the presentations, an interfacing session was also held to address the challenges in fulfilling the roles of said personnel. # (JLO)