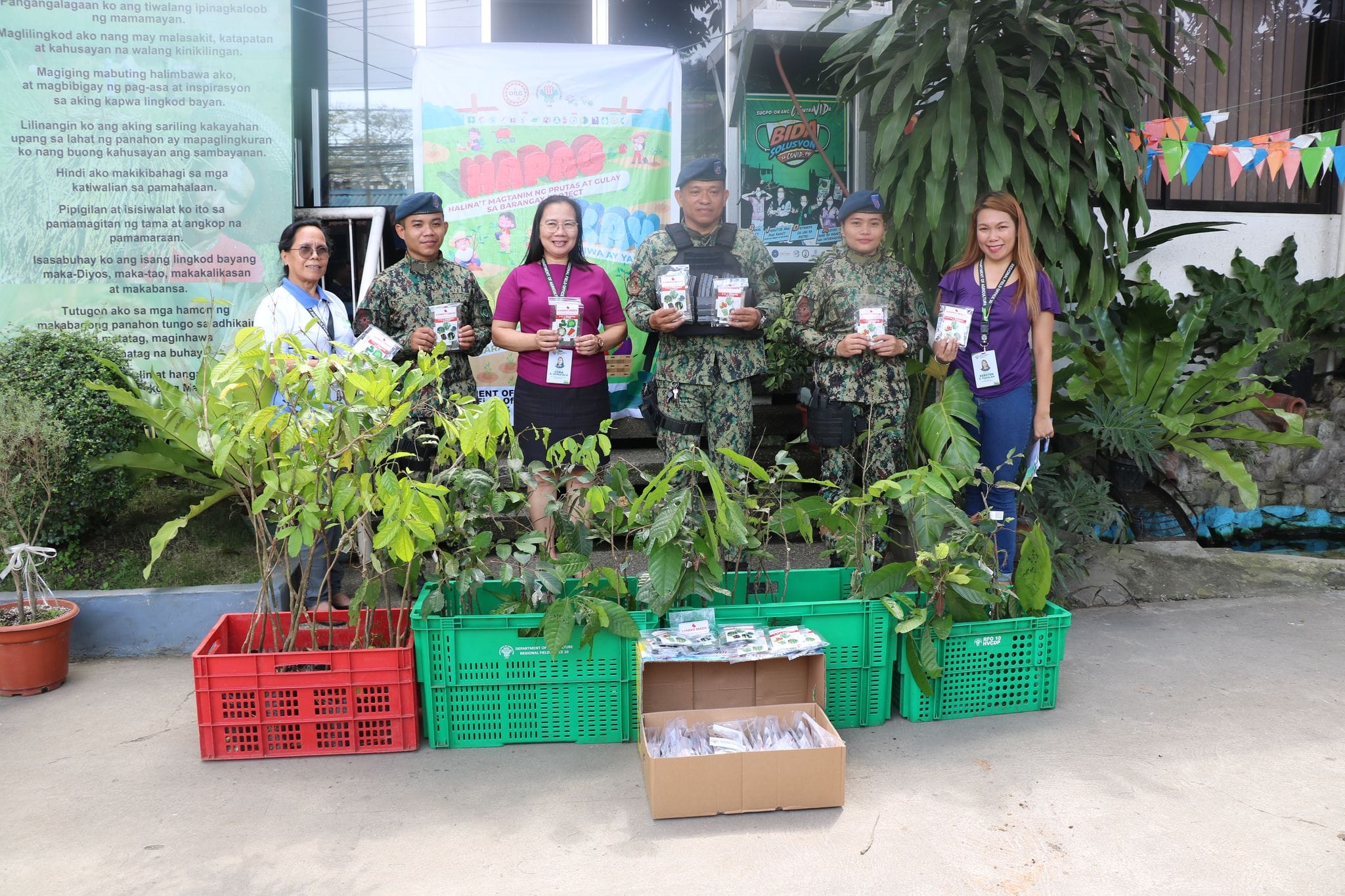 DA-10 joins nationwide launching of HAPAG KAY PBBM.
To ensure available and affordable food for all, the Department of Agriculture – Regional Field Office 10 (DA-RFO 10) joins the nationwide launching of the Halina't Magtanim ng Prutas at Gulay (HAPAG) sa Barangay Project Kadiwa'y Yaman (KAY) Plants for Bountiful Barangays Movement (PBBM) on March 1, 2023.
DA-RFO 10 OIC-Regional Executive Director Carlene C. Collado said that the event is in line with the Department of the Interior and Local Government (DILG) Memorandum Circular 2023-001 which seeks to strengthen the capacities of barangays towards sustainable agriculture initiatives through community gardening.
DA-10 OIC-Regional Technical Director for Research and Regulations Cora A. Dumayaca shared that the agency has lined up simultaneous events in its regional, provincial operation centers (POC) and research stations, particularly in the conduct of Kadiwa, turnover of seeds and seedlings, backyard gardening and tree planting in line with President Marcos' directive.
The DA-10 conducted a Kadiwa at its compound, participated in by different local agri-fishery producers, giving the public easier access to affordable and quality produce direct from the growers.
In addition, the department also turned over different vegetable seeds and seedlings to different groups in the armed forces for their respective activities.
Through its High Value Crops Development Program, it provided 250 rambutan and 250 cacao seedlings to the 4th Infantry Diamond Division, Philippine Army (PA's), Office of the Civil Military Operations, G7, and 20 mangosteen, 40 coffee, and 40 cacao seedlings to the 4th Field Artillery (Strike from Afar) Battalion, Army Artillery Regiment in celebration of the PA's 126th founding anniversary, in which one of its activities is the conduct of tree planting.
Meanwhile, 50 packets of assorted 5-in-1 vegetable seeds (pinakbet, sinigang and chopsuey) along with 10 coffee, 10 cacao, and 10 mangosteen seedlings were also given out to the Philippine National Police, Police Regional Office 10, City Mobile Force Company.
At the provincial level, POC Bukidnon planted alugbati (malabar spinach), okra, kangkong, radish, tomato and saluyot within the vicinity of its office at the Capitol Compound in Malaybalay City, Bukidnon.
Meanwhile, POC Misamis Occidental in coordination with the City Agriculture's Office of Oroquieta City, led the planting of okra, eggplant, ampalaya, squash and sitao (string beans) within their nursery site in the said locality.
On the other hand, POC Lanao del Norte spearheaded the establishment of a 300-square meter communal garden in Barangay Bulod, Tubod, Lanao del Norte, in coordination with its barangay officials, which they planted with okra, eggplant, squash, sitao (string beans), and ampalaya.
Meanwhile, for its research stations namely: Research Center for Upland Development, Research Center for Hillyland Development, and Regional Crop Protection Center, its workforce planted assorted vegetables and fruit trees such as ampalaya, okra, pechay, rambutan, jack fruit, durian, among others. # (AMBManto)