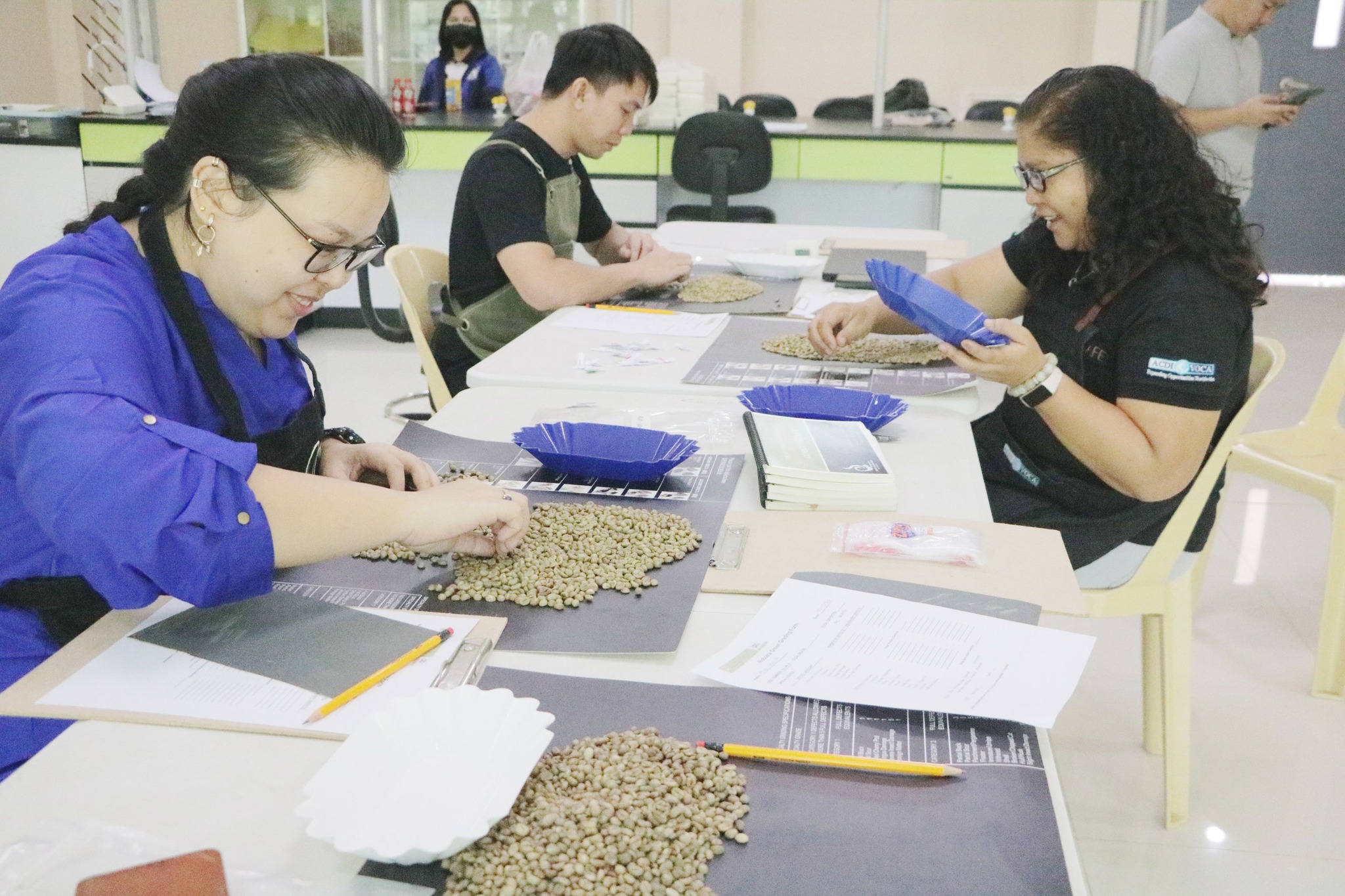 Inter-agencies collaborate for the conduct of the first ever Philippine Coffee Quality Competition, held at CMU, Musuan, Maramag, Bukidnon.
MARAMAG, BUKIDNON – In preparation for the annual Philippine Coffee Quality Competition (PCQC), the Northern Mindanao Coffee Council in collaboration with the Department of Agriculture – Philippine Rural Development Project 10 (DA-PRDP 10), Department of Trade and Industry (DTI), Central Mindanao University (CMU), Peace and Equity Foundation (PEF), ACDI VOCA – PhilCAFE project holds the first Regional Coffee Evaluation on March 14-17, 2023 at Central Mindanao University, Musuan, Maramag, Bukidnon.
The activity opened an avenue for the evaluation of the quality of coffee beans of the farmers and at the same time, provided feedback for improvement in terms of production and postharvest activities.
In order to identify the best quality coffee in the region, the participating farmers have submitted coffee bean samples, underwent a four-day evaluation through coffee Q grading, roasting, calibration and cupping.
DA-10 Regional Executive Director and RPCO 10 Project Director Carlene C. Collado, extended his appreciation to the organizers of the activity, leading the farmers to produce quality coffee in the region that can compete in the global market.
He further said that the agency will continue its mandate to assist the recipients/beneficiaries in their goal of reaching the international market.
Janet D. Lopez, DVM, DA Provincial Operations Center (POC) Chief for Bukidnon said, the activity will enable the stakeholders to converge and improve their quest for increasing production and income.
"DA through the Philippine Rural Development Project and the High Value Crops Development Program has provided different interventions in pursuing high-quality coffee, aside from capacitating the farmers' cooperatives, associations producing coffee," said Lopez.
She added that the collaborative effort is a great opportunity for the coffee farmers to brace in the Annual Philippine Coffee Quality Competition.
She noted that Northern Mindanao has competitively engaged at the international level as Bukidnon coffee proves with several breakthroughs with a strengthened collaboration and support both from the government and other organizations.
During the awarding ceremony on March 18, 2023, farmers from the province of Bukidnon dominated both coffee categories as Primitiva Mahumot from Pigtauranan, Pangantucan, Bukidnon was hailed the top spot for the Robusta category while Manolito Garces of New Eden, Pangantucan, Bukidnon placed first under the Arabica category. #