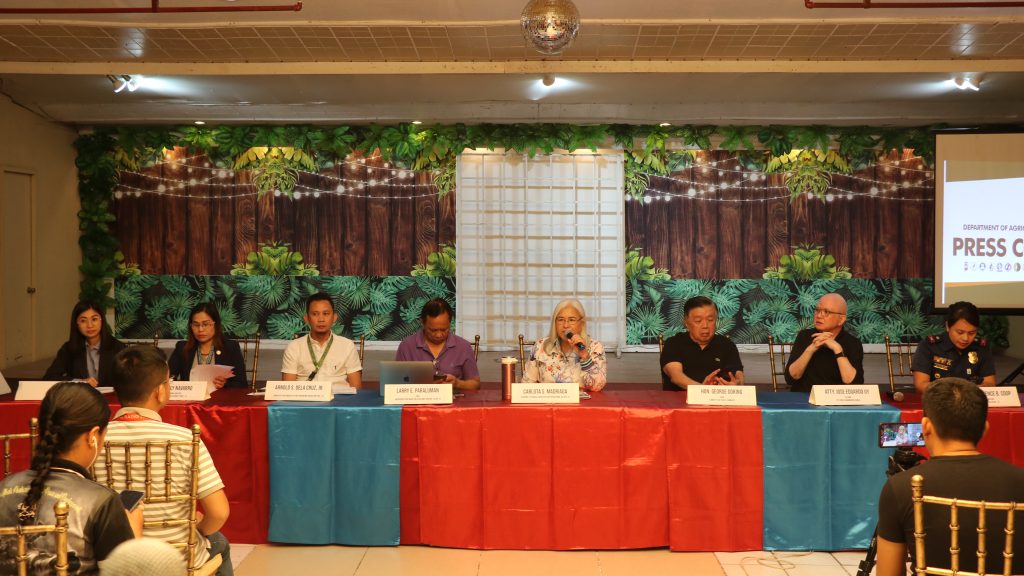 Region 10 agencies reveal their efforts relative to the implementation of EO 39, or the imposition of mandated price ceilings on rice.
CAGAYAN DE ORO CITY – The Department of Agriculture – Northern Mindanao (DA-10) helmed by Regional Executive Director Carlene C. Collado, together with the concerned agencies, bares its efforts amid the implementation of Executive Order (EO) No. 39 or the imposition of mandated price ceilings on rice, in a media interaction held on Thursday, September 14.
Said issuance by President Marcos, who concurrently acts as the head of the agri department, is in response to easing the brunt on consumers on the surge in the retail prices of rice, setting price caps for regular milled rice at P41 per kilogram and P45/kg for well-milled rice.
In over a week of its implementation, DA-10 Regional Technical Director for Operations Carlota S. Madriaga reported that there is an adequate supply of rice for the region saying that the total supply for the month of September is recorded at 190,192 metric tons (MT), which can satisfy the 61,015 MT requirement of NorMin based on its population, leaving with an ending stock of 129K MT good for 88 days.
With the padded costs that it takes to produce rice, the assistant director added that DA continues to provide support to rice farmers through the provision of seeds, fertilizer and fuel subsidies, and cash and mechanization assistance, as well as the conduct of regular monitoring in the movement of rice stock inventory in the different DA-Bureau of Plant Industry-accredited warehouses across the region.
As part of its directive to monitor and investigate abnormal price movements, RTD Madriaga underscored that the agency is also tasked to issue a notice of non-compliance for those rice retailers who fail to adhere to the mandated price ceilings and as such, will not qualify for cash assistance being accorded by the Department of Social Welfare and Development (DSWD) through its Sustainable Livelihood Program in coordination with the Department of Trade and Industry (DTI).
"Ang hatagan ang micro rice retailers affected by EO 39. Pasabot katong namaligya, nag follow sa EO 39, kay we understand nga mahal ang ilang pagpalit [sa bugas] and sa EO 39, barato ang ilang baligya, so naa sila'y lugi so mao nang naa si DSWD para sa financial assistance," Julie Nieva, DTI-10 information officer pointed out.
She clarified that per definition, micro-enterprises are those businesses with an asset of less than P3 million and have less than ten employees.
Reportedly, the payout has started on September 13 for the first batch of benefitting micro rice retailers, while the trade and industry spokesperson emphasized that more payouts will follow, as there are more rice retailers with stocks that need to be verified and monitored in the market.
With the city identified as a major hub for the distribution of rice, the City Government of CdeO has also conveyed through Atty. Jose Edgardo Uy, co-chair of the city's price coordinating council, and Councilor George Gualberto S. Goking, on the initiatives and plans of the local government in light of the enforced price caps on rice.
It has initially rolled out a weeklong selling of rice at much lower rates imposed under EO 39 at the City Hall, and they eye to continue such activity in strategic areas, and even in the remote parts of the city.
"Atong gi-adopt ang mantra sa DTI nga consumer welfare and protection, so tungod niana naningkamot kita nga ang atong konsumante, kitang tanan konsumante man, matabangan without sacrificing usab ang atong business sector," Atty. Uy remarked.
Still, under DA's wing, the National Food Authority-10 supports the imposition of rice price ceilings through the deployment of their quality assurance officers offering technical assistance on rice classification in terms of its milling degree.
On one hand, the law enforcement agency through the Philippine National Police-10 has so far conducted 24 activities to intensify awareness as well as monitor compliance with the existing price caps for rice.
On the other hand, the Department of Labor and Employment-10 can extend assistance to agribusiness, retail, and trade, among others through their integrated livelihood and employment program.
Recognizing that lean months are inevitable, DA-10 RTD Madriaga pins her hope that starting this September, when rice farmers are starting to harvest, will help improve the region's current market prices for rice.
"Ang bulk and peak gyud sa atong harvest is naa sa October and November nga kung atong basehan, moabot na siya until December nga dunay tay local palay production with 113% sufficiency level…kay gawas sa local production naa pa gyud tay moabot nga imported. Mao na masiguro sa consumers sa NorMin nga dili ta mahutdan og bugas," the DA official assured.# (JLO/Photo credits: MPMTablon)