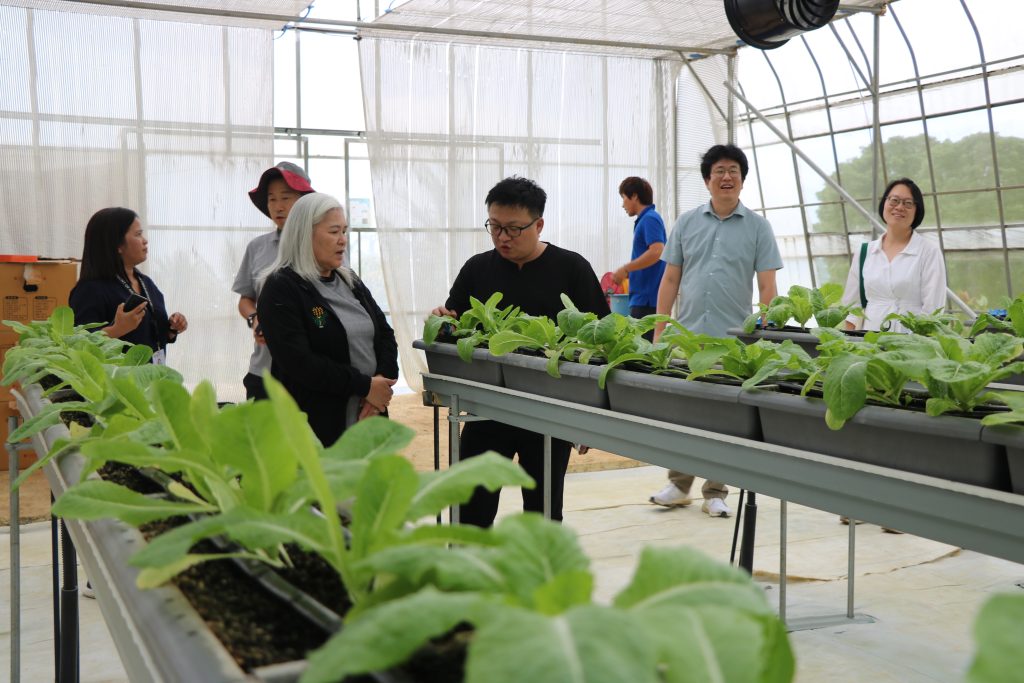 Korean government agency's EPIS visits DA-10's SMART Greenhouse Project to evaluate the status of said project implementation.
MALAYBALAY CITY, BUKIDNON – A team from the Korean Government's Agency in Education, Promotion and Information Service in Food, Agriculture, Forestry, and Fisheries (EPIS) led by Prof. Park Sauk Hee visited the DA-Region 10's Korean-funded SMART Greenhouse Project through Regional Executive Director Carlene C. Collado on September 6-7, 2023, in this city.
As the implementation of said project culminates this year, the field inspection is the final visit of the EPIS, which aims to evaluate the status of the project implementation and gauge the project's milestones in relation to the agricultural development agenda of the Philippine government.
In a dialogue with the Korean delegates, DA-RFO 10 Regional Technical Director for Operations, Carlota S. Madriaga underscored the impact of the SMART Greenhouse project as a precursor for the expansive adoption of SMART farming in Northern Mindanao.
"Within our capacity, we introduced necessary interventions to sustain the project and assist our farmers in replicating the technology on a smaller and more manageable scale. The innovations we instituted in implementing the project are self-discoveries," she said.
To promote SMART farming technology, Madriaga added that the agency has trained numerous farmers and accepted hundreds of agriculture students for their on-the-job training in the said facility.
As part of the project evaluation, the Korean delegates interviewed farmer leaders assisted by DA-RFO 10 through the said project.
The team also visited a farm owned by a farmer-beneficiary who grows Capsicum by employing greenhouse technology.
The EPIS experts commended the agency's initiatives in helping the farmers develop locally viable SMART farms by drawing inspiration from the Korean SMART greenhouse.
The Korean delegates also expressed DA-RFO 10's optimal utilization of the project as an education center for farmers, particularly in honing and educating young farmers.
As a way forward, the Korean experts stressed the importance of a "sense of ownership" to ascertain the SMART Greenhouse Project's sustainability.
While acknowledging other areas for improvement, DA-RFO 10 Regional Executive Director Carlene C. Collado, conveyed his optimism about the success of the Korean-Philippine collaborative project.
As he thanked the DA's Korean counterparts, Collado averred that DA-RFO 10 welcomes future collaboration with the Korean government.
Also present during the occasion are DA-RFO 10 Regional Technical Director for Research and Regulations, Cora A. Dumayaca, Research Division chief Lorena V. Duna, Regional Agricultural Engineering Division chief Engr. Deliza T. Camaro, Regional Crop Protection Center chief Lucille T. Minguez, Northern Mindanao Agricultural Crops and Livestock Research Complex chief Carmelito R. Lapoot, and High Value Crops Development Program focal person Kersten S. Pagalan.# (ATTalib)