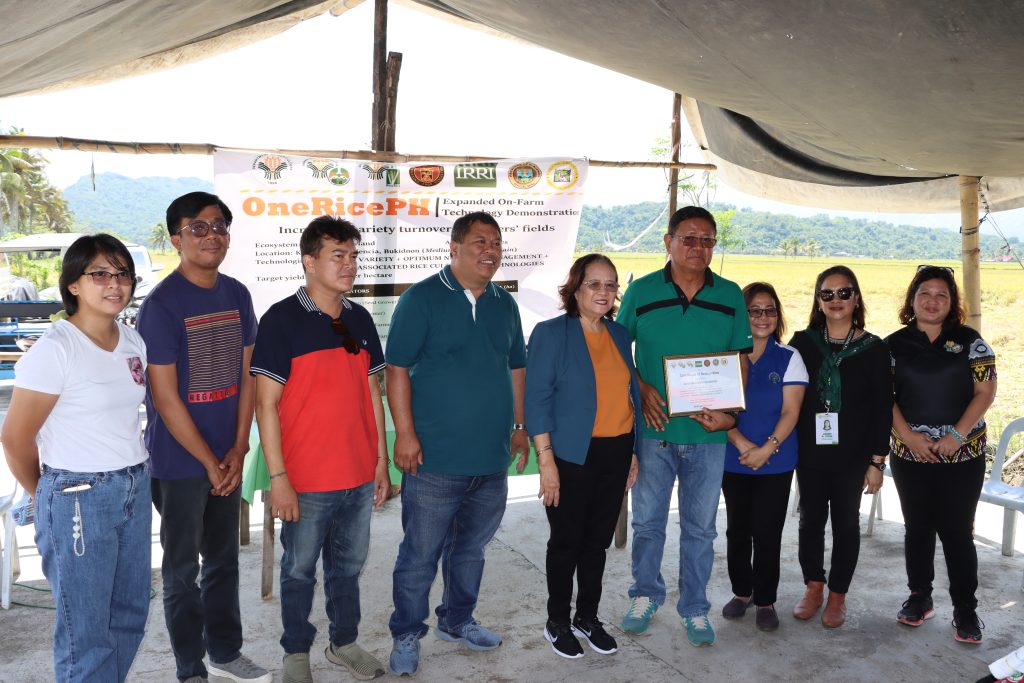 DA-10 spearheads a field day on OneRicePH in Barangay Kahapunan, Valencia City, Bukidnon. 
VALENCIA CITY, BUKIDNON – The Department of Agriculture – Regional Field Office 10 (DA-RFO 10) through its Research Division, conducted recently a field day on OneRicePH: Expanded On-farm Technology Demonstration for the wet season, in Barangay Kahapunan.
According to PhilRice Central Office representative Pinklet Athen Canilang, OneRicePH is a collaborative project of the Philippine Rice Research Institute (PhilRice), International Rice Research Institute (IRRI), University of the Philippines Los Baños (UPLB), DA, and the local government units (LGUs) to unify rice breeding dissemination strategies that will increase genetic gain and improve grain quality and nutrition.
"The project aims for the development of a product concept for target rice market segments and the establishment of a national breeding network," she said.
With a total area of 5.1 hectares implemented by co-operators, comprising of a seed grower and three farmers, said techno demo showcased inbred rice varieties such as NSIC Rc 512, NSIC Rc 506, and NSIC Rc 508, which are intended for irrigated lowland ecosystem.
The performance of the said varieties as a result of also employing optimum nutrient management and associated rice cultivation technologies, was witnessed and evaluated by farmer representatives of the different 13 Irrigators' Associations in the city.
Initially, the results of the participatory varietal selection were presented, yielding higher results compared to the targeted 7.50 tons per hectare.
Maridith A. Flores, senior science research specialist and OneRicePH focal person of DA-10, remarked that the activity also paves the way to showcase the benefits of using recommended rice varieties and their yield potential, streamlining the country's rice breeding strategies and variety dissemination.
Likewise, supporting the activity are Research Division Chief Lorena V. Duna and Provincial Operations Center-Bukidnon chief Janet D. Lopez, DVM of DA-10, Mayor Azucena P. Huervas, City Councilor Rogelio P. Hera, committee on agriculture, and other City LGU Valencia officials and staff.# (RDMElloren)