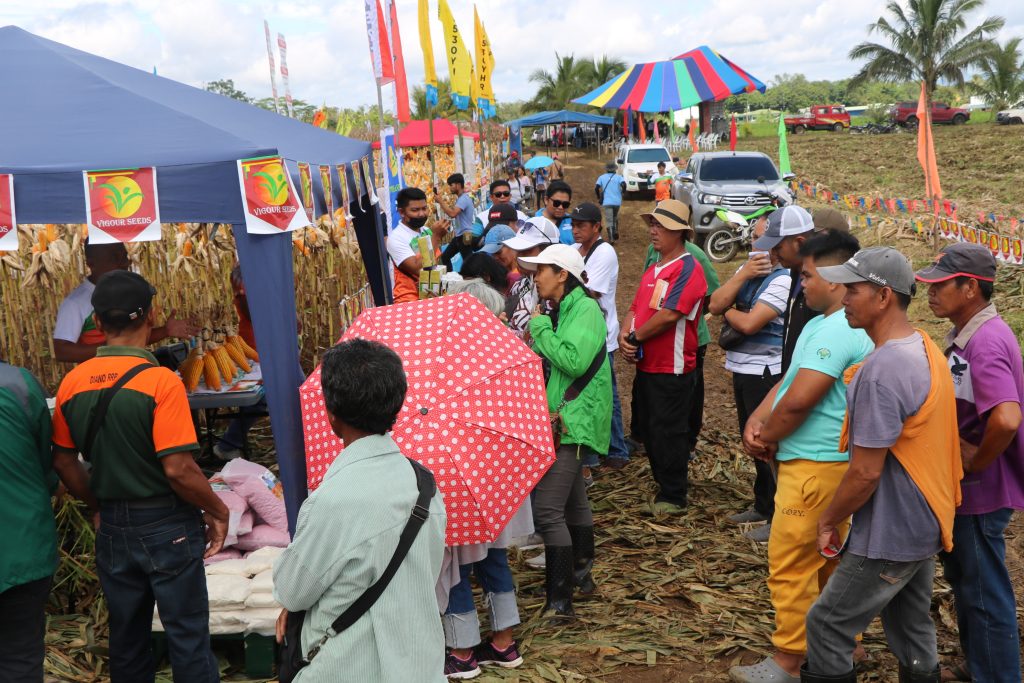 DA-10 in partnership with seed companies exhibit promising corn cultivars in RCUD, Dangcagan, Bukidnon.
BARONGCOT, DANGCAGAN, BUKIDNON – The agriculture department of Northern Mindanao (DA-10) helmed by Regional Executive Director Carlene C. Collado in partnership with private seed companies stages the first in the series of its Corn Derby Field Day for this year's wet season, showcasing promising hybrid corn cultivars here on Friday, September 22.
Seated at about a 1.9-hectare portion of DA-10's Research Center for Upland Development (RCUD), 15 different corn varieties from seven companies were exhibited, to gauge their performance and adaptability in a low elevated area.
"Mapuslanon ni siya [technology showcasing] para sa atong mga mag-uuma," Carlota S. Madriaga, DA-10 regional technical director for operations, in her message to about the 150 farmers and agricultural extensionists participating from the towns of Dangcagan, Damulog, Kibawe, Don Carlos, Kadingilan, Kitaotao, Maramag, and Kalilangan of Bukidnon province.
Yellow corn varieties along with their corresponding package of technologies include NK6140BGT and NK6130BGT from Syngenta Philippines, Inc.; DK8131S and DK8899S (Bayer Crop Science Philippines); H101G and B9909G (BioSeed Research Philippines, Inc.); and AH SUPREME 5150 RRYYG and J505 RRYG (Asian Hybrid Seed Technology Inc.).
Rounding up the list of yellow corn varieties exhibited are P3582YHR and P3530YHR (Corteva AgriScience); EVO 9115 (Evo Gene Seeds, Corp.); and MAIS SWERTE and MAIZE D30, and MAIS-TISA, a white corn variety from Vigour Seeds Development, Inc.
Importantly, the crop cut results were presented, factoring in agronomic and yield components such as number of plants, ears, and yield per plot; gaob incidence; total cob and kernel weights; shelling recovery; field moisture content; yield and weight of grains; population density; ear length and diameter; number of kernel line and kernels per ear.
She likewise underscored the significance of conducting corn derbies over the years with the private seed companies.
"Labaw na sa amoa na kami [department] karon nga gi-manduan sa national government pinaagi sa atong President [Marcos] na mao atong [DA] secretary na tagaan og dakong pagtagad ang agrikultura," RTD Madriaga remarked.
Generated results show that the corn varieties employed yielded the highest at 10.03 tons per hectare at 14% moisture content (MC) to the lowest of 5.69 tons/ha at 14% MC.
As the agency through the Corn Program will procure P281 million of hybrid corn seeds, comprising GM hybrid yellow corn seeds and hybrid white corn flint seeds next year, Dir. Madriaga highlighted that the corn derby results would form part of the basis of the department's procurement of seeds.
Moreso, DA-10 is set to procure P19.7 million worth of GM hybrid yellow corn seeds and hybrid white corn seeds to serve as buffer stocks, in case of disasters and calamities.
As the techno demo displayed different corn varieties and planting protocols to augment farmers' productivity and earnings, the DA-10 official also urged the farmers to form into corn clusters to attain economies of scale.
This will enable them to greatly trim down their cost of operations, reap bountiful harvests, link to large-scale buyers, and earn bigger incomes.
"Dako kaayo akong pasalamat sa DA-10 sa ilang gipahigayon nga programa sa mga ka-mais, diin adunay bag-ong mga technology nga gi-showcase nga milangkob sa low ug high elevation nga corn cultivars ug magdepende sab ang performance sa klase sa yuta gikan sa mga nagkalain-laing kompanya sa mais," conveyed Lilibeth P. Galandez, president of the Narukdukan Kisanday Banana, Cassava, Coconut, Corn Farmers' Association (NAKBACCCOFA) of Maramag town.
Following said corn derby, DA-10 is slated to conduct the same activity at the Northern Mindanao Agricultural Crops and Livestock Research Complex in Dalwangan, Malaybalay City, Bukidnon, and Research Center for Hillyland Development in Lanise, Claveria, Misamis Oriental in early October, this year.
Also supporting the event were Regional Technical Director for Research and Regulations Cora A. Dumayaca, Provincial Operations Center of Bukidnon chief Janet D. Lopez, DVM, RCUD chief Catalino S. Soriano, Jr. and other DA-10 staff. # (JLO/Photo credits: RDMElloren)