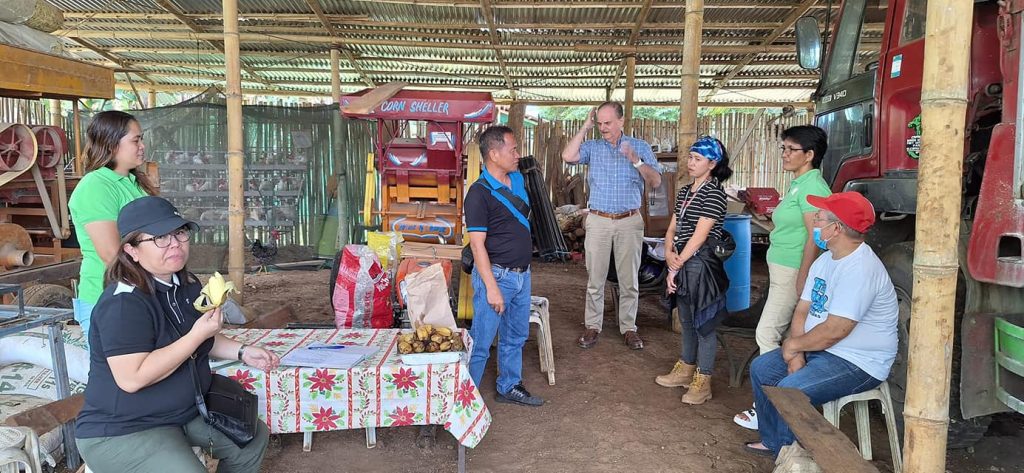 ADB targets to boost assistance for DA-10's AMIA Village. 
CAGAYAN DE ORO CITY – A team from the Asian Development Bank (ADB) Technical Assistance Project paid a courtesy visit to DA-Northern Mindanao (DA-NorMin) Regional Executive Director, Carlene C. Collado, for a table discussion on the possible scaling up of agribusiness value chain of DA-NorMin's Adaptation and Mitigation Initiative in Agriculture (AMIA) Village, in the province of Bukidnon, Tuesday, November 7, in this city.
The Adaptation and Mitigation Initiative in Agriculture (AMIA) Program of the Department of Agriculture is designed to capacitate agri-fishery dependent communities to be resilient to Climate Change through the provision of strategic interventions for site-specific climate information and decision-making, access to credit and insurance and market linkages.
The ADB has identified the DA's AMIA villages among its priority localities for the institutionalization of Climate Resilient Agriculture (CRA) through its Technical Assistance Project.
Together with DA-NorMin AMIA Program Focal Person, Carmelito Lapoot, ADB's Value chain expert, Mr. David Moles and Ms. Eleanore Lantican visited AMIA Village in barangay Lingion, Manolo Fortich, Bukidnon, to survey the village's condition and viability of agricultural enterprise in the area.
Based on the survey, appropriate recommendations will be endorsed by the experts for possible intervention under the ADB Technical Assistance Project, to bolster agricultural potential of the AMIA Village.
In a post survey meeting, Director Collado and DA-NorMin Executive Assistant for Operations and Planning, Joel S. Rudinas also apprised the ADB experts on the prospects and bearing of foreign and locally-funded DA programs implemented and pipelined in the region, highlighting projects such as construction of post-harvest facilities and strategic programs for the youth and Indigenous People (IP).
Partnership, consolidation and clustering, and technology-based agriculture are among the subjects underscored in the meeting as possible groundwork for collaborative and inclusive agricultural development.
The Lingion AMIA Village has been established and supported by the DA-NorMin for a period of 4 years to date.
The village is one of the four AMIA Villages in Bukidnon that are actively engaged in Cassava and Corn enterprise.#(ATT)