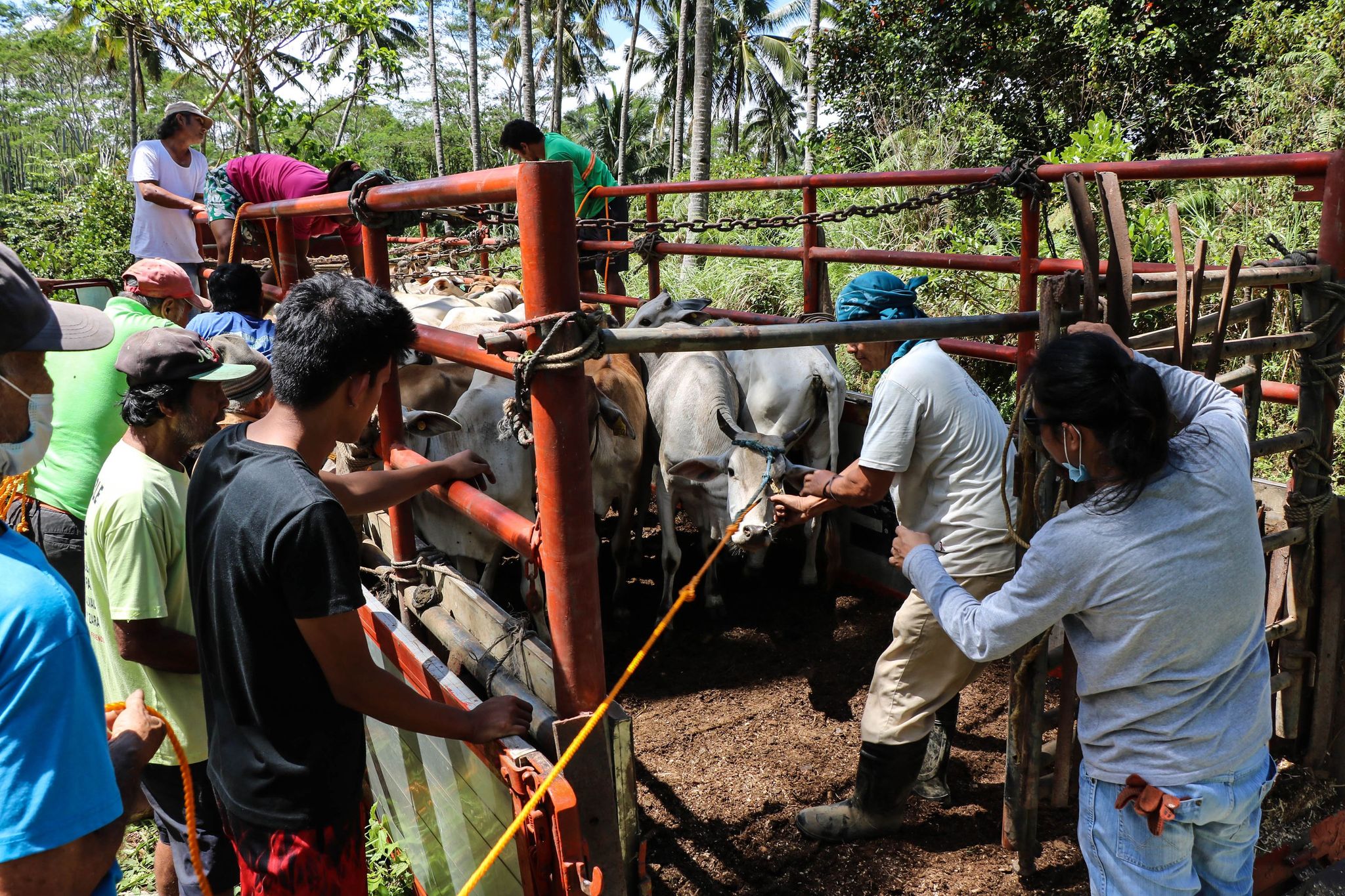 The aggie dept in R-10 delivers 53 heads of upgraded cattle to Sugbongcogon, MisOr thru its CFFP of DA-Nat'l. Livestock Program. 
CAGAYAN DE ORO CITY – The Department of Agriculture – Regional Field Office 10 (DA-RFO 10) delivered 53 heads of upgraded cattle to the local government unit (LGU) of Sugbongcogon, Misamis Oriental to increase its local beef production in contributing to beef accessibility and affordability.
Said delivery on March 2, is part of the total 100 heads amounting to P5 million  under the Cattle Feedlot Fattening Project (CFFP) of DA-National Livestock Program, which is funded under the Bayanihan Act II.
Of the total amount, P3.5 million is the allocation for the cattle and P100k is for the drugs and biologics.
The remaining P1.4 million will be fund transferred to LGU Sugbongcogon for the procurement of cattle feeds and other miscellaneous expenses.
For sustainability of the project, DA-RFO 10 Regional Executive Director Carlene C. Collado encouraged the Municipal Agriculture's Office of Sugbongcogon to adopt the dispersal program scheme, wherein the recipients will pass on the heifer offspring (female cattle) to other potential farmer-beneficiaries in said town.
According to Maria Lourdes M. Sypiecco, Livestock Program coordinator of DA-RFO 10 said, "CFFP intensifies cattle feedlot farming among smallhold farmers, maximizing the use of abundant farm by-products in the rural areas."
Large ruminants were distributed among select farmers listed under the Registry System for Basic Sector in Agriculture (RSBSA) from barangays Ampianga (14 heads), Kidampas (16), Kaulayanan (20) and Mimbuahan (3).
MAO Johnny G. Sumaylo of Sugbongcogon shared, the town has over 1,000 RSBSA listed farmers. With the cattle dispersal program, more farmers will be given an opportunity to raise cattle as a livelihood  both for beef and dairy production and to serve as draft animals.
One of the first batch of recipients of Brgy. Kaulayanan is Cristina E. Aragua, a member of Barangay Kaulayanan Sugbongcogon Farmer's Association, who also acts as the chair of the Kaulayanan women's group.
"Dako kining ikadugang sa income ang gihataga nga baka sa DA. Pinaagi niini, akong matabangan ang akong mga apo sa paghuman sa pag-eskwela. Ako kining alimahan og maayo aron mas daghan pa ang makabenepisyo niini," she imparted.
[DA's cattle dispersal program can augment my income. With this, I can also help my grandchildren go to school. I will properly take care the provided cattle, so that more farmers can benefit from it.]
Aside from Sugbongcogon, three other towns from the provinces of Bukidnon (Kibawe) and Misamis Occidental (Lopez Jaena and Baliangao) have received the partial deliveries of cattle under CFFP last February, of this year.# (EMBentulan)