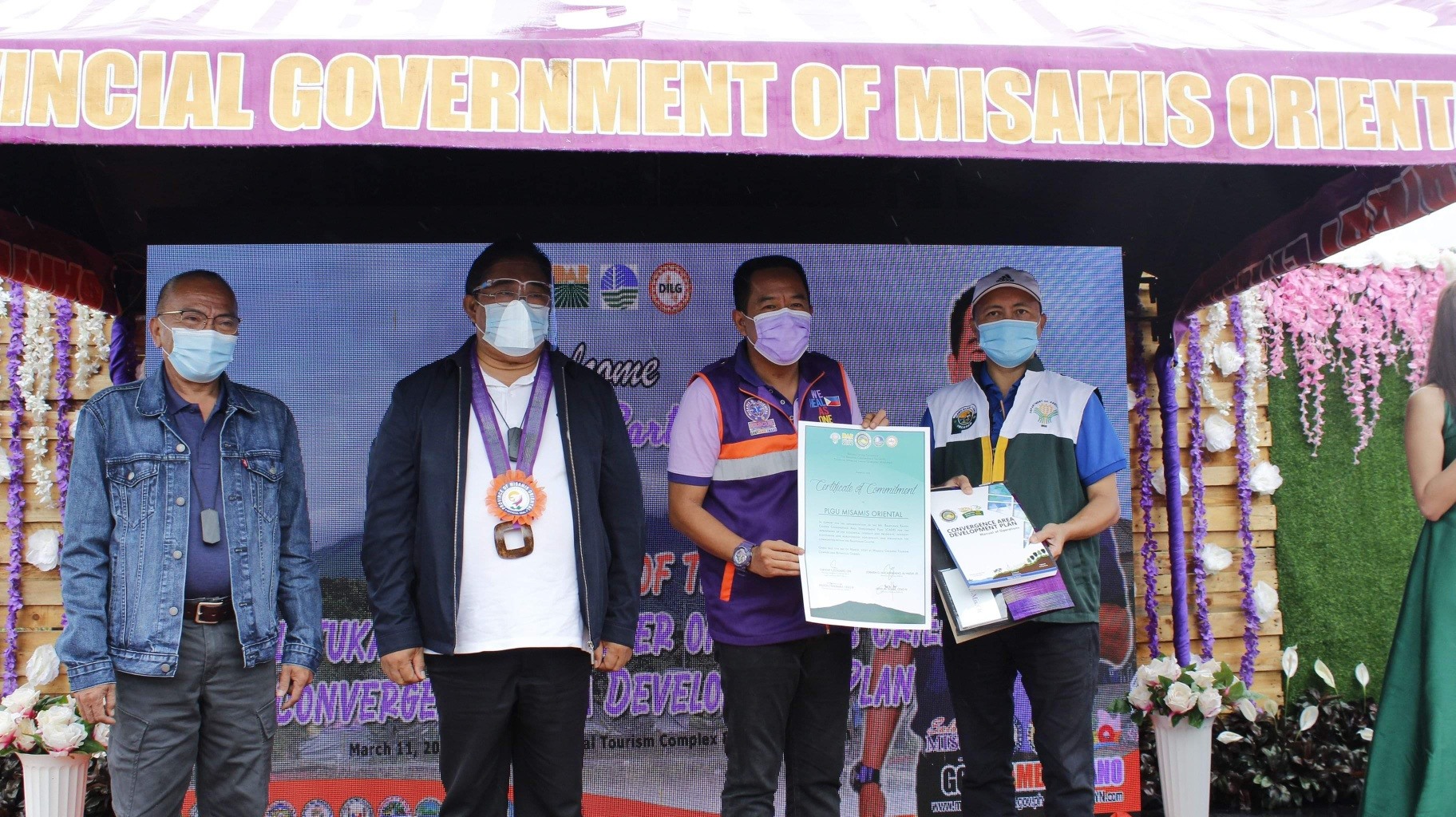 RCI-SRD launches the CADP for the Mt. Balatukan Cluster to provide a framework for its advancement.
CAGAYAN DE ORO CITY – To provide framework for the advancement of the Mt. Balatukan cluster, the Regional Convergence Initiative for Sustainable Rural Development (RCI-SRD) launched the Mt. Balatukan Range Cluster Convergence Area Development Plan (CADP) on March 11, 2021 at Lunotan, Gingoog City, Misamis Oriental.
The CI team with the Department of Agriculture (DA) as the lead convenor, together with the Department of Agrarian Reform (DAR), Department of Environment and Natural Resources (DENR), and Department of the Interior and Local Government (DILG) prepared the CADP with an aim to have an improved ecological integrity and prosperity, intensified eco-tourism and agro-forestry development, and strengthened communities within the cluster.
With the development plan, Claveria Mayor Meraluna S. Abrogar expressed her hopes to resolve issues on illegal land conversion with establishments sprouting in their town due to booming tourism.
She also extended her gratitude to the cluster towns who worked for the protection, preservation, and prosperity of the environment of the province.
Meanwhile, DAR Secretary, Atty. John R. Castriciones committed to work hand-in-hand with the local governments and all the other agencies to protect the Balatukan Range.
Misamis Oriental Governor Yevgeny Vincente B. Emano is hopeful that the CADP will lead to utilizing the available resources properly which will greatly benefit the people in the province.
"I hope that with the synergy that we are doing, we will be able to advance what our people need and we will be able to protect the future of the next generation as we protect the last frontier which is the Mt. Balatukan. We have to work together if we want to see a better future for Misamis Oriental," Gov. Emano added.
DA Undersecretary for Special Concerns and the lead convenor of NCI-SRD, Atty. Waldo R. Carpio said, in a message delivered by DA-10 Regional Executive Director Carlene C. Collado, the agri department together with the other agencies, is committed to strengthen regional efforts and enable the environment to accelerate the implementation of the Mt. Balatukan Range CADP to achieve its goals.
"The CI emphasizes to end poverty and hunger, achieve food security, improve nutrition, and promote sustainable agriculture. Further, to take action to combat climate change and its impact, and for the conservation and sustainability of our resources aside from its protection and restoration."
He emphasized, the goal of the RCI can't be achieved without the support from the LGUs and other stakeholders.
"Together, let us build a stronger platform in helping us in making a progress for the Mt. Balatukan Range cluster," he concluded.
Constituting the cluster are the towns of Balingasag, Balingoan, Binuangan, Claveria, Kinoguitan, Lagonglong, Magsaysay, Medina, Salay, Sugboncogon, Talisayan and Gingoog City, all from the province of Misamis Oriental. # (CSeraspe)