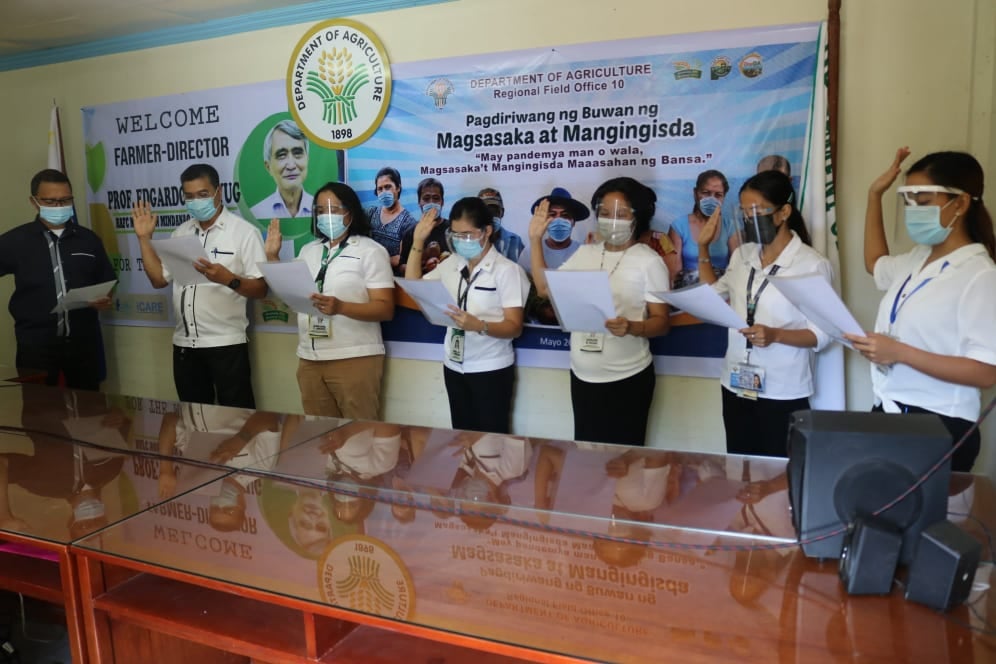 DA-10 RED Collado administers the oathtaking of the fourth batch of 2021 newly promoted and appointed agency personnel.
CAGAYAN DE ORO CITY – Six newly promoted and two newly appointed employees of the Department of Agriculture – Northern Mindanao (DA-10) have been sworn into their newly promoted positions and appointments.
DA-10 Regional Executive Director Carlene C. Collado administered the oathtaking ceremony, in the presence of concerned division chiefs of said personnel.
RED Collado reminded the newly promoted employees, marking the fourth batch this year, to continue of help in delivery of efficient and effective programs, projects and interventions for the farmers and fisherfolk regionwide.
"Every one of you is an essential part of the (DA) system, and we expect for you to do your best in delivering agri-services to our clienteles," the director conveyed.
The newly promoted and appointed DA-10 personnel with their corresponding positions and assignments are the following:
Newly Appointed Regional Soils Laboratory, Integrated Laboratory Division
Iree Grace D. Bince – Laboratory Aide II (SG 4)
Frances Deza C. Gamboa – Laboratory Technician II (SG 8)
Promoted Field Operations Division (FOD)
Luisito S. Ofngol – Development Management Officer V (SG 24)
Rosel Joy V. Fabrigas – Agriculturist II (SG 15)
Administrative and Finance Division
Marilou C. Hebia – Administrative Officer IV (SG 15)
Joana Sara D. Amores – Administrative Officer III (SG 14)
Kathleen M. Pacana – Administrative Officer I (SG 10)
Planning, Monitoring and Evaluation Division
Jeffrey Baja – Planning Officer III (SG 18)
Also witnessing the rite are DA-10 Regional Technical Director and Placement and Selection Board Chair Carlota S. Madriaga and other PSB members and DA-10 staff. # (JCAnito)