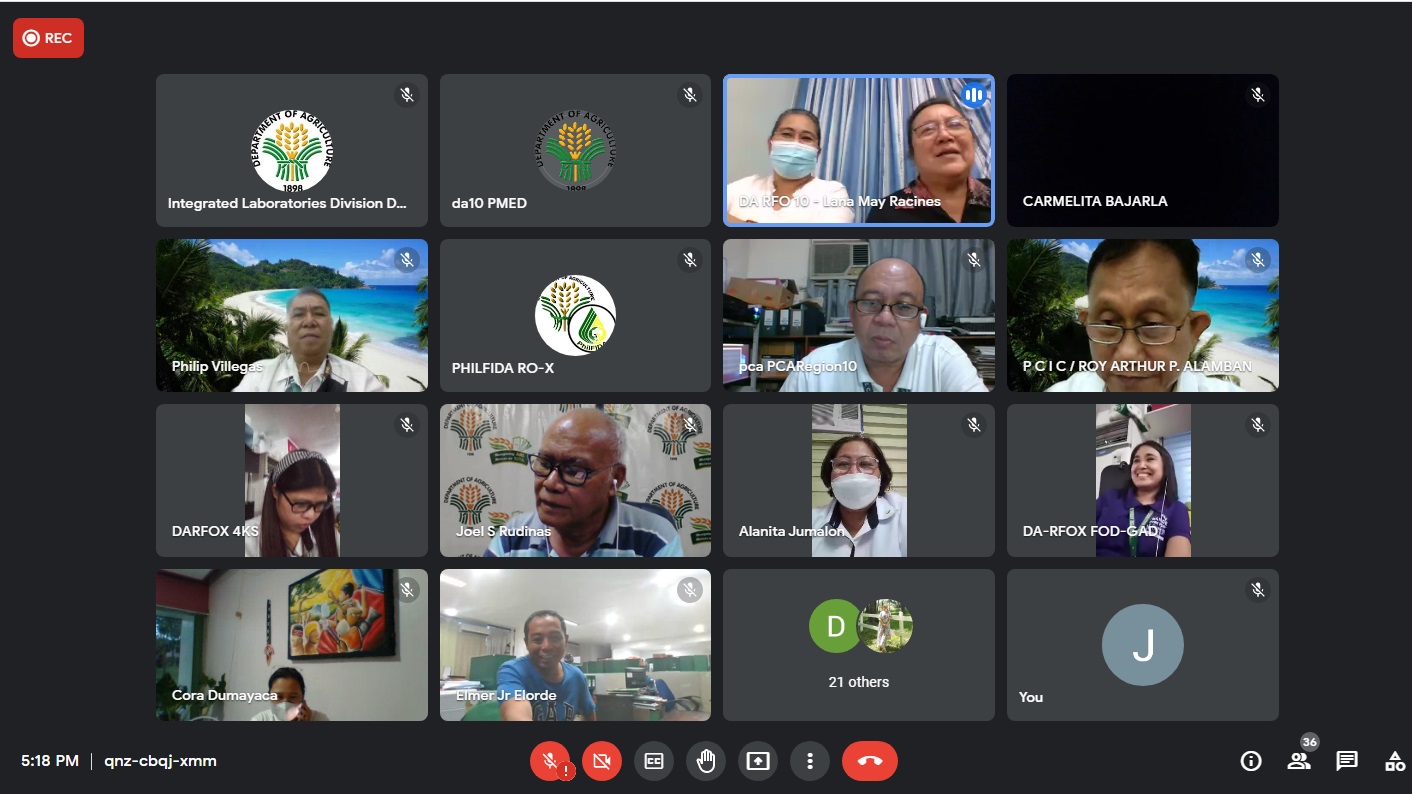 Member-agencies of RMC of DA-10 meet for the Reg'l. Integrated Workplan to discuss key issues besetting the agri-sector for inclusion in the preparation of a national workplan.
CAGAYAN DE ORO CITY – Pursuing efforts towards a transformed Philippine agriculture, the Regional Management Committee (RMC) of the Department of Agriculture (DA) in Northern Mindanao (DA-10) convened in a Consultation-Workshop for the Regional Integrated Workplan on Monday, November 22.
Said activity is geared towards soliciting inputs from the participating member agencies on how to address key issues besetting the agriculture sector for inclusion in the preparation of a national workplan, with reference to the 2022 targets and national expenditure program budget.
Carlota S. Madriaga, DA-10 regional technical director for operations underscored, that the output for the said activity should be aligned with the OneDA reform agenda, which adopts the four pillars and 18 key strategies to level up the region and the country's agricultural sector.
"We must work on a sound and realistic workplan to lay down our network, and see the harmonization of functions and services related to the delivery of our services," the director added.
Discussions incorporated into the plan and were affirmed by the attendees include the better management and control of African Swine Fever to ramp up DA's hog repopulation program; challenge on the increasing fertilizer prices; the highly intertwined relationship among the yellow corn, livestock, and poultry subsectors; acceleration in the provision of legislation of fish hatcheries; and better sharing of information of the coconut industry.
Also covered were the large-scale implementation of crop diversification in marginal rice farmlands in view of the midway implementation of the Rice Tariffication Law; rice farmers' financial assistance; food inflation; social protection for farmers; and cross-cutting issues.
RMC is chaired by DA-10 Regional Executive Director Carlene C. Collado with member agencies composed of DA-10's attached bureaus (ATI, BFAR, BSWM, BAI-NVQS, and BPI PQS, SPAL, NSQCS), agencies (ACPC, FPA, NMIS, PhilMech, PhilFIDA, PCC, and corporations (PhilRice, SRA, NDA, PCA, NFA, and NTA) in partnership with NIA and PCIC. # (JLO)