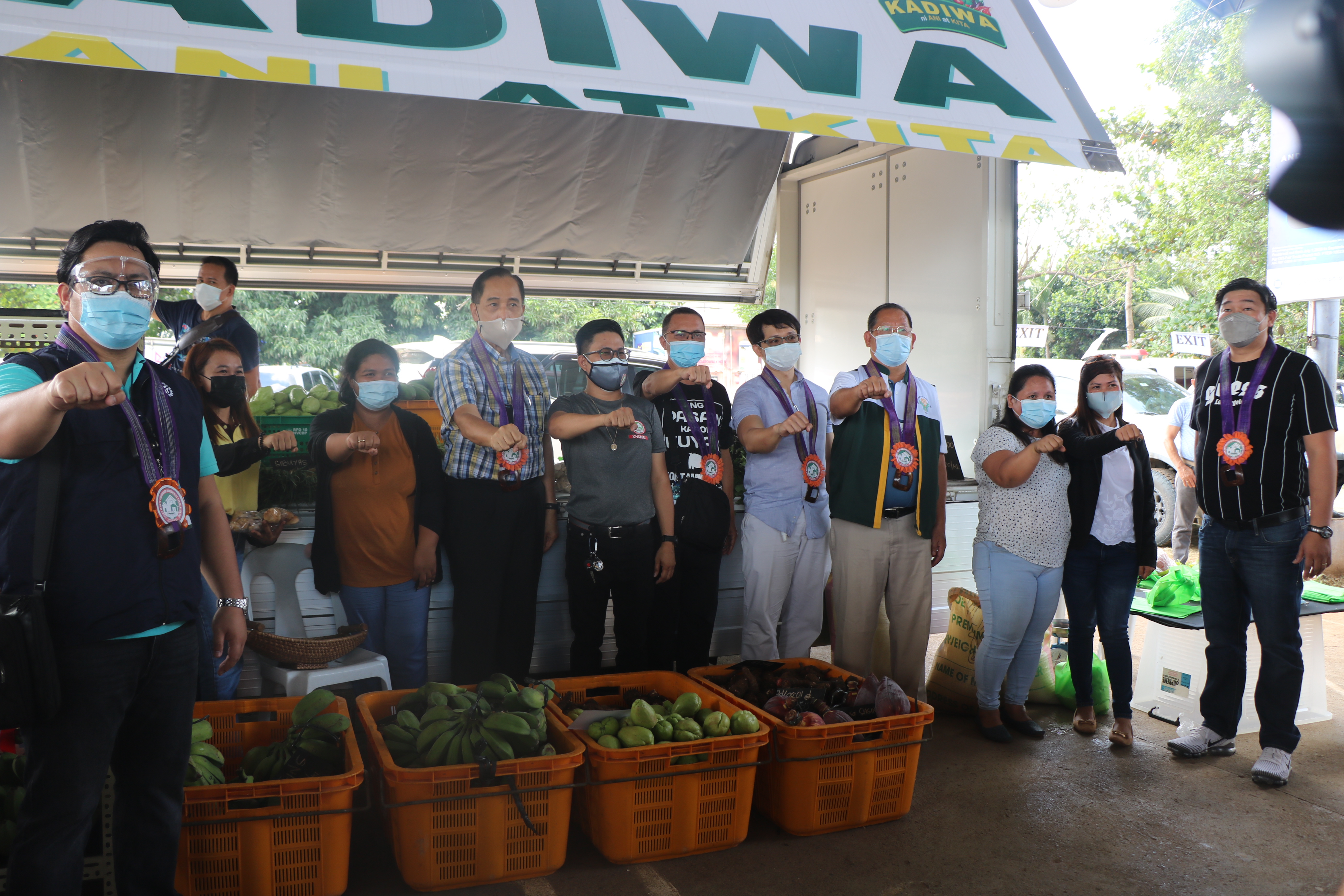 Agri secretary Dar leads the relaunching of KDK which is held every Saturdays at XHS. KDK is an enhanced marketing initiative that directly links farmers and fishers to consumers, where agri-fishery and other food products, basic necessities and other prime commodities are being sold at affordable prices.
CAGAYAN DE ORO CITY, February 13 – Agriculture Secretary William D. Dar led the relaunching of the Kadiwa ni Ani at Kita at Diskwento Karavan (KDK) at Xavier Heights Subdivision (XHS), Upper Balulang, Carmen, of this city.
KDK is a beefed-up marketing initiative that directly links local farmers and fisherfolk to the consumers, where agri-fishery and other food products, basic necessities and other prime commodities are being sold at reasonable prices.
In his message during the program, the DA chief acknowledged, that at the height of the coronavirus-triggered quarantines, Kadiwa became one of the most important programs of the department in providing access to fresh, quality, nutritious, safe and affordable food products.
"Kami ay nagagalak na nandito ang Kadiwa sa [XHS]. Kasi nakikita po natin na yung mga iba't-ibang produkto ng mga magsasaka ay dito dinadala at ibinebenta. It is such a good arrangement na nawawala na ang traders in between.
Kasi dapat naman ang ating mga magsasaka at ang mamimili [ang consuming public] ay sila po yung makikinabang nang mas affordable na presyo [na mga bilihin] at ating magsasaka at mangingisda ay mas maganda na rin po yung kita nila," the agri secretary remarked.
While Kadiwa is being adopted as a marketing initiative even before the pandemic, Dar reported, that it has gained ground starting March of last year, generating P8 billion in sales nationwide.
In partnership with Xavier Heights Subdivision Homeowners Associations, Inc. (XHSHAI), the Kadiwa first had its stint in said subdivision in April last year until it has become a staple in the ensuing months up to the present.
"We are proud to have patronized the produce of our local farmers and fishers, who have regularly exhibited in our KDK every Saturdays. The conduct of our KDK is the longest running [in CdeO City], and as of December 31, 2020, we have contributed to over 3.5 million in sales," Rhobert C. Maestre, XHSHAI president bared.
Seeing on how the Kadiwa is being institutionalized at the subdivision level, the DA official went on to commit and elevate the KDK, "We will always nurture our partnership with various stakeholders in the value chain para sa ganun ay ang tinatawag natin na win-win arrangement ay mangyayari."
Through its Agribusiness and Marketing Assistance Division, DA-Regional Field Office 10 under the helm of Regional Executive Director Carlene C. Collado mainly provided logistics support, especially on the transport of goods from the production areas of farmer- and fisher-producers to the different Kadiwa outlets.
Aside from XHS, ongoing Kadiwa operations also include those at Forest View Homes Subdivision and La Buena, Gran Europa every Saturdays.
Among other officials joining the relaunching include Department of Trade and Industry Assistant Secretary Reveree Niño Contreras, DA Undersecretary-Designate for Livestock William Medrano, DA Assistant Secretary Noel O. Reyes and CdeO City Councilor Ian Mark Nacaya.# (JLO)