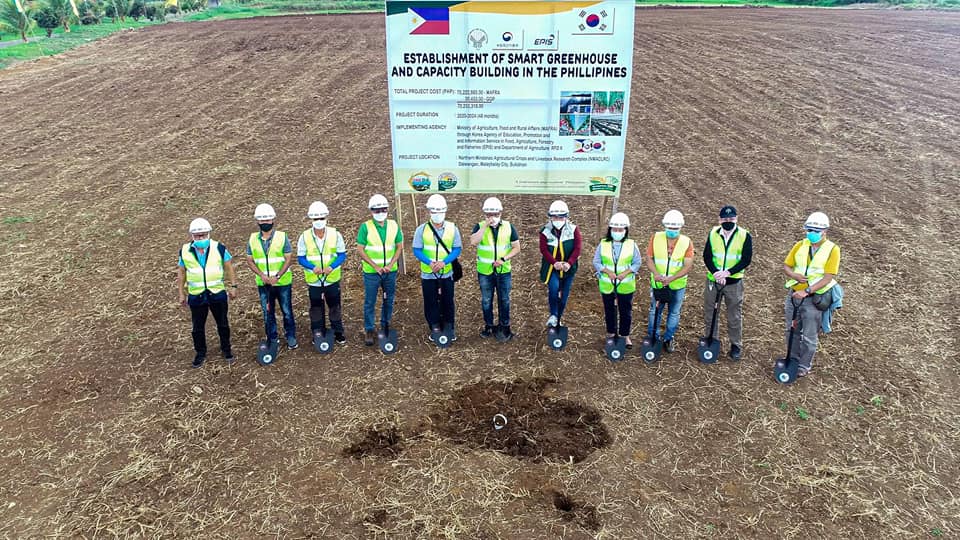 DA-10 with the Korean experts break ground for the establishment of smart greenhouses at NMACLRC, Dalwangan, Malaybalay City, Bukidnon.
MALAYBALAY CITY, BUKIDNON – Department of Agriculture -10 Regional Executive Director Carlene C. Collado with the Ministry of Agriculture, Food and Rural Affairs (MAFRA) of Korea through the Korea Agency of Education, Promotion and Information Service in Food, Agriculture, Forestry and Fisheries (EPIS) led on Thursday, August 19, 2021 the groundbreaking ceremony for the establishment of smart greenhouse at the Northern Mindanao Agricultural Crops and Livestock Research Complex (NMACLRC) in Dalwangan, Malaybalay City, Bukidnon.
The 11 units smart greenhouses has a total project cost of P70.253 million, is seen to help local farmers in producing high value crops such as tomato, strawberry, pepper and potato using smart farming technologies.
DA-10 Regional Technical Director for Operations Carlota S. Madriaga said, this project strengthens the partnership and friendship of the Philippine and Korean governments.
"This is a significant day because this marks the third project that we have received here in our region coming from the Korean government; the first two projects are situated in Misamis Oriental. We are thankful that we are given this project to support our farmers here in Bukidnon and the whole of Northern Mindanao."
In his message, Director Collado, expressed his gratitude towards the Korean dignitaries for the agricultural assistance they have granted the region amidst the ongoing pandemic.
"You have gone extra mile in providing assistance and expertise in building this project. In return, we will also extend our assistance with whatever you need, especially in the implementation of the project in order to make it a success," Collado added.
Meanwhile, Jong Dae Park, Greenfarm chief executive officer and one of the Korean experts, conveyed their appreciation to DA for putting forth great efforts for the development of agriculture sector in the country.
"We are honored to be part of this project for the establishment of sustainable smart agriculture using appropriate technology in your country. This project will develop high-tech agriculture [technology] in both Korea and the Philippines and will also play an important role in the prosperity and friendship of the two countries. Our Korean engineers will do their best in constructing the smart greenhouse and your ongoing interest and cooperation will help us ensure that this project will be a success."
Together with Mr. Park is Jong Man Park and Kim Yang Wu, both Greenfarm smart farm technical directors, and Yeon Sang In, an engineer from Chungnam Specialized Crop Development Association.
Said event was also graced by Assistant Provincial Agriculturist of Bukidnon Jacqueline Lagamon, other DA-10 heads and staff, and farmers from the province who will soon benefit from the Project. # (CRSeraspe)