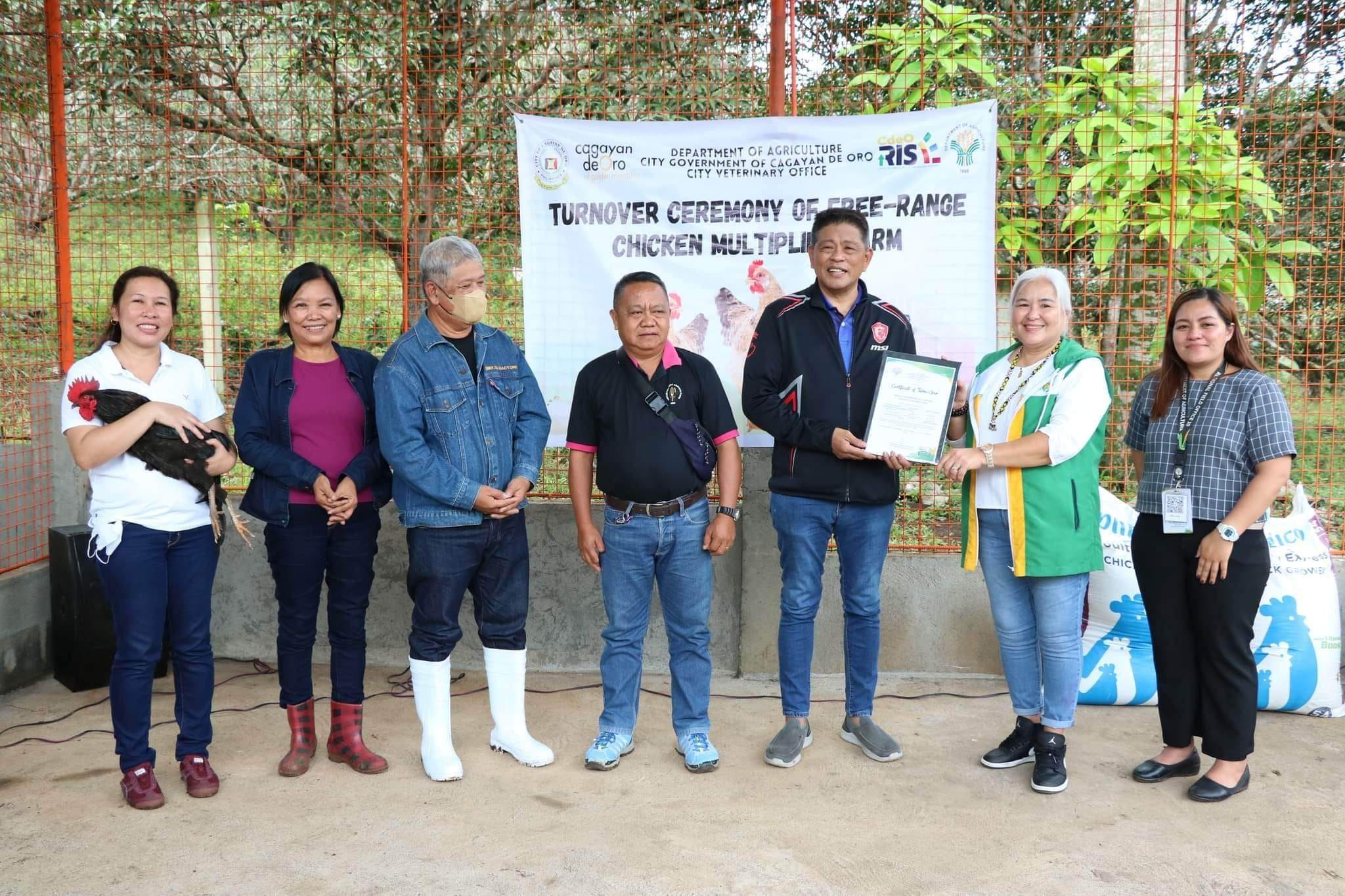 Agri dept in NorMin awards the certificate of turnover to LGU CdeO City for the P1.1-M free-range chicken multiplier farm project in barangay Balubal.
CAGAYAN DE ORO CITY, December 28 – The Department of Agriculture – Regional Field Office 10 (DA-RFO 10), under the helm of OIC Regional Executive Director Carlene C. Collado, awarded a certificate of turnover to the Local Government Unit of Cagayan de Oro City (LGU CdeO) for the P1.1 million free-range chicken multiplier farm project.
DA-10 Regional Technical Director for Operations Carlota S. Madriaga handed the certificate to City Administrator, Atty. Roy Hilario P. Raagas, representing CdeO mayor Rolando A. Uy.
Funded by the agency's Livestock program, the package of assistance covers infrastructure and the provision of animals and other various agri supplies for the City Vet mini-stock farm in barangay Balubal.
Of the total amount, P625K is for the completed poultry house; 350 head of free-range chickens (50 males and 300 females) valued at P200K; and P275K for feeds, drugs, and biologics.
Dir. Madriaga expressed her gratitude to the city LGU for the strong partnership in support of the agency's agricultural programs, projects, and activities that will help establish a solid and sustainable industry for poultry raisers, at the same time maximizing the city's huge potential in expanding the agriculture industry in terms of jobs and income generation.
On the other hand, CdeO Veterinarian Perla T. Asis said, the project will serve as a breeder farm for the dispersal program of native chicken to be implemented by the city through its veterinary office.
Dr. Asis added that their dispersal (1 male:10 female) will start in early January of next year for distribution to their 10 select Livestock Farmer Field School program participants.
As soon as the dispersal commences, the 20 beneficiaries who are graduates of the livestock field school as the first in-line beneficiaries of the project will each receive a 10-meter net as part of their start-up kit.
Also witnessing the activity is DA-10 Livestock focal person Jamaica L. Docdoc, Balubal barangay chair Pablo M. Bactong, and other DA-10 and LGU CdeO personnel. # (RDMElloren)