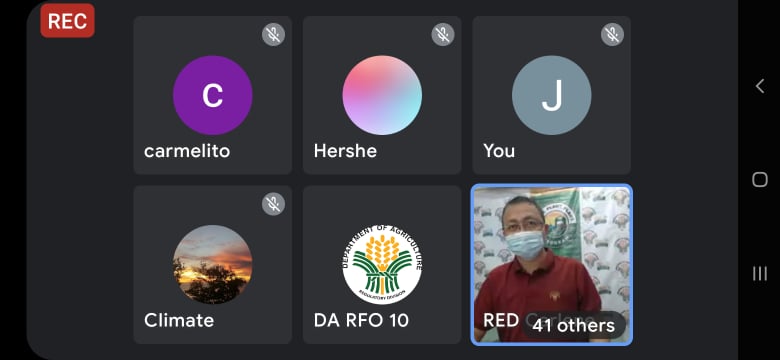 On August 11, DA-10, COA undertake an online Audit Entrance Conference for the agri dept's FY 2021 expenditures.
CAGAYAN DE ORO CITY – In ensuring government transparency and accountability for Fiscal Year (FY) 2021 expenditures, the Department of Agriculture – Regional Field Office 10 (DA-RFO 10) and the Commission On Audit (COA) held an online Audit Entrance Conference on August 11, 2021.
DA-RFO 10 Regional Executive Director Carlene C. Collado emphasized, that said activity is annually conducted to check the department's disbursement on the projects and program implementations provided to the farmers, local governments and other stakeholders.
"We are committing that we are one in serving our farmers, especially with the new normal caused by the COVID-19 pandemic. The virus cannot stop us from extending our services such as the implementation of the different projects and programs, and even the conduct of our activities," RED Collado expressed.
COA-10 Acting Audit Team Leader Nashiba L. Macaraob noted, COA is mandated to examine, audit, and settle all accounts pertaining to the revenue and receipts of, and expenditures or uses of funds and property, owned or held in trust by, or pertaining to the government or any of its subdivisions, agencies, or instrumentalities.
She cited, that one of the responsibilities of the auditor in the engagement is to impart ideas that can improve the agency's operations and address control deficiencies identified during the audit.
Also in the presence of regional technical directors of DA-RFO 10 Carmelita T. Bajarla and Carlota S. Madriaga, the group discussed the department's accounting and financial reporting systems and other important matters.
COA Regional Supervising Auditor Josie J. Rodriguez said, with the guidance of COA Central Office, they have forwarded all necessary memoranda and circulars, which will be helpful in DA's undertakings.
Also participating the virtual meeting are the banner program and special project coordinators, provincial operations center chiefs of Bukidnon, Misamis Oriental, Camiguin, Lanao del Norte and Misamis Occidental of DA-RFO 10.# (EMBentulan)