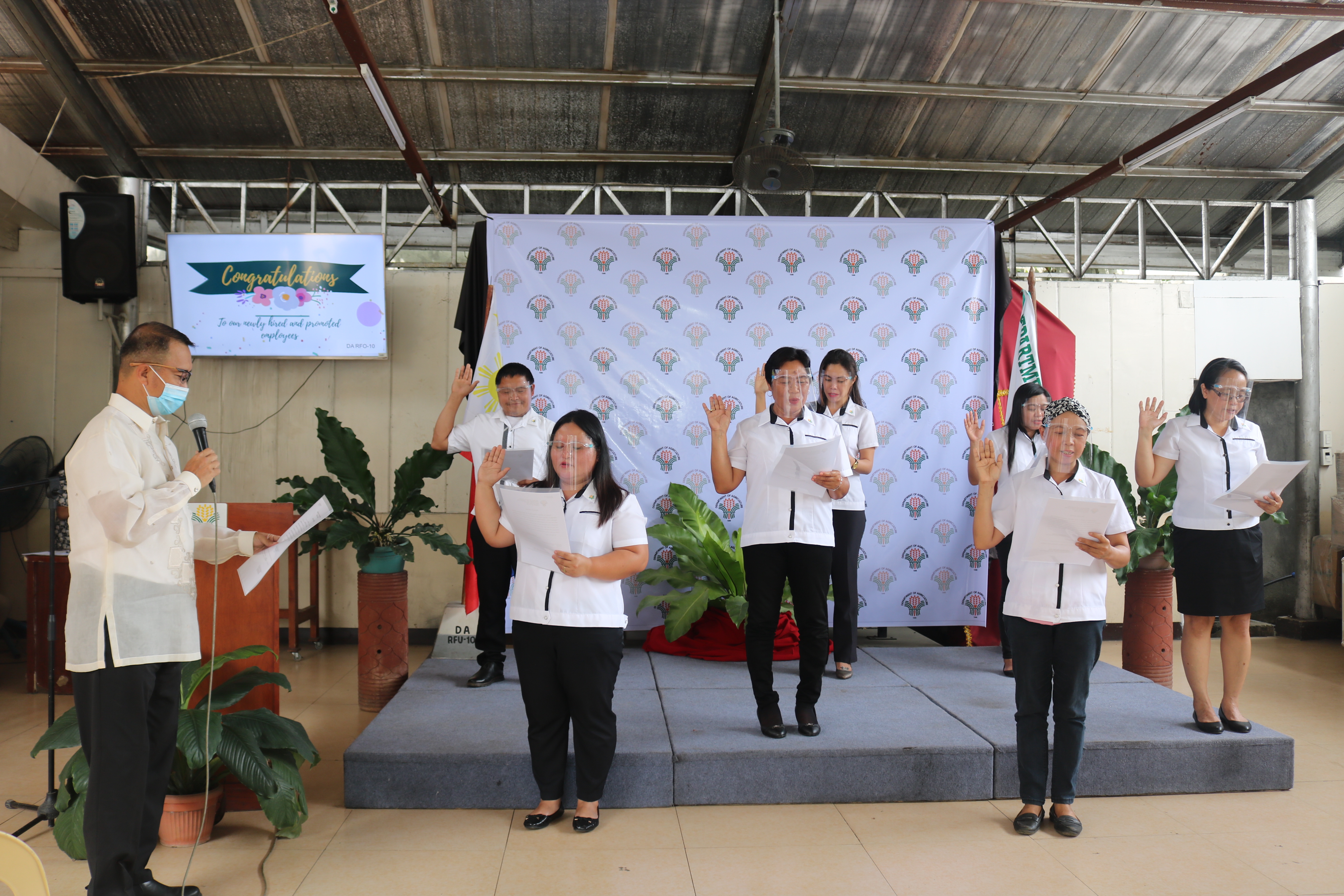 DA-10 RED Collado administers the oathtaking ceremony of the mid-level employees of the agency.
CAGAYAN DE ORO CITY – Nine employees of the Department of Agriculture – Northern Mindanao (DA-10) have been sworn into their newly promoted positions and appointments in compliance to Executive Order 292.
On February 10, 2021 at the agency compound, a simple oathtaking ceremony took part with DA-10 Regional Executive Director Carlene C. Collado as the administering official of the seven newly promoted and two newly hired personnel of the agency.
The agri executive, in his message, reminded the newly promoted of their task as food security frontliners.
"So much is expected from you especially now that the pressing issues are basically agri concerns that need our proactive stand and doubling our efforts," Collado challenged.
Granting of the promotions, he added, serves as a recognition and commendation for their hard work towards achieving a more broadly representative, service-driven public service.
"May you not lose sight with your commitment and integrity in delivering your public services. Continue to uphold the mandate of DA with a demonstrated vision, because the success of our agency is the direct result of your dedication," the agency head further remarked.
Included in the roster of the newly promoted and hired staff with salary grades (SG), ranging from 11 to 18 are the following:
Gay Nanette R. Aleria – Senior Agriculturist (SG 18)
Milamar R. Aragua – Science Research Specialist II (SG 16)
Genevieve E. Casiño – Science Research Specialist II (SG 16)
Mae Odimyrl A. Morales – Science Research Specialist II (SG 16)
Wendelyn T. Toraja – Science Research Specialist II (SG 16)
May Shell E. Tumilap – Science Research Specialist II (SG 16)
Bernard H. Ramos – Farm Superintendent II (SG 15)
Anna Marie V. Galicia – Agriculturist I (SG 11)
Johnson C. Petalcurin – Agriculturist I (SG 11)
Said ceremony marks the second batch for the agency, following the promotion and appointment of 15 DA-10 personnel last January, bringing the total, so far, for the year 2021 to 24.
Also witnessing the rite are DA-10 Regional Technical Director and Placement and Selection Board (PSB) Chair Carlota S. Madriaga, other PSB members, division chiefs and DA-10 staff. # (JLO)